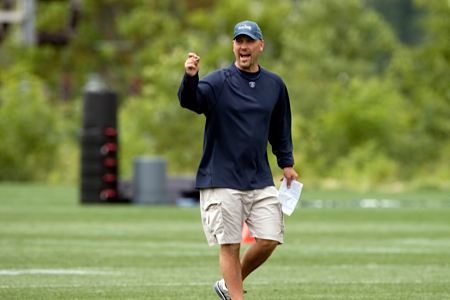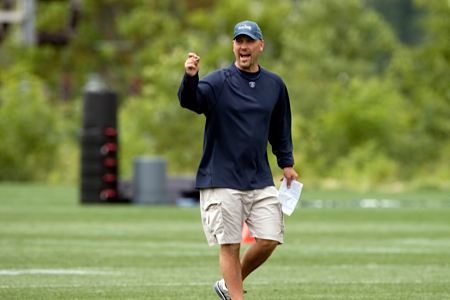 Just four days after the Andy Reid era finally came to an end, the search for a new head coach of the Philadelphia Eagles is beginning to get interesting.
Earlier today, Anthony Gargano of 94 WIP reported that (contrary to popular belief), Oregon head coach Chip Kelly was not the Eagles' top target, and that while the team will interview him, they expect him to go elsewhere. Gargano also reported that the Eagles' primary target was Penn State head coach Bill O'Brien, but that prospect has faded with O'Brien committing taking himself out of the running for NFL positions by announcing he is committed to Penn State.
The news that transpired today leaves the Eagles' future shrouded in uncertainty. With O'Brien out of the picture, and the idea that Kelly was the team's top choice put to rest, Jeffrey Lurie and Howie Roseman will be expanding their search to wide variety of candidates, waiting for one of the men that they interview in the coming weeks to blow them away.
The Eagles will interview Denver Broncos offensive coordinator Mike McCoy over the weekend, and have also received permission from the Indianapolis Colts to interview offensive coordinator Bruce Arians, and the Seattle Seahawks to talk to their defensive coordinator Gus Bradley.
Each of these three candidates are intriguing options.
McCoy's claim to fame has been his ability to successfully adjust his offense to whatever talent he is given to work with. He's gotten tremendous production out of mediocre quarterbacks like Kyle Orton and Tim Tebow, and this year he played a major role in helping Peyton Manning enjoy an MVP-caliber season in his first year with Denver. McCoy has stated that he only wants to leave Denver if he can land into the "right situation".
Arians has been one of the great stories of the 2012 NFL season for the role he's played in helping the Colts go from the worst record in the league to a playoff-caliber team. He's also been an important figure in recent years as the offensive coordinator of the Steelers, and without him the Pittsburgh offense has really fallen apart. While I think Arians is capable of doing a good job for the Eagles, his profile doesn't exactly fit what the Eagles are looking for. Arians is older and may have hit his ceiling as a professional coach and Jeffrey Lurie wants to find the next Andy Reid; a young up-and-coming, innovative coach that could potentially coach in Philadelphia as long as Reid did.
Bradley is the most interesting name that has come up on the Eagles' list to date. He's been the architect on an excellent Seattle defense, a unit that has been the anchor of the team's success. Seattle leads the league in the scoring, and also plays the run exceptionally well. Bradley has helped inject a toughness into that group that has helped make them such a successful defense, and toughness is something that the Philadelphia defense has completely and utterly lacked since Jim Johnson passed away. Bradley's name hasn't received attention from other franchises with coaching vacancies, and his hire would certainly fit the bill as an innovative, bold, "outside the box" type of move that Lurie and his front office like to make. It's also surprising to see Lurie go after a defensive-minded candidate after he's made it clear that he prefers offense to be his team's strength.
Personally, I'm very relieved to hear that Chip Kelly is likely out of the picture and on his way to Cleveland. I think Kelly has a chance to be a good NFL coach, but I'd prefer the Eagles to bring someone in who has achieved some level of success in the NFL rather than gamble on a college coach. I'm also very encouraged by the fact that Lurie is willing to give defensive-minded coaches an opportunity to impress him. I'd love for the next head coach to be a strong defensive mind that could potentially quickly turn around what has been a soft, embarrassing unit for the last few years.
We'll see what direction the Eagles' coaching search goes in. Will the Eagles end up hiring one of these three coaches, or will another name not currently on this list emerge?