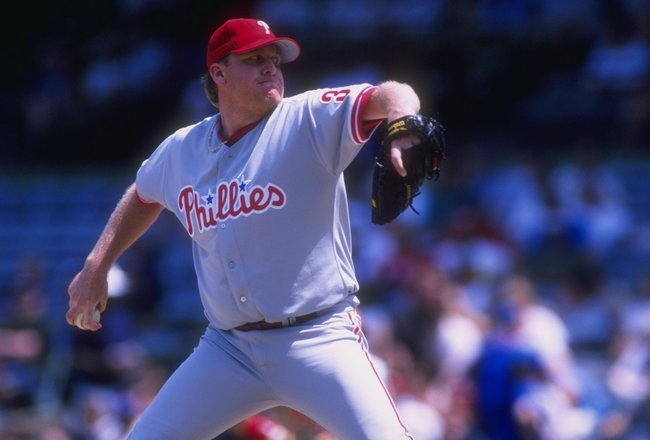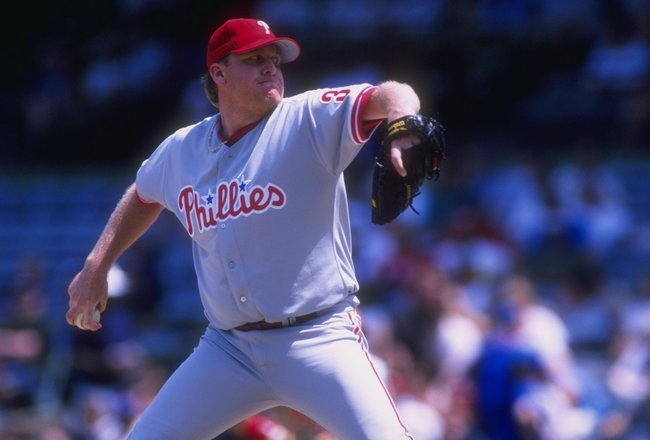 It's Hall of Fame time in Major League Baseball and that brings us to a familiar name around these parts, Curt Schilling.  I think Schilling is without question a sure Hall Of Famer, but he might not get in the first time.
He has a great regular season resume, but his post season exploits make him a sure Hall of Famer.  Schilling has three World Series rings, 2001, 2004, and 2007.  First one with the Arizona Diamondbacks, then two with the Boston Red Sox.
The one thing that stood out to me about Schilling was the fact that he took his game to another level in the playoffs and he wasn't even better when it was a do or die game and the series was on the line.
The only current Phillies ace who has shown this quality is Cole Hamels.  Yes, Roy Halladay did pitch a no hitter in the playoffs, but he's come up short at other times in the post season.  Cliff Lee's game goes south in the playoffs and when everything is on the line.  If Schilling were a part of this staff, we would already have a few World Series victories to talk about.
The first time I witnessed Schilling's ability to take his game to another level was in the 1993 post season, when Curt carried the Phillies to the World Series by being MVP of the NCLS.
He was Co-World Series MVP in 2001 with Randy Johnson while on the Diamondbacks.  He and the fireballing lefthander put the team on their backs and beat the Yankees in the series that year.
The hard throwing righthander had an 11-2 record in the post season with a 2.23 ERA.  He was pure money in the second season with a .968 WHIP (walks and hits per innings pitched) in a total of 19 post season starts.  That's consistency.
To me he walks into the Hall of Fame because he was the best big game pitcher of his era with a 4-0 record with a 1.37 ERA in five "win or go home" starts.  Think about it, when everything is on the line, he was hands down the best pitcher of his era.
Schilling got the win in four of those five starts and his team won all five of those games.
I know there a lot of people in the Philadelphia media who don't like him, but the guy belongs in the Hall of Fame.