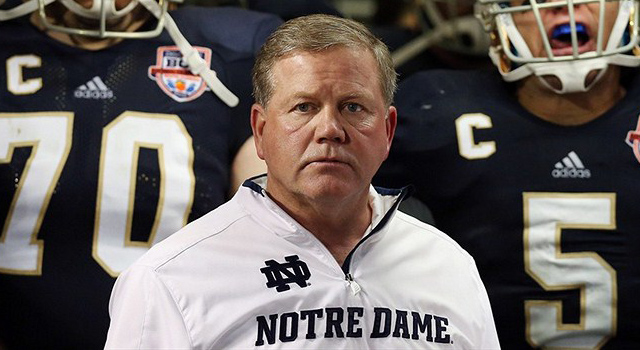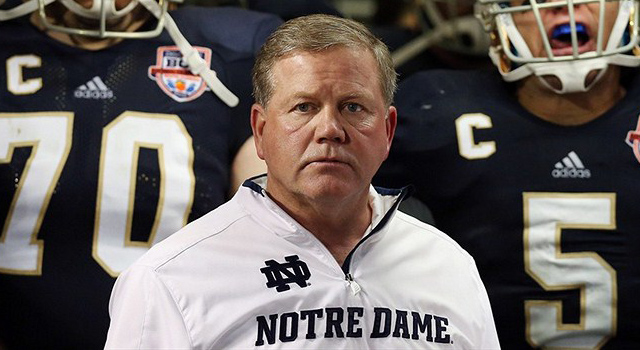 According to various reports from Philly.com and CSNPhilly.com, the Eagles interviewed Notre Dame head coach Brian Kelly after the BCS Championship game.  They would not confirm the meeting but numerous sources with Philly.com and CSNPhilly.com have confirmed that the Birds have met with Kelly.
The Notre Dame coach has gone out of the country on a vacation and will meet again with the Eagles when he returns.
This is an amazing report.  Kelly is under contract with the Fighting Irish until 2016.
In the week prior to the game against Alabama, Kelly was quoted saying the following.  "I think from my perspective I've got the best job in the country – NFL, college, high school, whatever."  In the same press conference, he talked about how he looked at high school, college and NFL football.
He suffered a humiliating defeat at the hands of the Alabama Crimson Tide in the BCS Championship game earlier this week.  It was a laugher of a game as the Tide embarrassed Notre Dame from the opening kickoff, 42-14.   The SEC boys called off the dogs or the score would have been worse.
I do believe Kelly is a leader and that is the most important ingredient required for this job with the Eagles.
As an offensive coach, I haven't seen great innovation from him offensively at Notre Dame, but maybe he doesn't have the quarterback right now to implement it.  At the moment, the Irish run an unsophisticated offensive system.  I thought he was totally outcoached by Nick Saban's Alabama staff in that championship game.  It looked like Kelly was coaching college football while Saban was coaching Pro Football.
There have been reports that the Birds were very impressed by Kelly because of his record of turning around programs, Central Michigan, Cincinnati and now Notre Dame.  There's no question that he has the ability to motivate and lead young men.  The big challenge would be bringing together an NFL staff.
The Notre Dame players were dominated and Kelly was totally outfoxed by Saban.