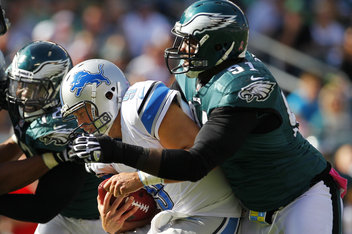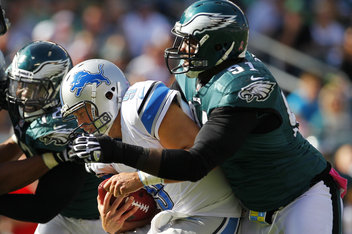 I've heard from numerous NFL sources here in Mobile, Alabama at the Senior Bowl, that the Eagles assistant coaches and scouts are talking about getting players for a 3-4 defense.
Specifically they've been asking and talking a great deal about big defensive linemen, who will play in this weekend's Senior Bowl game.
I've also learned that the Birds have hired long-time college coach Rick Minter as the team's linebackers coach.  I've heard the name of San Francisco secondary coach Ed Donatell keep coming up as a serious candidate for the Eagles new defensive coordinator.  The Birds will have to wait until after the Super Bowl to finalize that deal.
You can look at the Eagles roster and see that they're going to need a new group of bigger defensive linemen to play the 3-4.
I see two of their defensive linemen, Fletcher Cox and Cullen Jenkins, who will be able to make the move and play the defensive end position in the 3-4.  It's not a coincidence that they also were the two, who could play both defensive tackle and defensive end in the 4-3.  The key is their size.
They're both big enough to play the two-gap technique, which asks a defensive lineman to stand-up the opposing offensive lineman and be able to make the tackle on the running back to either side of that offensive lineman.  It takes a big strong player to do that.
I don't see anybody with the ability to play the nose tackle position.  Antonio Dixon has the best chance.
I think the Eagles can plug DeMeco Ryans and Mychal Kendricks into the inside linebacker positions.  I say that despite the fact that Houston was traded Ryans because he was more of a 4-3 middle linebacker, I believe he can be a good 3-4 inside linebacker, if he really wants to commit himself to doing it.
I think they have plenty of potential 3-4 outside linebackers.  Brandon Graham, Trent Cole, Darryl Tapp and Phillip Hunt are all smallish defensive ends who will all likely be changed into outside linebackers.  The secondary needs to be totally rebuilt regardless of what they do upfront.