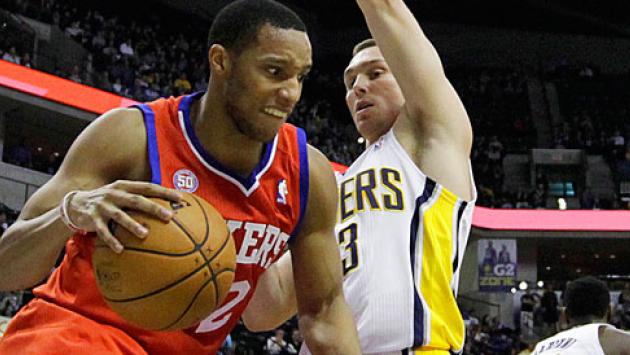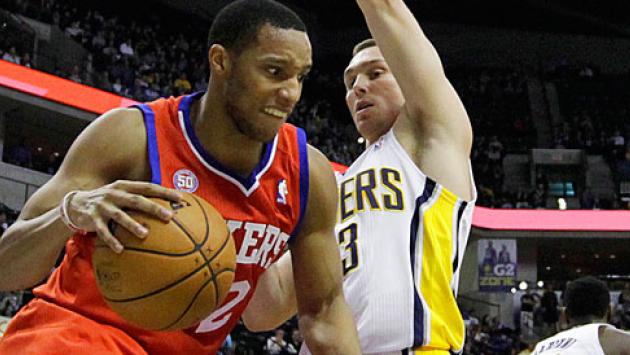 The Philadelphia 76ers had their three-game winning streak snapped on Wednesday night, falling 88-69 to the Indiana Pacers. Their record drops to 21-27.
It's been a rough ride for the Sixers this year, but this game could be a sign that things could get uglier than they've been pretty fast. The absence of Thaddeus Young took a big toll on this team tonight. No one on the team plays as hard as Young, who has spent the entire season trying to outwork and outhustle opposing power forwards that normally have a significant size advantage on him.
Without Young, the Sixers were forced to turn to a lineup that featured Kwame Brown as the starting center and Spencer Hawes as the power forward. The team's offense struggled mightily throughout the night, and couldn't keep up with the Pacers.
Jrue Holiday led the team with 19 points, but had an off night shooting the ball, connecting on just seven of his 21 shots.
Holiday was forced to take a great deal of shots because few of his teammates were interested in stepping up and lending him a hand.
Spencer Hawes, Nick Young, and Evan Turner were all woefully bad in this game. After putting together a 20-10 double-double just two nights ago, Hawes shot just 3-13 from the floor. Young only hit on four of his 13 attempts, and Turner was a horrid 1-10. These are three guys that the team needs to get a lot more out of, but they're all too inconsistent to be counted on to perform well each night.
If there were a couple of bright spots from this game, they were Lavoy Allen and Arnett Moultrie. Each player scored 12 points off of the bench.
If you're looking for good news on the injury front, stop reading immediately. The Sixers also learned today that Jason Richardson will undergo knee surgery, and be lost for the rest of the season.
The Sixers really just can't catch a break. There's been a dark cloud over this team from the start of the season. They had just managed to get a little momentum going with their three-game winning streak, and then Thaddeus Young goes down for three weeks with a hamstring strain. Remember all of the excitement surrounding this team before the season? It seems like that was years ago.