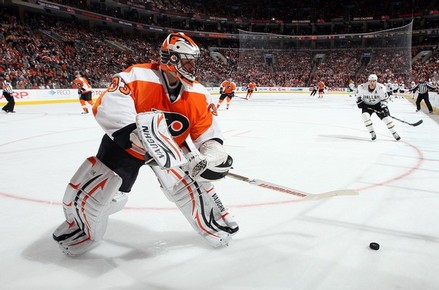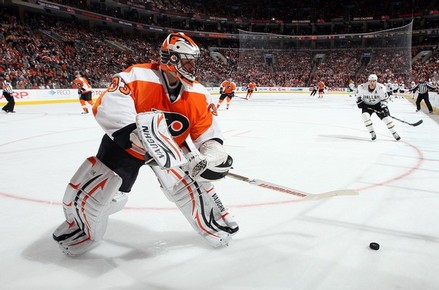 The Philadelphia Flyers announced this afternoon that back-up goaltender Michael Leighton has been placed on injured reserve (IR) with an "upper body injury." Brian Boucher has been recalled to take his place in the interim.
The trade for Boucher just prior to the 2013 NHL season was rationalized as a safety measure in case of injury. The only goaltender left in the system otherwise would have been AHL rookie goaltender Cal Heeter.
Even though it was a precautionary move, the trade made one wonder just how much faith the organization had in Leighton (whose re-signing was as much of a surprise last July).
Boucher has started in six games in the AHL thus far, posting a 2-4-0 record, 2.71 goals-against-average and a 0.908 save percentage. Based on the game reports from the Post Star and the Saratogian, Boucher has played decently with the Adirondack Phantoms. He certainly has nothing to do with any of the drama going on in the locker room.
The Flyers will begin a brutal six-game road trip beginning on Monday. It is likely that Boucher will get the nod on Tuesday against the Winnipeg Jets.
As for what happens when Leighton comes off IR (side note- who gets an upper body injury on the bench?), it's entirely possible that Leighton could be sent down to the AHL if Boucher plays well.
Leighton was not the reason that the Flyers lost against the Tampa Bay Lightning in his sole start this season, but he certainly wasn't sharp either.
If Boucher does stay with the club after the road trip, it would not shock me if, after Winnipeg, his next start would be the first game back from the road trip. It is the second of back-to-back games and is the third and final game against the Florida Panthers this season.
It would also be nice for him to hear at least one more "BOOOOOOOOSH" call at the Wells Fargo Center.