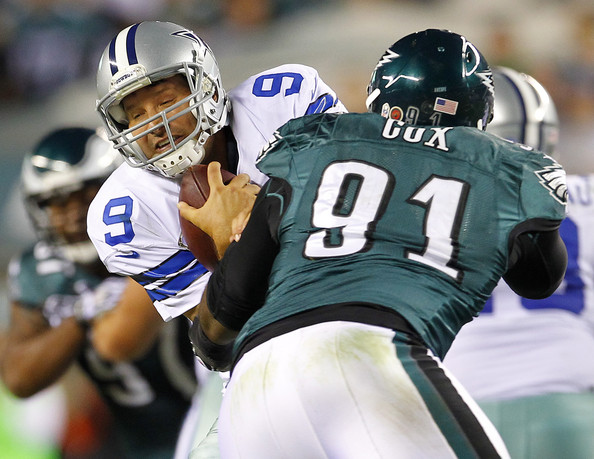 After doing some research and utilizing my 11-years of the playing numerous defenses in the NFL, I think I have a good idea how Billy Davis convinced Chip Kelly and the Eagles that he was the best option for them at the defensive coordinator position.
Don't get me wrong.  I don't think he was the first or second option, but he's got the job and a chance at having success.
Davis probably put together an argument pushing the belief that he's the best guy for the job because his base defense has the flexibility of a 3-4 defense and he will be able to utilize the best players on the Eagles current roster.
The former Browns linebacker coach employs a base defense which will feature the Eagles best defensive lineman, Fletcher Cox, and their talented second-year linebacker, Mychal Kendricks.  It will also give either Trent Cole or Brandon Graham a chance to put up some big sack numbers from that weak side defensive end position.  Middle linebacker DeMeco Ryans will still be playing the middle linebacker position, which will allow him to keep doing what he does best.
Davis was able to also make an argument that he knows how to get the best out of talented cornerback Dominique Rodgers-Cromartie.  His strongest piece of evidence is the fact that DRC made the Pro Bowl with Davis as his defensive coordinator in 2009.
First of all, let me give credit to Sheil Kapadia over at Birds 24/7 on the PhillyMag.com website for giving me much of the material I needed to put this together.  Kapadia wrote an article titled "Billy Davis, Predators And the 4-3 Under".  You need to check it out because it explains the defense which Davis uses as his base defense.
Kapadia highlights an article by Eric Edholm of Pro Football Weekly.  In the article Davis explains his hybrid 3-4 or 4-3 defense.  I played versions of this defense during eight of the 11 years of my NFL career.  At one time or another, I've played every linebacker position in the defense.
The fact that Davis came in promoting a defense that is played by both the Baltimore Ravens and the Seattle Seahawks didn't hurt his chances of becoming the team's defensive coordinator.  Remember that current Jacksonville Jaguar head coach Gus Bradley pushed this defense to the Birds front office.  It's a defense which has the versatility which Kelly likes, plus it will help to utilize the talent which is already on the roster.
Let me attempt to explain to you what type of defense it is that Davis is really playing.  His base defense is really a 4-3 defense for the most part.  The only difference between his 4-3 and most 4-3 defenses is that Davis has his weak side defensive end standing up in a two-point stance, rather than getting down in a three-point stance.  If he had him down in a three-point stance, it would be a regular 4-3 defense, but simply because he has that DE in a two-point stance, it's called a 3-4 defense.
Buddy Ryan was really the first to use this defense back in the 80's.  He was light years ahead of the rest of the league.  Buddy first had Richard Dent play that weak side defensive end position for him when he was coaching the Bears, then he had Clyde Simmons play that position with the Eagles.  This player has to be a good athlete.
Buddy would have each of them play some pass coverage at times, for the most part he would have them take the running back, if he released outside on the weakside.   He would have them do it from their three-point stances rather than from a two-point stance.  At times, Clyde would stand up at the last split second before the snap in order to make it easier to cover the back out of the backfield.
Cole and/or Graham will be rushing the passer over 90% of the time, but they will also have to play some pass coverage every now and then.  They don't have to be great in the pass coverage, but only need to be able to cover a running back or tight end for a couple of seconds.  Chris Clemons was playing this position in Seattle for the Seahawks and Terrell Suggs and Paul Kruger play this position in Baltimore for the Ravens.
The 3- technique defensive tackle to the weak side (away from the tight end) in a 4-3, or the defensive end to the weak side in a 3-4 is a featured player in this system.  He will be able to put pressure on the quarterback and get into the offensive backfield because team's won't be able to double team him very easily because the weak side offensive tackle will be blocking the defensive defensive end or linebacker which were talking about.  Here's Seattle Seahawks head coach Pete Carroll talking about that player.
"The 3-technique player should be your premier interior pass rusher," Carroll said. "He is going to get a lot of one on one blocks as it is hard to double team him because of where he lines up."
Haloti Ngata played this position for the Ravens and Cox would be playing it for the Eagles.  Again, it will give him the opportunity to be one-on-one most of the time with the other team's offensive guard on pass plays.  This should be a great matchup for the Eagles.  Hopefully Cox will be able to dominate in the same way Ngata has for the Ravens for quite a few years.
Davis will have Kendricks lining up at weak side linebacker and that's where he belongs.  He will rarely have to take on blocks, which is a good thing because the youngster had a lot of trouble getting of the blocks of these huge NFL offensive linemen.  His job now will be to run to the ball, make tackles and make big plays.  Occasionally they'll blitz him, but he will be able to use his speed.  He fits this position like a glove.  It's a great position for an athletic linebacker like Kendricks.  The Ravens have Dannell Elerbee playing this position and he does a great job.  They should send Kendricks some tape of Elerbee playing the position.
If I were coaching Kendricks, I would train him to attack the football every chance he gets.  He should be tackling the football and trying to strip ball carriers of the football.  He should be thinking turnover on every play.  Kendricks could and should be a big play guy for this team.
Davis had Karlos Dansby playing the weak side linebacker position for him in Arizona.  Check out how the coach describes Dansby 's abilities and his job. "what we've done with Karlos is put him behind a three-technique, so basically – we call these anchor points – he's got a wall in front of him," Davis said. "So he can run and use his athleticism. The center can't get him because the nose is on him. The guard can't get him because the end is on him. And the tackle can't get him because the predator is on him. So this is your athlete that can run, go cover ground and make plays.
As I said earlier, nothing would change with Ryans who is more comfortable with the 4-3 scheme than the 3-4 alignment.  He will essentially still be playing the middle linebacker spot in the 4-3.  Ryans was the Eagles most consistent defensive player this past year and they would like to keep him in the middle.
Whatever Davis did to get DRC to play, he needs to do again.  I would demand the best out of him and stay on him until he plays at his ability level.  I think he needs a foot up his butt at every practice and every game.
If I were the Eagles I would keep an eye on the Ravens and Kruger.  If there were any way to acquire him I would consider it.  The guy is 26-years old and a playmaker.  He is a perfect for that outside pass rushing position.
All in all, Davis could come in here and a do a good job, but one thing is for sure, he hasn't done it yet.   Sometimes a coach arrives at the right place at the right time with the right players and things just click.  That's what happened for the Eagles with Jim Johnson, Brian Dawkins, Jeremiah Trotter and etc.