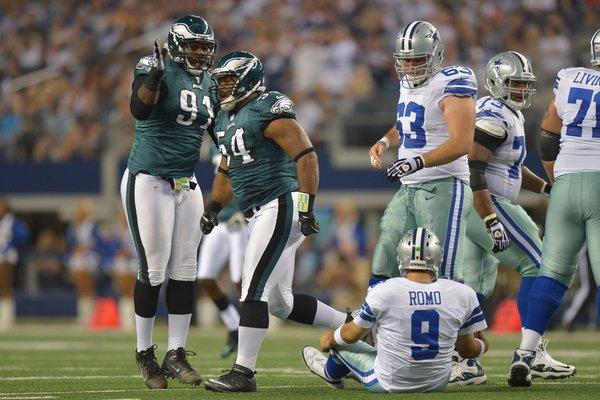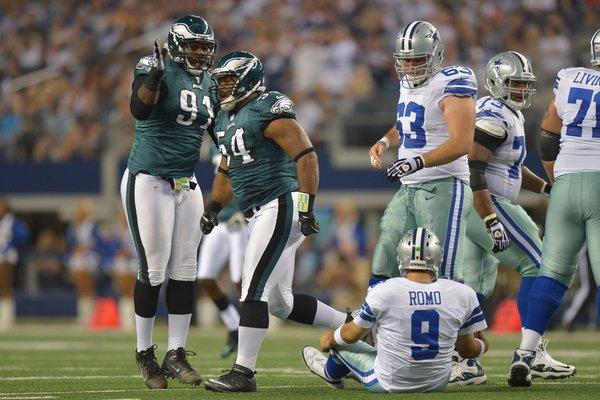 The Eagles feel they already have some of the personnel needed to play defensive coordinator Bill Davis' hybrid 3-4 defense.  Team GM Howie Roseman spoke to a number of local media members, who had traveled Indianapolis and gave them a summation of what he thought about some of the team's current defensive personnel.   Here are some of comments according to PhiladelphiaEagles.com.
Roseman had this to say about last year's first round pick defensive tackle Fletcher Cox.
"He's got incredible versatility. He can really play in any scheme. He can play in a 4-3. He can play in a 3-4. He can do any spot in those alignments.
"He's got an incredible skill set and he does all of those things well. I think you're looking for a big jump from him from year one to year two, a young guy, a 21-year-old."
Cox must be a dominating force in this hybrid defense the Birds will be playing.  Think about the havoc which Haloti Ngata causes when teams try to block him in the Baltimore Ravens defense.  That's what Cox must produce.  He's got to stay healthy because this kid does play hard when he's out there.
Roseman sees Antonio Dixon as the Birds answer at the nose tackle position.
"I don't think there's any question about it (that he's a nose tackle). That's his skill set. He's a big body. He has good use of his hands. He's a run-stopper. He's what you look for if you're looking for a 4-3, 3-4 nose tackle."
The truth of the matter is that the Birds aren't going to be playing a pure 3-4 defense.  It's going to be a hybrid 4-3 or 3-4, so Dixon won't have to really play nose tackle.  He wouldn't be a good pure nose tackle, but he can do a good job lining on the shoulder of the center.  They would need a bigger guy to play the pure nose tackle position.
Dixon needs to gain back some of that weight he lost, while Jim Washburn tried to make him a wide nine defensive tackle.
Roseman believes Brandon Graham can make the move from pass rushing defensive end to pass rushing outside linebacker.
"I think when he came out there was a lot of discussion about him being an outside linebacker and him being able to play on his feet", . I think he can do that. He can rush the passer. He can hold the edge. He can play in space. I think that's a transition Brandon can do. Wherever we go, I think Brandon is going to be a piece of that."
I agree with Roseman.  Graham can thrive in this position because he'll only be dropping into coverage about 5% to 10% of the time.  He'll be singled blocked by the offensive tackle, so he must refused to be handled by one guy.  Terrell Suggs and Paul Kruger play this spot in Baltimore.
Roseman believes Trent Cole can perform the same function as Graham.
"Trent's the same way (as Graham). You look at outside linebackers, Trent has the skill set that a lot of those guys have."
I'm not so sure he will be as effective in pass coverage as Graham.  Remember Cole has added about 20 to 30 pounds since he came into the league.  He would have been ideal for this scheme when he came out of University of Cincinnati, years ago.