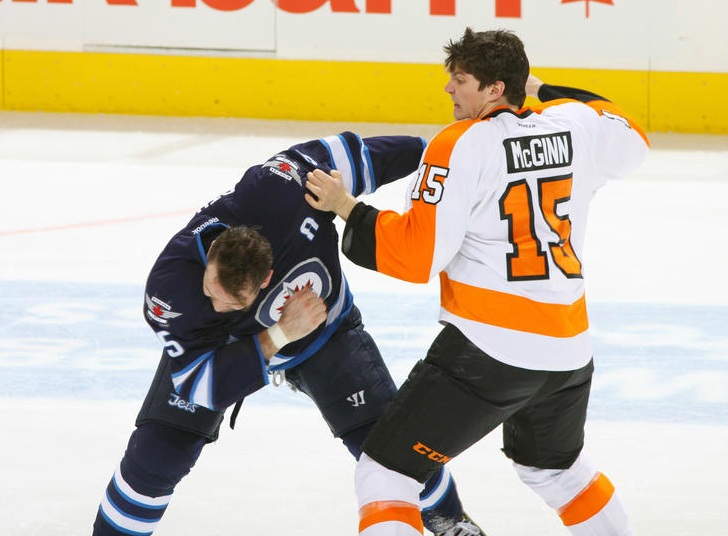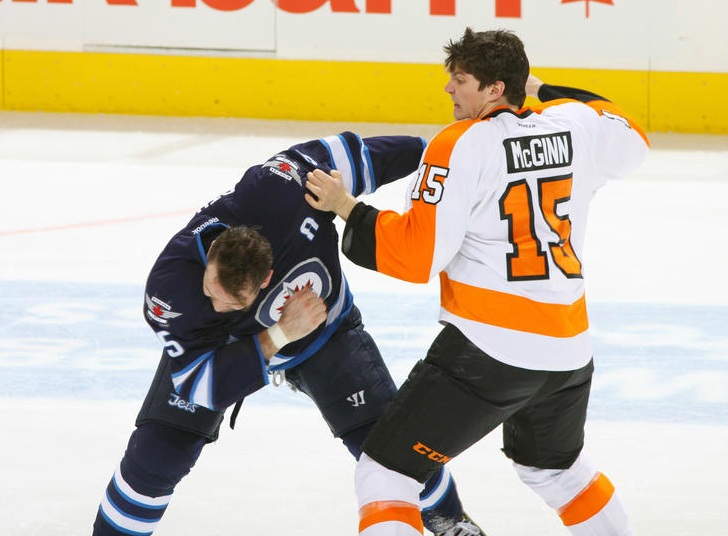 Update: Tye McGinn will be playing on the top line with Claude Giroux and Jake Voracek against the New York Rangers. Presumably Matt Read will shift to the second line with Brayden Schenn and Wayne Simmonds while Simon Gagne will slide to the third line. Scott Hartnell remains in the doghouse.
The Philadelphia Flyers have recalled forward Tye McGinn from the Adirondack Phantoms ahead of tomorrow's tilt with the New York Rangers.
From the Phantoms' press release:
The Philadelphia Flyers have recalled 6-2, 205-lb left wing Tye McGinn from their American Hockey League affiliate, the Adirondack Phantoms, according to general manager Paul Holmgren.  McGinn will be available for the Flyers' game against the New York Rangers on Tuesday night and will wear #15.

McGinn, 22 (7/9/1990), has appeared in 16 games for the Flyers this season, recording three goals and two assists for five points.  He made his NHL debut on January 22 at New Jersey and scored his first career NHL goal on January 26 at Florida.

McGinn started the 2012-13 season with the Adirondack Phantoms and has appeared in 40 games for the club over the course of the season.  He has 14 goals and 12 assists for 26 points in the AHL this season.

Last year in his rookie season, McGinn scored 12 goals and 6 assists with the Phantoms.
McGinn was placed on IR after breaking an orbital bone against enforcer Mike Brown's fist. Brown has actually been traded to the Edmonton Oilers since then.
He was returned to the Phantoms once the swelling on his face had abated. He has been playing in the meantime with a full cage mask. Since returning, he has scored 3 goals and 11 points in five games played. This included a career-high four-point game (2 goals, 2 assists) in a 4-2 victory over the Norfolk Admirals.
It's unknown at this time if he will be included in the line-up on Tuesday or if head coach Peter Laviolette will opt to continue with the same line-up used against the Pittsburgh Penguins. Assuming that Matt Read, Scott Hartnell and Simon Gagne remain ahead of him on the depth chart, he could be slotted on the fourth line.
At this point, the team may as well keep McGinn in the line-up indefinitely to either help him develop or increase his trade value. The Phantoms are currently tied in last place in the Eastern Conference and will likely miss the postseason again. They have not yet been mathematically eliminated, but they would essentially need to win every game for the rest of the season and hope that the eight teams immediately in front of them somehow lose a disproportionate number of games.