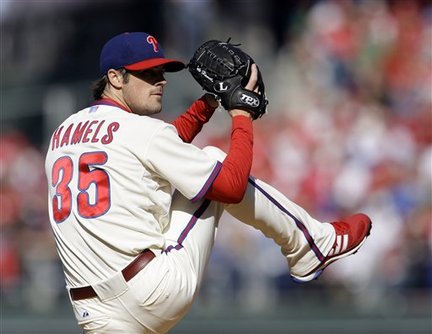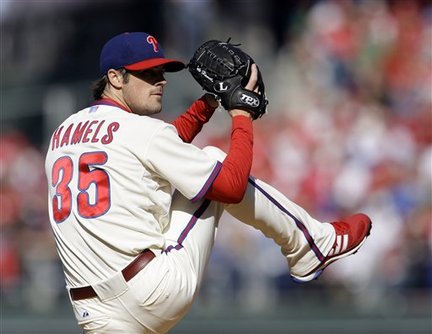 Evaluating The Roster
Starting Pitching
Once again, the Phillies are going to lean on their starting pitching to be their greatest strength.
Cole Hamels and Cliff Lee are still two of the top starting pitchers in baseball, and will be counted on the be the anchors of this team.
Hamels is at the top of his game right now, and is primed for another stellar season. He's matured a great deal over the past two seasons, and his inconsistencies and mental meltdowns from previous seasons are no longer an issue. Cole is now the ace of aces on this staff, and it's a title that he's more than earned.
Lee struggled through a frustrating season in 2012, but finished the season by rediscovering his dominant form and should be in line for a huge bounce-back season this year. His physical skills haven't suffered any decline, and he should post numbers throughout the season that will rival that of Cole Hamels.
The biggest question mark on the staff is Roy Halladay. After treating Philadelphia to a pair of Cy-Young caliber seasons, injuries and age have begun to rob the starter of his skill. His ERA ballooned to 4.49 last season, and he clearly wasn't the same guy. Halladay's time as a workhorse is over. He can no longer be counted on to give the Phillies seven to eight innings while allowing less than three runs in a typical start. The former ace has had a rough spring training, and by his own admission he's trying to reinvent himself. He's going to have nights where he feels good, and will occasionally flash his old form, but more often than not I think he's going to have some trouble going deep into games like he used to.
Charlie Manuel will need to manage Halladay carefully in order to get the most out of his former ace. Manuel has to limit the amount of innings and pitches that Halladay throws in a typical start. Keeping him as fresh as possible is a major key to this season. If the former Blue Jay falters, than the Phillies could have some serious problems with their rotation.
Kyle Kendrick will begin the season as the team's fourth starter, and will be counted on to provide some stability in back end of the rotation. He finished the year pitching at a very high level, going 4-1 with a 2.95 ERA in August. It would be foolish to count on Kendrick to carry that success over to this season…we've seen enough of the righthander over the last six years to know that he's inconsistent.
John Lannan will fill the fifth starter's role. The former National has proven to be passable fifth starter throughout his career, but made only six major league appearances a year ago. His best season came in 2010, when he went 10-13 with a 3.70 ERA for Washington.
The Bullpen
What a difference a year makes.
What might have been this team's biggest weakness in 2012 could be their greatest strength in 2013.
The Philadelphia bullpen has received some dramatic upgrades. Gone are the likes of Chad Qualls, Mike Schwimer, David Herndon, and Jose Contreras. In are Mike Adams, Chad Durbin, and a number of up-and-coming young pitchers.
The closer position wasn't an issue with Jonathan Papelbon filling the role the last season, but the eighth inning struggles cost this team a lot of games in 2012. Now they have the pieces in place for a bullpen that can dominate.
Mike Adams has a reputation for being one of the elite set up guys in all of baseball.
Chad Durbin is an experienced arm that played a critical role in the bullpen for three years, he can pitch in just about any situation, and he's a guy Charlie Manuel has always trusted.
In addition to Adams and Durbin, the Phils have a number of promising young arms that could emerge and make the bullpen even stronger. Phillipe Aumont got to pitch in some key moments towards the end of last season, and the top prospect from the 2009 Cliff Lee trade may finally be ready to contribute. Lefthander Antonio Bastardo was a mess last season, and he can still get lefthanded hitters out and the team won't put as much pressure on him this year. Mike Stutes was out for most of 2012 with an injury, but he's back in the mix now after having had a good spring. Jeremy Horst, the lefty acquired in the Wilson Valdez trade a year ago, put up some good numbers and could be the team's second lefthanded reliever, filling a role similar to that of Scott Eyre. The team also has veteran lefty Raul Valdes, who can pitch multiple innings, available.
In the minors, the team also has a number of guys they could turn to in the event of an emergency. Young pitchers Jake Diekman and Justin De Fratus got a taste of the big leagues last season, and the Phillies remain high on both prospects.
When you look at this Phillies bullpen, there's a lot of good names. They've got an overwhelming amount of depth here, and it wouldn't be surprising to see a couple of their younger names come up as possible trade chips later in the season.
The Starting Lineup
Here's where the biggest questions about this team are.
The Phillies will field one of the oldest infields in baseball, with Jimmy Rollins, Chase Utley, Ryan Howard, Michael Young, and Carlos Ruiz all on the wrong side of 30. The good news is that there's still reason to be optimistic about this group.
Jimmy Rollins will go through his periods of hot-and-cold performances at the plate, but he hasn't lost a step defensively and is still one of the better shortstops in all of baseball.
For the first time in three years, the team will have second baseman Chase Utley healthy and in the lineup on Opening Day. That's the good news. The bad news is that he's struggled through Spring Training, hitting under .200 with just three extra-base hits. The Phils will be in some trouble if they can't count on solid production out of the three-hole from Utley.
While there are questions about Utley's ability to produce, first baseman Ryan Howard should have no trouble returning to performing like one of baseball's top run producers. He's more than a year removed from surgery to repair his Achilles, and can now put pressure on his foot with confidence. Having their cleanup hitter at 100% adds about 40 home runs and 120 RBI's to this lineup, and it's going to make a difference.
At third base, the Phillies are going to try and squeeze a season out of former Texas Ranger Michael Young. Young is on the downside of his career, and doesn't have much good baseball left in him. The team's hope is that he'll be able to bounce back from a down year in 2012, and also give the team a stable fielder at third base. I think it's a major concern that the team is going to lean on a 36-year old third baseman just one year after watching another 36-year old third baseman (Placido Polanco) break down. Even if Young gets off to a good start, I'd have serious doubts about his ability to sustain a high level of play for a full season.
The team also has some questions about the catcher position. Carlos Ruiz is coming off of the best year of his career, but he'll be unavailable for the first 25 games of the season after being suspended in the offseason for performance enhancing drugs. It's unlikely that Ruiz will be able to repeat his All-Star performance of 2012, and how much his play suffers without his PEDs remains to be seen.
While Ruiz is out, Erik Kratz will be see most of the action behind the plate. Kratz played well during his opportunity last season, but his ceiling is limited.
The best news that the Phillies have received from Spring Training has been the play of outfielder Domonic Brown. The highly touted prospect has struggled to live up to lofty expectations, but he's hit over .300 with seven homers and 16 RBI's as of this writing. If Brown were to emerge as a legitimate everyday outfielder, he'd bring another dimension to this lineup.
Speedy Ben Revere takes over the centerfield position. He has a skill set similar to that of former Phillie Juan Pierre. He's got no power, and he's going to hit a lot of singles. The team has hopes that he'll be able to develop into a more complete player at the plate, and improve at working the count and drawing walks.
Left field is the only position that the team hasn't been able to settle out of Spring Training. The Phillies wanted Darin Ruf to take the job, but the righthanded power hitter proved that he still needs some seasoning, and will begin the season in the minor leagues. The other favorite to win the job, Delmon Young, will begin the season on the disabled list.
In the interim, the Phillies will go with a platoon of John Mayberry Jr. and Laynce Nix. Neither player is anything more than a decent bench player in the major leagues.
Infielders Kevin Frandsen and Freddy Galvis will round out the bench. Frandsen was a guy who earned a spot on the team with his play last summer. The Phillies were out of options at third base, and gave the veteran an opportunity to play. He impressed enough for the team to keep him around in a bench role.
Galvis saw heavy action at the beginning of last season, filling in for Chase Utley at second base. He suffered a back injury that ended his season, but he proved that he's capable of performing well at the major league level. He's a great defensive asset, and he can play any of the infield positions at a high level.
My 2013 Projection.
A year ago, the Phillies had no offense and no bullpen to speak of. They had too many key players spend too much time on the disabled list, and they just never had a chance to be competitive in a year where the Washington Nationals and Atlanta Braves were on the rise.
But this year is a different story. While the Phillies have their share of question marks and will begin the year without a couple of key pieces, they're much stronger than they were last season.
For the first time in three years, the Phillies will their three and four-hole hitters (Chase Utley and Ryan Howard) healthy and ready to go on Opening Day. You can't overstate how important it is to this team to have these two guys available and 100%. They didn't have either player available until the middle of the season in 2012, and by then it was too late for them to make a difference. While Utley may not quite as good has he was in 2008 and 2009, he's shown that he has enough juice left to be an effective player, and Howard is now more than a year removed from his Achilles surgery, and should be able to return to his previous status as one of the top run producers in all of baseball. To have those two presences back in the lineup for a full season makes this lineup much more dangerous.
A year ago, the Phillies bullpen was just terrible. Now they've got a group that has a chance to be as strong and deep as any bullpen in baseball. This alone is going to win the Phillies at least a couple of games that they would have lost a year ago.
Starting pitching isn't nearly as strong as it was a couple of years ago, but as long as Cole Hamels and Cliff Lee perform like they're supposed to, the rotation should still be a strength. Even if Roy Halladay turns out to be more of a liability than an effective starter, the Phillies have gotten to playoffs with far worse rotations in the past.
I think the Phillies are poised to surprise a lot of people in 2013.
Many analysts are writing the Phillies off as an old team that has seen their best baseball come and go. While age is certainly a concern for this team, I think there's still some magic left in this group. The Phils have all of the pieces that they need to be competitive in 2013, and while they don't have enough to challenge the Nationals for the division, I expect them to give Philadelphia an entertaining season, win more than 85 games, and be in the mix for one of the wild card spots.