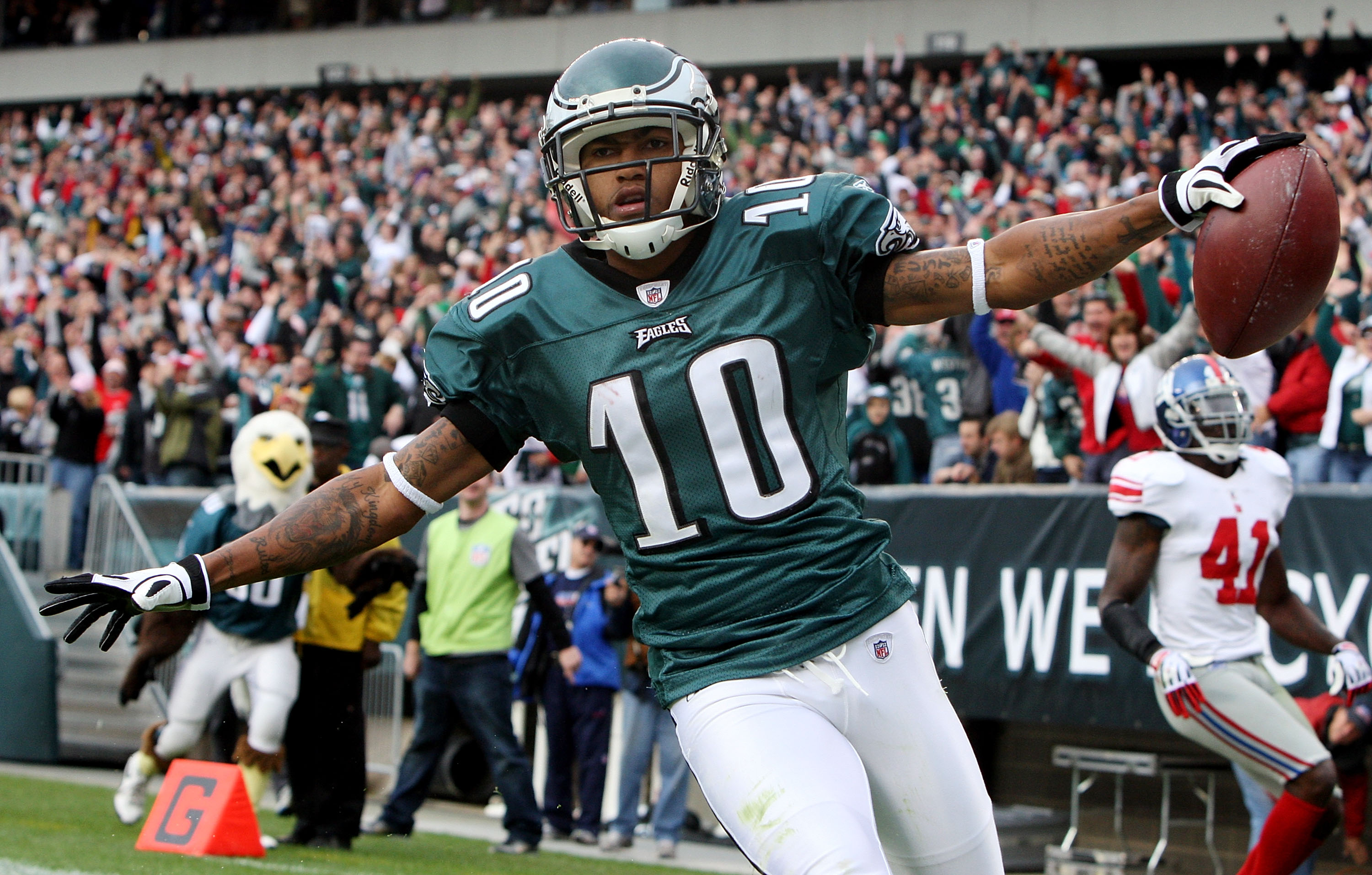 Eagles wide receiver DeSean Jackson talked to the local media today at the Nova Care Complex and expressed his excitement about playing for Chip Kelly and his uptempo offense.  Jackson said it took him about two months after the season for his injured ribs to heal.
He missed quite a bit of the season a year ago, but Jackson said he's working out again getting in shape for the workouts and the season.
Last year, getting hurt towards the end of the year, fracturing two of my ribs, (was) very disappointing in regards to the season we were having last year," he said. "I felt I was still able to help this team and do things I'm able to do to really spark the energy; spark my teammates and just having energy out there and just being myself."
Jackson is excited about the possibilities of what he can do in this offense.  Kelly said he wanted to use Jackson the way he had used De'Anthony Thomas at Oregon.
Thomas ran the ball out of the backfield, split out as a wide receiver, went into motion as a slot receiver and returned punts. Jackson who is a good friend of Thomas' looks forward to being used in many different ways in the Kelly offense.
"To see some of the things he did at Oregon, to myself, is a blessing," Jackson said. "That offensive style was almost like cheating to myself to see that. I said, 'Man, he's cheating. He's getting all these touchdowns, scoring all these points; doing all this crazy stuff.' I'm just excited to hopefully be able to fit into that role and see how it turns out for myself."
Jackson kinds likes the idea of the major change that's taking place with the Birds.
"I definitely think it's a fresh start," Jackson said Wednesday. "Throughout this period of time, every day we come in here, we have to grind hard together and build that camaraderie, because there are a lot of new faces. Chip Kelly is the head man up here. A lot is different, but at the same time, I think it's good because change is good sometimes. We're looking forward to the opportunity."
"I think this year coming up, with Chip coming in with the style of play of his offense, it's really going to help me out a lot, just because I'm going to be able to get certain looks; get the ball in my hands, do different things we weren't doing in the past five years," Jackson said. "That's going to be an exciting time for myself, but at the same time, I'm going to have to be fully in shape and fully prepared and fully ready.
[media id=301 width=400 height=300]