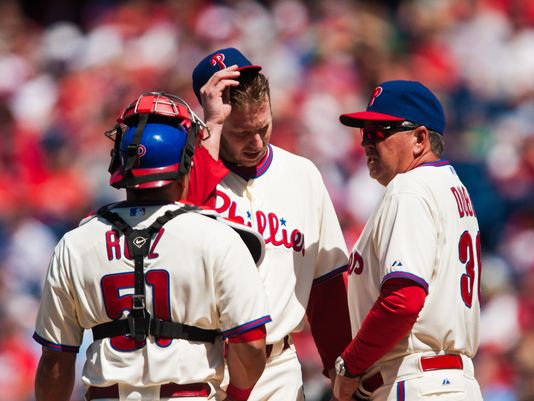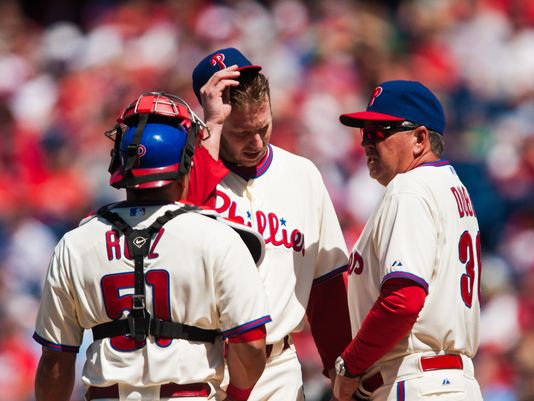 Let's start off with two cups and a string. Maybe that will allow the Phillies' brass and their players to communicate a little better.
"As long as he feels like that he's healthy and can pitch and things [and] the doctor says he's healthy, then we got to send him back out there," Charlie Manuel said in his postgame press conference Sunday.
Almost instantaneously after that:
"My shoulder is bothering me," Roy Halladay said. "Started the morning after the game I pitched against Pittsburgh. I believe it was the 24th [of April.]"
Ruben Amaro, Jr. spoke to the media as well.
"We're likely going to have to put him on the DL," he said.
It's nice to know everyone is on the same page in the Phillies clubhouse. Halladay was placed on the 15-day disabled list Monday afternoon with right shoulder inflammation. He clearly is not OK and will most likely never be the pitcher everyone is used to seeing.
Thus, let the blame game begin.
First, Halladay is at fault for not telling someone immediately after he noticed the sourness. Pride only takes you so far and for Doc it led to 17 earned runs in his next six innings.
Second, Rich Dubee should take a lot of the responsibility because it's his job to notice these types of problems.  MLB Network analyst Mitch Williams was a guest of the 94 WIP Morning Show last Friday and said Halladay's mechanics were off and it was Dubee's fault for not fixing them.
It's amazing how afterwards there was a deluge of defense for Dubee from Halladay and Manuel. It's safe to say Williams, or "the mechanical wonder" as Halladay called him, was on to something.
Lastly, Manuel's approach of "player's manager" is finally a detriment to this team.
On the Chris Stigall show Monday morning on 1210-AM WPHT, when asked if he spoke to Halladay Sunday night Manuel said, "No, he was real busy. He was on the plane. I didn't see him, I mean I saw him walk by me, but he went in the back there.
"When Ruben and I talked and I found out exactly what was going on, I kind of looked back and it looked like he was asleep and I didn't want to bother him."
It's Manuel's job to find out what is going on with one of his top pitchers. This is a dire situation his ball club and that is a weak approach to managing this injury.
Thus, it's time for the Phillies to make changes and yes, notice the plurality in that word.
Three people need to go:
Rich Dubee needs the boot because he either had a lack of awareness towards Halladay's inflammation or his arrogance towards the fans, media and maybe even his own team with not divulging injury information has backfired tremendously.
Charlie Manuel has to go because his style of managing isn't working anymore. It's showing on the field with his team's poor hitting and in the clubhouse with the lack of communication.
Last but not least, Ruben Amaro, Jr. has done an awful job putting this squad together over the past two seasons. He has been riding coattails of Pat Gillick's moves for too long and that will not work anymore.
At 14-18 heading into Monday night's game, this team needs a change of culture. Forget the fact that it's early. It will get worse. Their bats are not good enough anymore to glide them through the season.
Remember – two cups and string is a very easy way to get communication flowing. The Phillies need to start doing that now with the fans and their inner circle.
Dave Uram is a producer and remote engineer at SportsRadio 94 WIP in Philadelphia. He is also a news anchor and sports broadcaster at 1490-AM WBCB in Levittown, Pa. You can follow him on Twitter @DaveUram88.