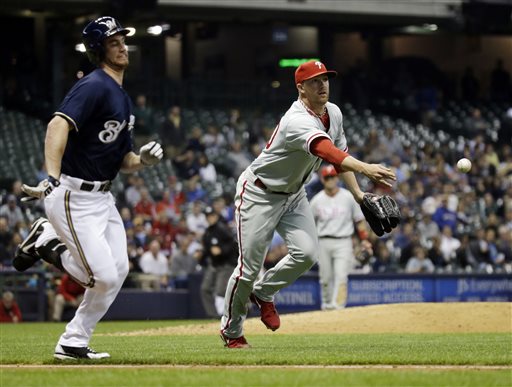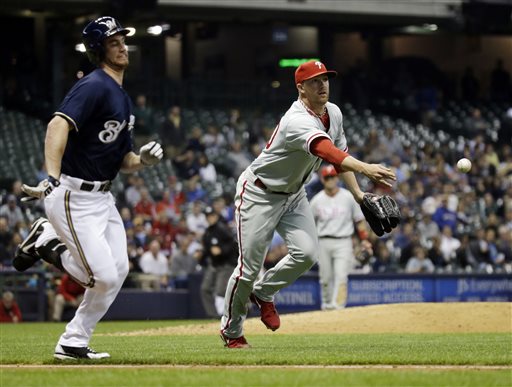 The Philadelphia Phillies won their fifth straight game on Thursday night, taking down the Milwaukee Brewers 5-1. Their record improves to 31-30.
Tyler Cloyd did his job well on the mound, tossing 6.2 scoreless innings. Cloyd gave up four hits and five walks, and lowered his ERA to 3.68. I admire Cloyd for the success he's been able to achieve, but it's scary watching him pitch. I'm just waiting for the kid to get lit up every time he goes out there.
Cloyd also drew a walk and came around to score a run in the second inning.
Charlie Manuel shook up the lineup a bit tonight. Michael Young batted out of the lead off spot for the first time all season, and John Mayberry got the start in centerfield and hit second.
Young responded by going 3-5 with three singles.
The Phillies got out to an early 2-0 lead in the first inning. Ryan Howard drove in a run with a sacrifice fly, and John Mayberry scored on a wild pitch.
Mayberry got hits in his first two at-bats, including an RBI double in the second inning.
Domonic Brown singled with one out in the third inning. Brown then stole second and third base to put himself in position to score on an RBI groundout by Erik Kratz. He finished the game 2-3 with a walk.
It's now 11 RBIs in the last 12 games for Kratz.
Delmon Young hit a solo home run in the fifth inning. It's Young's sixth of the year, and his third in the last seven games.
Justin De Fratus got the final out of the seventh inning.
Mike Adams pitched the eighth inning, and allowed a run to score on an RBI groundout after giving up a walk to Ryan Braun.
Antonio Bastardo got the call in the ninth inning. Bastardo gave up a lead-off single to Juan Francisco, but then retired the next three batters he faced.
Final Thoughts
I actually like Charlie's idea to bat Michael Young first. Young hasn't been anything more than a singles hitter all season, and he's been killing the team with double-play balls. He's still a smart enough hitter to work a count and take a walk, and that may make him the best fit for the lead-off spot on the team at the moment.
You can tell that Manuel really wants no part of Ben Revere in his lineup, especially with John Mayberry playing well. Although Mayberry is far from an ideal everyday outfielder, Manuel would rather have Mayberry's power in the lineup instead of Revere's complete and utter lack of it.
The new lineup worked well for Charlie tonight. Young and Mayberry were both productive at the top of the order, and the offense put up a solid five runs.
The Phillies are on a roll right now. They've ripped off five in a row, and they've got their record above .500 for the first time all year. They're becoming fun to watch again, and they've got a good chance to keep the winning streak tomorrow with Cliff Lee on the mound.