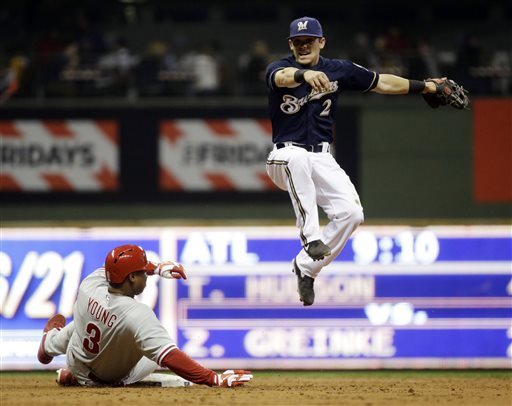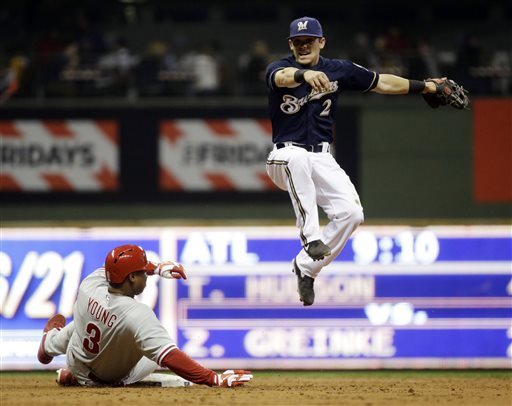 The Philadelphia Phillies had their five game-winning streak snapped on Friday night, falling to the Brewers 5-4. Their record drops to 31-31 on the year.
Cliff Lee wasn't at his best tonight. Lee gave up four runs over seven innings, allowing eight hits with three walks and struck out nine.
Lee gave up two runs through six innings, and was already over 100 pitches but Charlie Manuel tried to squeeze one more inning out of his ace. Unfortunately, Lee began the inning by giving up a pair of runs to tie the game.
The Phillies offense got off to a fast start, scoring four runs in the first four innings. Jimmy Rollins singled home John Mayberry in the first inning. Domonic Brown doubled with one in the second inning, and was knocked in by Delmon Young. Erik Kratz followed Young with a two-run home run.
After the fourth inning, the offense was unable to generate anything else. Their best chance for additional runs came in the eighth inning, with runners at first and second with one out, but Delmon Young grounded into a double-play.
Michael Young batted out of the lead-off spot for the second straight game, and went 0-3 with a walk.
Freddy Galvis went 0-4, and his average has dropped down to .228. Galvis also committed an error.
Mike Stutes was the first pitcher out of the bullpen, and recorded two outs in the eighth inning.
Jeremy Horst took over for Stutes, and recorded the final out of the eighth. Horst came back out to pitch the ninth, and allowed a run on three hits, taking his second loss of the year.
Final Thoughts
Tough loss tonight.
The Phillies seemed to be on their way to a sixth consecutive victory. They jumped out to four-run lead, but Cliff Lee was unable to hold it and his offense shut down after the fourth inning.
Charlie Manuel had a short bullpen to work with tonight, and it hurt him. He wanted to try and give Mike Adams and Antonio Bastardo the night off, and in order to do that he was forced to keep Lee in the game for an extra inning on a night where the lefty didn't have his best stuff. Then Charlie had to rely on Jeremy Horst to keep the game alive, and while Horst was able to strand a runner on third and escape the eighth inning, he had no chance against the heart of the Milwaukee order, going up against powerful righties like Ryan Braun and Aramis Ramirez.
The Phillies have now returned to the .500 mark, and will try to get back on the right track with Kyle Kendrick on the hill tomorrow.