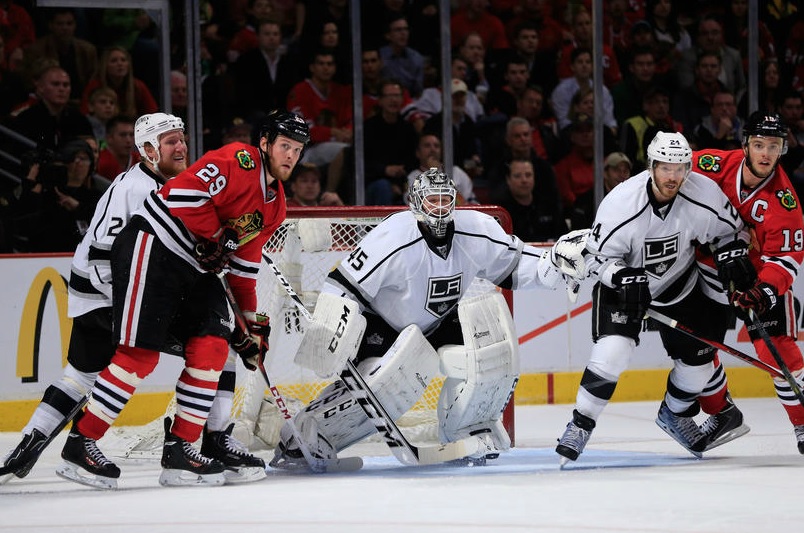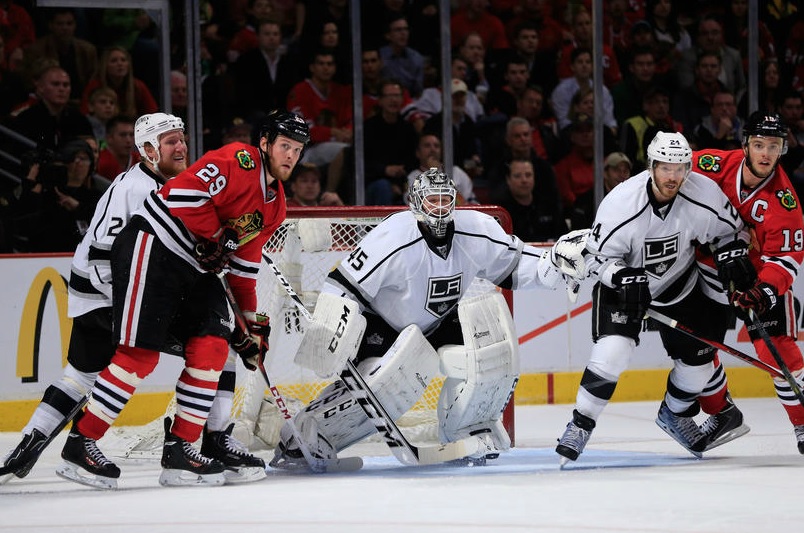 Bob McKenzie of TSN wrote on twitter yesterday, "It's not carved in stone, but in spite of what has been said in past, I expect PHI is likely to use compliance buyout on Ilya Bryzgalov… Also, PHI is in market for D and may be willing to move one of their young centres – B Schenn or Couturier – for the right deal."
I took a long long at the future of the Flyers' goaltending about a month ago and wrote this:
Correcting the mistake that was Ilya Bryzgalov's contract is in the Flyers' best interest, but only if they have a plan in place for taking over his responsibilities in net.
That is, leaving the responsibility of starter to Steve Mason alone would be a mistake. With so few quality options on the free agent market this summer, waiting until next summer seemed to make more sense.
As it turns out, the Flyers may have another goaltender in mind – Jonathan Bernier of the Los Angeles Kings.
Bernier, 24, has been stuck being Jonathan Quick for the past few years and presumably would be again if he re-signed with the Kings as a restricted free agent. That is unlikely to happen.
The former first round draft pick has started in just 62 games over the last five years, sporting a 29-20-6 record with a career 0.912 save percentage and 2.36 goals-against-average.
Those are respectable numbers, and Bernier appears to be at the point where he deserves the chance to be a starting goaltender.
It all comes down to what that potential is worth.
Sergei Bobrovsky had better results in his rookie season than Bernier has had over the course of his career, and yet Bernier was being hyped over Bobrovsky in 2011 as the next great goaltender simply because of his draft position. "Bob" struggled in his sophomore season with the Flyers, but that was as much a team issue as it was an individual one.
Here are the returns in some recent goaltender trades:
Sergei Bobrovsky: (1) 2nd round draft pick, (2) 4th round draft picks
Semyeon Varlamov: (1) 1st round draft pick, (1) conditional 2nd round draft pick
Anders Lindback: (2) 2nd round draft picks, (1) 3rd round draft pick
Ben Bishop: Cory Conacher
The return that has been suggested for the Flyers? Matt Read.
Understanding that you have to give to get, I don't think trading Read for Bernier is equal. The Flyers aren't in a position where goaltending is their biggest priority and Bernier comes with much more risk than Read in terms of potential.
Varlamov, for example, was also 24 years old when he took over the starting position for the Colorado Avalanche. The team hasn't made the playoffs in the two years he's been there, and finished 29th overall this season with an 11-21-3 record.
Compared to these other recent trades, Read has more value than draft picks or a one-dimensional rookie. Factor in the Flyers' cap woes and how affordable Matt Read's $900K fits in the system, and letting him go is just too costly.
A fair trade, in my humble opinion, would be along the lines of Nick Cousins, (1) 2nd round draft pick, and (1) later round draft pick. Cousins isn't NHL ready yet, but he has high potential to be an effective second line center in the NHL someday. There's risk with the trade, but then each partner is sharing some of that risk.
The other concern with trading Read is if the Flyers do choose to move one of Schenn or Couturier for a defenseman. The offense is going to take a large hit if two of their young forwards are shipped out.
Update: Travis Hughes of Broad Street Hockey has made an excellent argument that the Flyers should offer sheet Bernier. The Kings have roughly $11.5 million in salary cap space and need to sign 9 players for next season. If the Flyers were to sign Bernier for $3.36 million or less, the return to the Kings would be just a 2nd round pick. At that cap hit and with two or three years on the contract, it would not be advantageous for the Kings to match.
The NHL Entry Draft takes place on June 30. Expect trade talk to continue picking up over the next three weeks.