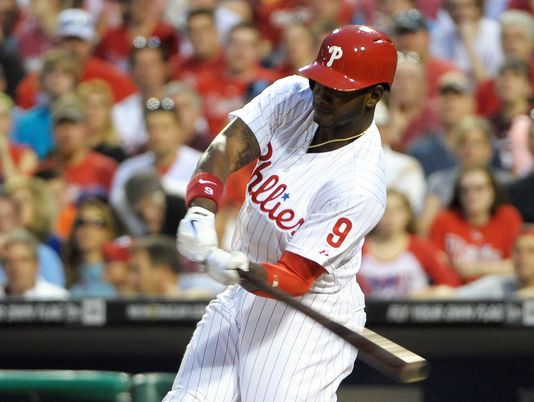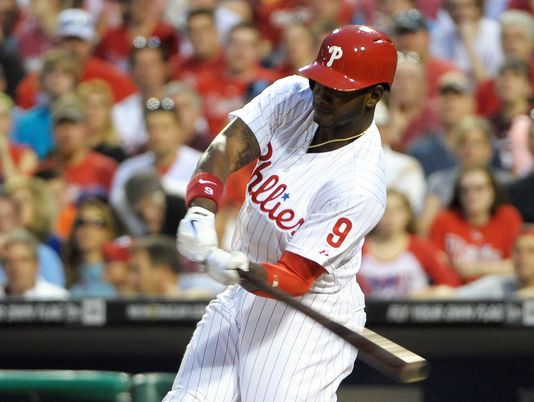 The Philadelphia Phillies snapped their two-game losing streak, defeating the Washington Nationals 5-4 on Monday night. Their record improves to 34-37.
John Lannan made his return to the rotation tonight, and pitched a decent game, allowing two runs on six hits over five innings.
Domonic Brown struggled early in the game, but came through when the team needed him most with an RBI single in the bottom of the ninth inning to win the game. Brown finished 2-4, and also struck out with bases loaded and one out in third inning.
Delmon Young hit a two-run double in the third inning.
Ryan Howard hit a solo home run in the fifth inning. It was his first home run in June, and his first since May 29th. Howard finished the game 3-3 with a walk.
Ben Revere finished the game 2-5 with a couple of singles. Revere got the ninth inning started with a leadoff single, and eventually came around to score the winning run.
Michael Young went 1-5 with a triple.
Mike Stutes gave the Phils two scoreless innings in relief of Lannan. Stutes has pitched well since returning from the minor leagues, with a 1.32 ERA in 11 appearances. He's one of the few relievers in the bullpen that can be counted on to pitch multiple innings.
Mike Adams recorded two outs, but also gave up a run in the eighth inning on two hits.
Antonio Bastardo got the final out of the eighth inning, forcing Adam LaRoche to ground out.
Jonathan Papelbon blew a save for the first time all season, allowing a solo shot to Chad Tracy in the ninth inning.
Final Thoughts
There was a lot to like about tonight's win.
First of all, it was great to see the team win the first game of an important series in dramatic fashion. They needed a shot in the arm after going 3-7 on the 10-game road trip, and a walk-off win against the Nationals could potentially be the spark that this club needs to get going again.
It was also nice to see Ryan Howard and Domonic Brown play important roles in the victory. Howard had his best game in weeks, reaching base every time he stepped to the plate. We also got to see his homerun drought end.
Brown had been scuffling over the last week and a half. He just wasn't nearly as electric as he was during his hot streak, but it was encouraging to see him come through with a walk-off hit. A hit like that has got to feel great for Brown, and hopefully it ends his recent struggles.
John Lannan also looked pretty decent in his return to the mound. He didn't go deep into the game, but he was steady and gave the team a good chance to win.
The only downside to tonight's win was the bullpen. Jonathan Papelbon's blown save is forgivable considering how great he's pitched in save situations all year, but Mike Adams continues to be an adventure every time he takes the mound. He's just not 100% right now. Some nights he'll be able to overcome his body, but other nights he's going to struggle like he did tonight. The fact that he couldn't get through an entire inning is disturbing.