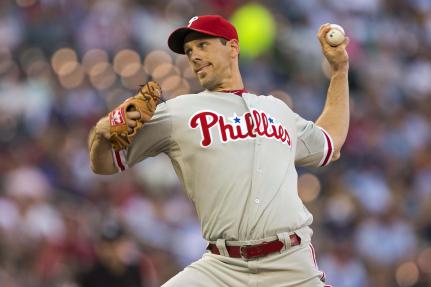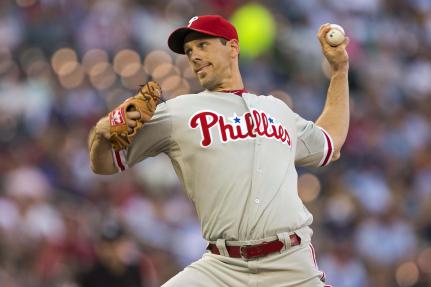 The Philadelphia Phillies lost the first game of their series with San Diego, falling to the Padres 4-3. Their record drops to 36-41.
Cliff Lee did his best to throw the team on his back once again, dominating the Padres over eight scoreless innings. However, he tried to go for the complete game shutout, and was lifted after allowing the first two runners to reach.
Lee was in a jam in the seventh inning, starting out the frame with runners and first and third. However, the ace bared down and got himself out of the inning without allowing a run, calmly forcing Jesus Guzman to fly out, Yasmani Grandal to strike out, and Pedro Ciriano to line out.
Jonathan Papelbon blew yet another save, allowing his inherited runners to score on a single from Kyle Blanks, and later allowing Blanks to score on a passed ball.
Justin De Fratus lost the game after giving up a single to Kyle Blanks with the bases loaded in the 10th.
Carlos Ruiz had his best offensive game of the season, going 3-4 and driving in a run in the second inning. Unfortunately, Ruiz also let a ball get away from him in the ninth inning that brought home the tying run.
Jimmy Rollins hit home the team's second run with a sacrifice fly in the fifth inning.
Chase Utley went 2-5 with a solo homer in the eighth.
John Mayberry got the start in centerfield, and went 3-4 with a double.
Kevin Frandsen started at first base to give Ryan Howard a night off, but went 0-4.
Domonic Brown hit out of the cleanup spot, and went 1-5 with a single. Brown has not homered since June 8th, and is batting just .216 in his last 10 games.
Michael Young remained in the three-hole and went 0-5, including a strikeout with a runner at third and one out in the 10th inning.
Final Thoughts
Good teams find ways to win games, and bad teams find ways to lose them.
The Philadelphia Phillies got an excellent start from their ace, who carried them through eight scoreless innings. They had a three-run lead going into the ninth inning. They couldn't finish the job. They flushed another winnable game down the drain.
Cliff Lee can go out there and cover up this team's flaws for eight innings, but the minute he runs out of gas and gets removed from the game, the warts of this team come out.
They've got a lineup that hasn't had any kind of explosiveness since Domonic Brown came back down Earth, and they can't tack on enough runs to put a game out of reach.
They've got a wretched bullpen, stocked with injured (Mike Adams), inexperienced (Justin De Fratus), and ineffective pitchers (Jonathan Papelbon).
Put it all together, and you have a team that's five games below .500.