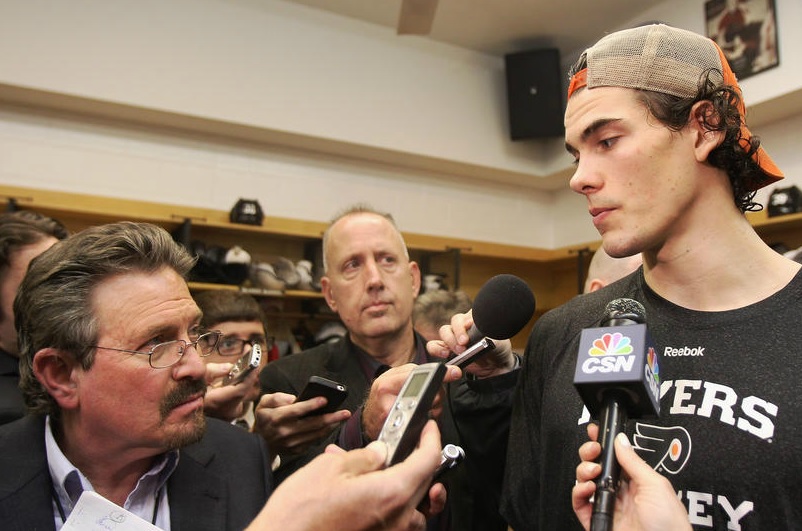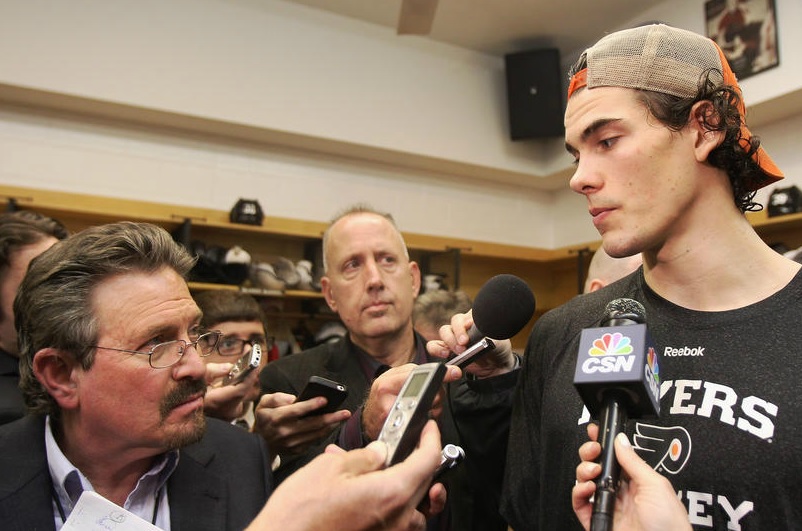 Philadelphia Flyers general manager Paul Holmgren has not yet resolved the current logjam on the team's blueline for the 2013-14 NHL season. A trade this afternoon between the Edmonton Oilers and St. Louis Blues involved forward Magnus Paajarvi, rumored to be part of the previous discussions for defenseman Braydon Coburn. Whether that eliminates any potential for moving Coburn there remains to be seen.
In the meantime, the organization has continued checking off some of it's remaining priorities on the offseason "to do" list. Restricted free agent defensemen Erik Gustafsson and Oliver Lauridsen have each been re-signed.
Gustafsson's new contract is a one year, $1 million contract. It's a "bridge" contract for the young Swede, who is expected to make the Flyers' line-up full time next season. His talent ceiling is unknown, though he's proven by now that he can handle third pairing duties.
If he has an adequate or below average season, or succumbs to the same injury problems that have plagued him in the last two seasons, then the team can decide whether to keep him further or just re-sign him to a marginal deal.
If he excels in a second pairing role, he will be in line for a sizeable raise.
Lauridsen's new deal is similar to fellow young defenseman Marc-Andre Bourdon's contract. It is a two year, $1.2 million contract ($600K per season) that is two-way in the first year and one-way in the second. The only difference between one-way and two-way contracts is that the player is guaranteed his NHL salary on a one-way contract while a two-way contract has two different contract values depending on what league they're playing in.
Lauridsen was decent during his 15-game call-up with the Flyers at the end of the 2013 NHL season. The 6′-6″, 220 lb. forward showed gradual improvement during the stint as a shutdown defenseman, earning additional minutes as the veteran defensemen on the roster continued dropping like flies.
Lauridsen's skating and positioning need continued work. He's never going to have the speed to work with that fellow giants Zdeno Chara or Jamie Oleksiak have, but if he evens out his game better and improves on positioning, he won't need it. Improvements in these areas should also help reduce the high number of penalties Lauridsen took when caught flat-footed.
The Flyers have three available shutdown defensemen in Coburn, Niklas Grossmann and Luke Schenn. It would not only be beneficial to have Lauridsen available to fill in if one of these three should they be hurt or traded, but it would also help dispel the rumor (OK, fact) that the Flyers are bad at developing defensemen.
The remaining restricted free agent defenseman, Brandon Manning, should be signed any day now. Manning elected not to file for salary arbitration before tomorrow's deadline, so there should not be any issues getting in the way of that contract.
Once Manning is signed, the organization will have 49 contracts signed. The team will be in better shape for next season once the blueline logjam issue is resolved.