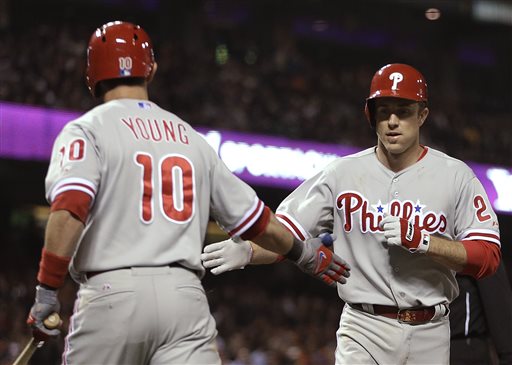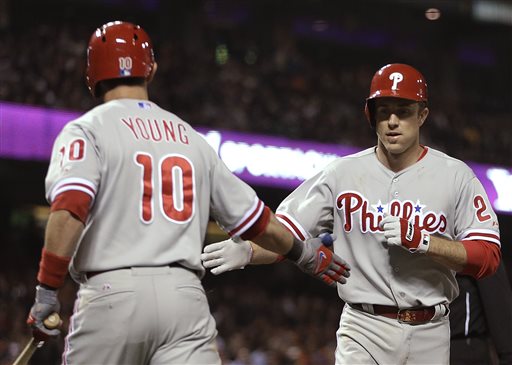 The Philadelphia Phillies won their third straight game on Friday night, taking down the Mets 13-8. Their record improves to 49-48.
Kyle Kendrick earned his ninth win of the season, but he didn't have a very good performance tonight. Kendrick allowed six runs on nine hits in 5.2 innings. The starter had the benefit of pitching with an 11-run lead, but allowed the Mets to get back in the game by giving up three runs in fourth, one in the fifth, and two in the sixth.
The Phillies offense pounded the New York pitching staff for 13 runs on 15 hits.
The offense started the game by scoring four runs in the first inning, Chase Utley drove in the first run with an RBI triple. Domonic Brown then knocked in Utley with an RBI single. Delmon Young and John Mayberry would also drive in runs during the inning.
The lineup then blew the game open with a seven-run outburst in the third inning. Domonic Brown led off the inning with a solo shot, Delmon Young singled home a run, and Carlos Ruiz and John Mayberry each had an RBI double. Michael Young then delivered the final blow of the inning with a three-run homer.
Utley would tack on two more runs in the fifth inning with his 12th homer of the year.
Jimmy Rollins was placed back in the lead-off spot, and went 1-5 and scored two runs.
Brown finished with a three-hit game.
Darin Ruf went 2-5, with his fourth double of the year. He also scored two runs.
Luis Garcia got the final out of the sixth inning for Kendrick, and also pitched a scoreless seventh.
Jake Diekman got a clean eighth inning.
Justin De Fratus finished the game in the ninth despite allowing two runs.
Final Thoughts

The Phillies are back above the .500 mark for just the second time all season.
We haven't seen many games where the offense has clicked on all cylinders and gotten the team to an easy victory, but tonight was a rare night that saw them score more than 10 runs. New York starter Jeremy Hefner simply had no chance. He lasted just two innings, allowing eight runs on 10 hits. He couldn't even record a single out in the third inning.
The Phils couldn't have started off the second half of their season any better. They got a solid victory, pushed their record above the .500 mark, tore into the Mets bullpen early in the series, and avoided using Jonathan Papelbon in the win.