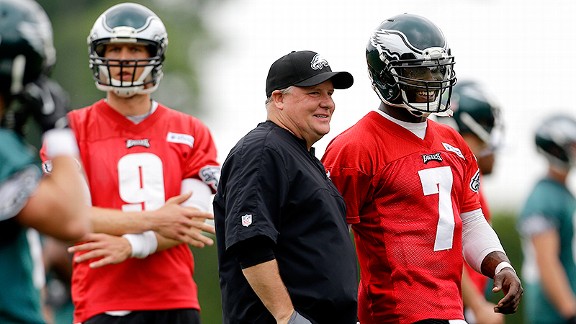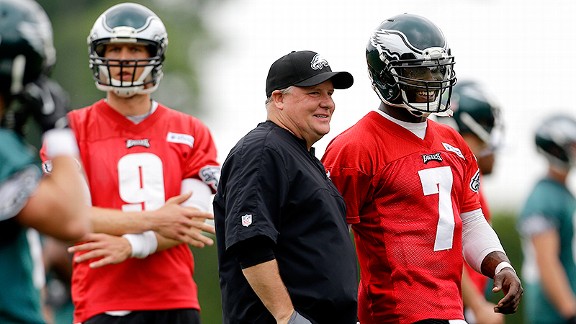 Although they're a long shot to make the playoffs, the Eagles are one of the most talked about and written about teams in the NFL.  The fact they have a new coach and a battle for the starting quarterback spot make them an ideal topic.
The Eagles are headed into training camp today and to many players that means the start of a battle for starting positions. Greg Rosenthal of NFL.com put together what he thought were The Top 25 positions battles during training camp.  He's got not one, not two but three Eagles position battles amongst his top 25.
Rosenthal has the Eagles battle for the starting safety positions at his 20th spot.  The competition between Nate Allen, Patrick Chung, Kenny Phillips and Kurt Coleman is very interesting and should be very entertaining.  Allen definitely has the talent, but can he ever regain his confidence after struggling in his return from knee surgery.  Chung will try to return to the level of play he performed at during his first two years with the Patriots.  Phillips will try to get his knee healthy enough to play consistently.  Coleman will try to show that he can overcome his physical limitations.
Eagles running backs Bryce Brown and Felix Jones find themselves in the 16th spot.  Brown showed a year ago that he's got the ability to be a big play back in this league, but he must prove he can hold onto the football.  Jones was explosive in Dallas, but he must prove he can stay healthy.  They're battling for the chance to back up LeSean McCoy in Chip Kelly's offense which means getting the chance to carry the football much more than most of the other NFL backup running backs.
In the number one spot is the Eagles starting quarterback competition between Michael Vick and Nick Foles.  It will be a huge decision for Chip Kelly.  Will he add Vick to the number of athletic quarterbacks who run the read option or will he allow Foles to emulate Tom Brady and the Patriots hurry up, tight end focused offense.
This could either be a rebirth for Vick or the end of the road for him as a starting quarterback.  Foles could grab the reins of this offense and be the starter for years to come.
Veteran writer Mark Eckel of NJ.com writes an article about the guy, running back LeSean McCoy, who he thinks will be featured in Kelly's run first throw second offense.  We learn in the article that although McCoy is going into only his fourth season, he already is quickly moving up the Eagles all-time rushing list and with a big year, he could make a major jump.
Not only does McCoy have the chance to shine, the guys backing him up, Bryce Brown, Felix Jones and Chris Polk could all get chances to make major contributions to the football team because of the way Kelly gets as many offensive plays called and run as possible.  At times in practice, all the running backs are gassed from running so many plays.  This offense is a backup running back's dream.
McCoy who never liked to be taken off the field when playing for Andy Reid, has conceded that you need more than one or two running backs in Chip Kelly's offense.  The fact that the offensive line should be healthy means this could be a promising year for the Birds' running backs.
Adam Sparks of Yahoo writes about the job defensive coordinator Billy Davis is going to need to do if the Birds defense comes back to life this year.  He will need to get a group of strangers playing together in a matter of weeks.  Middle linebacker DeMeco Ryans will play a key role on the defense as well as new arrivals linebacker Connor Barwin, defensive tackle Isaac Sopoaga and safety Patrick Chung
David Weinberg of PressofAtlanticCity.com has a short profile of Barwin and other players, who will be featured in this year's Eagles team.  It's all the necessary information about Barwin, his height, weight and contract.