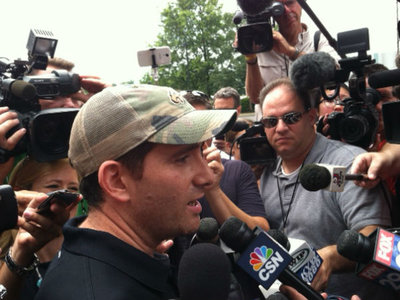 At the end of June, Michael Vick said he wanted Chip Kelly to hurry up and make a decision about the starting quarterback position.  He was criticized for the request, but yesterday Eagles GM Howie Roseman made it clear that Vick wasn't backing down from the competition.
"Every conversation I've had, and anyone in this building had with Michael about competition, he's all for it," Roseman said. "He wants the best players to play and he's not shying away from competition in any aspect. He knew that when we signed him. He knew there was going to be competition at every spot, and he said nothing other than he wants to compete."
Personally, the more I've heard about how he made that comment, the more I believe it was just a kind of passing comment that Vick made to a reporter, but it wasn't where he was demanding that a starter be named ASAP.  He was just honestly stating that he'd rather have the starting quarterback named sooner than later.
"When we signed Michael (to a new deal in February), it was with every intention that he was going to be on this team," Roseman said. "He's a very talented guy, and he's really eager to show what he's capable of, and we're eager to see it."
From a career stand point, Vick is in a very important battle with Nick Foles and Matt Barkley.  If he's not able to win the job and win in convincingly, his chances of being a top level starting quarterback again in the NFL during his career are very slim.
I'm sure Vick is going to let everybody know today that he's not backing down one bit from this challenge.  He's likely to make it clear that he thinks he's the best man for the job.  This quarterback competition, should be a lot of fun.