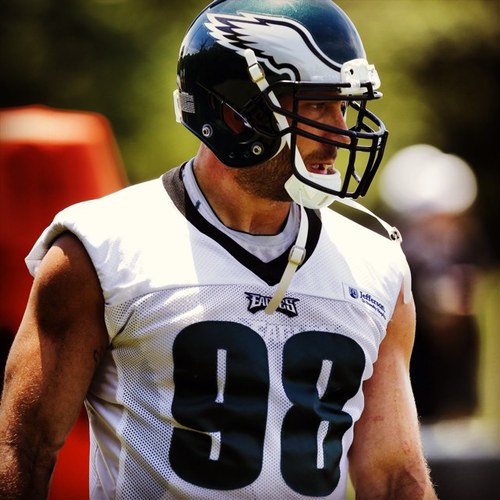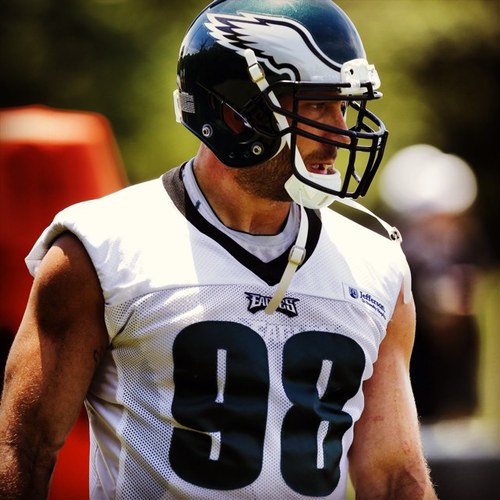 For years the Eagles have had major problems trying to contain opposing tight ends.  I think they'll be able to rid themselves of that problem going forward because of the size and coverage ability of newly acquired veteran outside linebacker Connor Barwin.  Barwin has all the ingredients needed to defend a tight end.  He's got great size at 6'4″ 264 pounds with surprising catchup speed and the ability to change of direction very quickly.
The former Houston Texan also has the long arms which are needed to get a good jam on the tight end.  I think this is one of the most important keys to limiting the effectiveness of the tight end.  You've got to make it difficult for them to get off the line and into their routes.  He's shown me that he can hold up the tight ends with his jam.
Barwin will be asked to line up as the left outside linebacker on first downs. This will match him up against the opposing team's tight end because most of the time, teams line their tight end up on the right side, because most offense are right handed.  They will run the ball quite a bit in that situation.
I love the idea of matching Barwin up with the tight ends in pass coverage and on running plays.  He's going to be a handful for tight ends whether ti's a run or a pass.
Barwin showed off his pass coverage skills today at Eagles training camp by jamming tight end Brent Celek to the ground and then running with tight end/H back James Casey step for step for about 40 yards then knocking down a pass intended for the receiver.  It was impressive to see a big linebacker like Barwin make the play on the ball.  He's the best matchup the Birds have had against NFL defensive ends, since Carlos Emmons.
I can't say the same for the linebackers on the other side Trent Cole, Brandon Graham and Phillip Hunt.  All three of them took turns getting beaten by the other tight ends.  Cole was beaten with two outside moves, while Graham was beaten by a deep throw down the middle then he was unable to stop an outside route.  Hunt struggled in his coverage as well.
Here's the real deal.  Eagles defensive coordinator Billy Davis isn't going to make a habit of having Cole, Graham or Hunt locked up in man-to-man match ups with tight ends or running backs.  The defense will likely be in a zone defense when he has these guys dropping into coverages.
Cole, Graham or Hunt will start at the right outside linebacker position and they won't be there because of their ability to cover the pass.  They are there to rush the passer and that's their number one job.  These guys will be in pass coverage only 10% to 15% of the plays.
Back to Barwin, I neglected to mention his pass rushing ability.  You'll see what he can do in that area on second and third downs.  There will be occasions on first down when he will be turned loose on a blitz, but he'll spend most of his time on the early downs, playing the run and covering the tight ends.