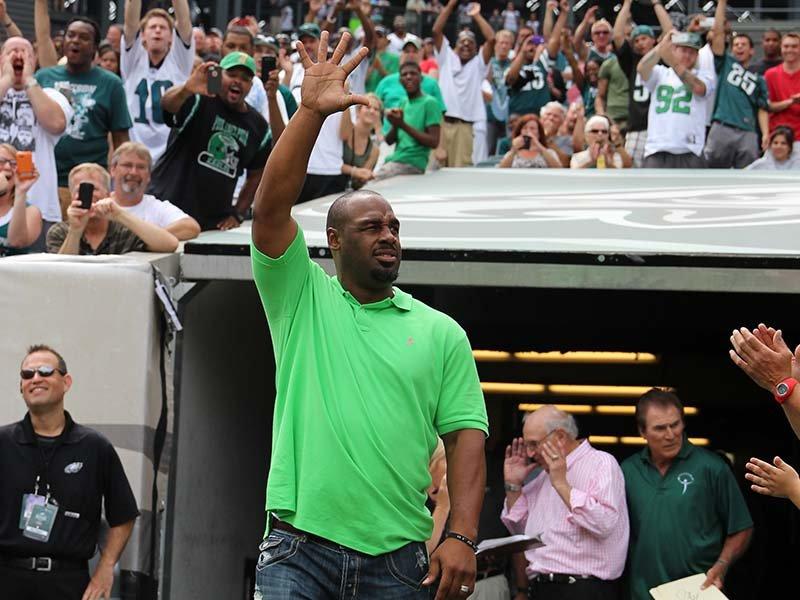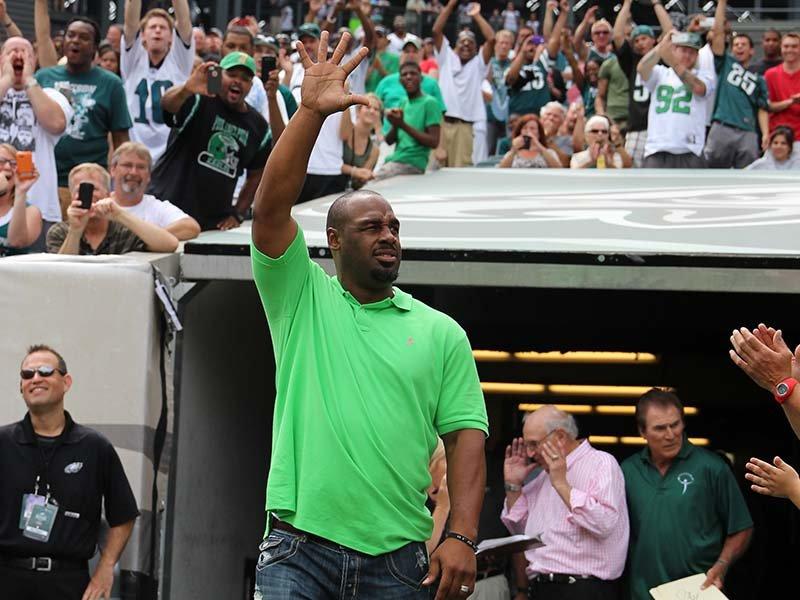 Yesterday we almost got the chance to see the real Donovan McNabb in front of Eagles fans.  He nearly started crying before he spoke at his retirement news conference, but he got  ahold of himself and put back on the Mask, which he usually wears when he's dealing with the public.  After that he gave his speech and "said the things he was supposed to say".
The Mask he wears in public before the fans is all the fooling around and either making the statements he's supposed to make or making statements in support of himself.  A person who is really self-confident doesn't make the kind of statements McNabb makes.
There's no question that's he's got some insecurities, but so what we all do.  I think he could have just been himself in front of the Philly fans throughout his career and they would have loved him.  Philly likes players and coaches to tell them what they really feel as long as they're not taking shots at the fans.
McNabb is like the dude who is in love with this girl, but won't tell her or treat her like he really feels.  The former Eagles quarterback wanted to be loved by the sports fans of the city and he was, until Terrell Owens came to town.  He felt rejected during and after all that T.O. stuff, but he would never admit it.  T.O. was successful in making McNabb the villain.
He became the bad guy in his home city.  McNabb would never take the Mask off in public after the T.O. stuff.  He was hurt that the fans chose T.O. over him.
On the field though, McNabb was as tough of a quarterback as any who has played the game.  Despite the nonsense being talked about and going on off the field, he was focused and intent on taking care of business when he stepped in between the lines.  The dude took many hits that would have knocked lesser guys out of the game.  He knew how important it was for him to stay away from turnovers, so he was one of the best quarterbacks in history at taking care of the football.
Listen to Brian Dawkins talk about the competitor McNabb was and then tell me what you think.  Dawkins knows him better than you or I.  He vouches for him because he knows the guy behind that Mask.  I've seen him get up from the most wicked shots, yet continue to stand in there and keep looking downfield.
A group of us, spent a few hours together in Jeffrey Lurie's suite after the Alumni day and McNabb was the guy all the players know.  Yes he gets silly and clowns around but when he gets serious, he doesn't put on a Mask and act like he doesn't care about things he cares deeply about.  He doesn't make any of the phony comments because that's what he's supposed to do.
The damage after T.O. got so bad that NFL fans throughout the country thought more of McNabb than the fans who he had won for during his career here in Philadelphia.  That's a very unfortunate and unusual situation.
I've been around him long enough and had him ask me enough times about what somebody said on the radio or what somebody wrote in the paper.  He has tried to act like he doesn't care what people think about him, but the truth of the matter is McNabb cares too much about what people have to say about him and what they think of him.
He cared when he played.  McNabb wanted to lead the Eagles to a Super Bowl victory.  He wanted it in the worst way.  It didn't happen and will always hurt to think about it.
Yesterday he said he hadn't watched the Super Bowl.  I don't know whether that true or not, but I know for a fact the way it ended still hurts him.  I don't know whether he threw up or not, but I do know that the Eagles made the mistake that many teams make when they appear in the Super Bowl for the first time.  You have be disciplined about not expending your energy too soon in the day.  The game is really a night game, but the players start getting ready for it during the day.
Andy Reid and the Eagles got ready too soon and were totally spent in the fourth quarter.  New England didn't make that mistake because they had been through it before.
Number five opened up just a bit yesterday, but the fans would have loved him if he had shared the way he really felt publicly.
Many times the clowning around that he does is a way of masking nervousness.  That "air guitar" act before the Dallas Cowboys playoff game, which was his final game as an Eagles player, was his way of trying to get the team to play loose and confident.  There were times when the silly jokes worked to keep the team loose, it didn't work this time and it didn't play well to Eagles fans.
McNabb should have clearly and honestly expressed how important the wins and losses were to him.  Brian Dawkins was honest and open with the fans and they loved him.
Looking back, do Eagles fans think it made since to get rid of the most accomplished quarterback in team history after an 11-5 playoff season to turn the team over to Kevin Kolb?  Who was a tougher and better leader, Kevin Kolb who still hasn't proven he can take a hit and play a decent game or McNabb who has played nearly an entire game with a broken ankle and threw four touchdown passes to beat the Cardinals?
I don't care about stupid interviews.  Tell me about what happened on the football field.  Interviews don't win you football games.  Do you think it's a coincidence that the Birds haven't won a playoff game since he left?