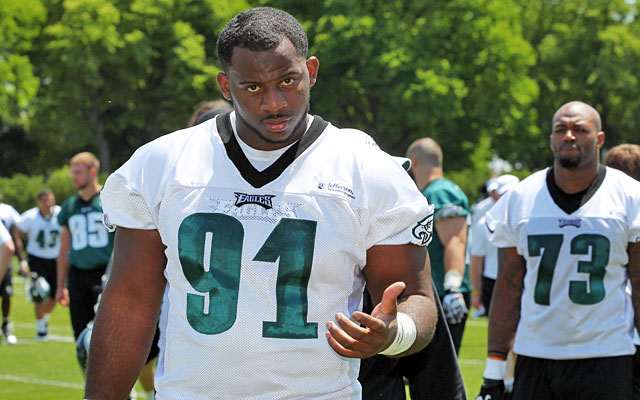 I think Eagles defensive coordinator Billy Davis is doing the right thing by tailoring the defense around the team's best defensive players.   Their best players are amongst their front seven, Fletcher Cox, DeMeco Ryans and Connor Barwin, so the defensive line and linebackers must play well for the defense to succeed.  On first down, they'll be conservative in their calls, but once they have a team in a passing situations, they're going to turn the pass rushers loose and going after the quarterback with all type of blitzes and coverages.
He's going to be employing a hybrid 4-3 under alignment, but he will be using 3-4 personnel because the extra linebacker gives the defensive coordinator more flexibility about who to rush and who to drop in pass coverage.  A 4-3 involves only three linebackers, while the 3-4 involves four linebackers.
An under defensive front has most of the defensive linemen away from the tight end side or on the weak side, whereas an over defensive front has more defensive linemen to the tight end side of the formation.  The under alignment is just what the doctor ordered for the Birds' defensive personnel because it helps keep the offensive linemen off of the linebackers who are off the ball.
They should be solid against the run with Ryans patrolling the middle, but they should also be able to get pressure on the quarterbacks and that's the key to succeeding defensively in the NFL.  Ryans will be able to control the defensive linemen in front of him with stunt calls, if he can anticipate a certain running play.
He'll be lining up over the guard to the tight end side.  His job will be to defeat the guard's block then make the tackle on any running plays coming at him or to the tight end side.  If the play goes to the weak side, Ryans has to shuffle weak side behind his nose tackle, who will likely be Isaac Sopoaga, then find the football, which is the strength of Ryans' game.  Sopoaga lines up on the weakside shoulder of the center.
Ryans has to be a steadying force on the defense because one of his side jobs is raising weakside linebacker Mychal Kendricks.  He's got to be in Kendricks' ear when the stances and spacing of the offensive linemen tell him something.  He's got to talk to him about down and distance and what they offense likes to do in certain situations.
Every offensive coordinator has a personality.  You talk to the youngster about what this guy likes to do when he can waste a down on second and short or when he gets his back against the wall in a pressure situation.  Most offensive coordinators either have a play they sincerely believe in or they have a player on their roster they trust and believe in and that's where they're going with the ball when the chips are down.
Ryans must keep Kendricks in the game mentally by talking about these things during timeouts, halftime and when they're on the sidelines.  Kendricks should follow Ryans around everywhere.
Any time the offense makes good yardage on a play, you catalogue it because you're going to see it again.  You're looking for tips and clues everywhere.  As a linebacker you have to be much a like a police detective.
Most of the time, the big fellas will tip off run or pass after they get into the game and start getting fatigued.  You can look at the offensive tackles and know whether it's going to be a run if they're leaning forward with a lot of weight on their hand or they're passing or running a screen or draw if he looks like he's about to fall over backwards because he's leaning that way.  It's not that complicated.  The offensive coaches will scream at the big offensive linemen about them tipping off the play, but once a big 340 pound man starts getting tired, he doesn't care what the coach told him.
The other tip off of plays are the alignments and splits of the running backs and tight ends.  Running backs will cheat a little outside in their alignment when they're going out for a pass.  They'll find out where you're lined up, at some point before the snap if they're responsible for blocking you in blitz pick up.  I would move around to force them to find out where I was at, that way I had an idea, what their responsibility was before the play.
Tights ends will cheat a little closer to the offensive tackle when they have to block down on the defensive end.  When you see this you know it's a running play coming your side. They move away from the offensive tackle to give themselves a little more room when they're going out for a pass because they don't want to be held up.  You can pick these tips up through careful study of the game tape.
Many times in man-to-man coverage the linebackers are responsible for the running backs and tight ends, so Ryans must keep the communication lines open with all the linebackers and the defensive backs, so they're on the same page.  The defense was horrible a year ago in the communication aspect of the defense.  This must be improved.
The veteran middle linebacker was the Birds most consistent and best defensive player a year ago. They need a big year out of him with more forced fumbles and interceptions.  The same is true from Kendricks.  The youngster has to get smarter about deciphering what play is going to be run.  I talked to him about during OTA's and he seems to be getting smarter.  Ryans must teach him how to look at game tapes and what to be looking for.
I remember sitting with Seth Joyner and Byron Evans when they were rookies and teaching them to look at game tape.  When they started playing they would stand next to me, when the opposing offense came out of the huddle so I could give them tips.  It's part of the job of the veterans.  You pass knowledge down the line.  You know I smiled when I heard Joyner and Evans telling a young William Thomas something I had told them years before.
Sopoaga must be strong against the run and he must be able to take on double-teams and not allow the offensive linemen to knock him off the ball, so they can come off on the linebackers and block them also.  His job is to create a pile at the line of scrimmage if they try to double team him.  Every now and then they could use some inside pass rush pressure from him.
Without question, second-year defensive end/tackle Cox is their best defensive lineman.  I know Davis and his staff saw that last year every time Cox got the chance to go one-on-one with any of the offensive guards in the league, he kicked their butts.  He will be a three-technique defensive tackle like Haloti Ngata in Baltimore and hopefully as dominant.
He'll have an outside linebacker, Trent Cole or Brandon Graham, outside of him occupying the offensive tackle and a nose guard, Sopoaga, on the head of the center, so they won't be able to help on Cox, which means the guard will be forced to block him one-on-one.
Cox must destroy the guard and drive him back into the backfield or beat him to either side.  He's got to get penetration and create major problems for the offense.   He should be able to disrupt running plays and on pass plays he should get inside pressure on the quarterback.    Cox has got to shine in this defense the way Ngata shines down in Baltimore.  If you"re not hearing his name called frequently, then he's not playing up to his capabilities.
He should refuse to allow any guard in this league to block him. Cox should be forcing holding calls and illegal procedure penalties on the guard, who is trying to find a way to keep him out of the offensive backfield.
If I was Ryans, I would be in this young man's ear constantly, telling him what I expected of him.  I would build him up, tell him he should go to the Pro Bowl, and let know him what I expected of him.  I would keep the conversation civil as long as I got his best.  If I didn't get his best, I would use some off color language during the game to let him know I expected better.  He would either love me or hate me depending on how he was performing.  I saw good effort from Cox a year ago, so this shouldn't be a problem.
This defensive alignment is designed to get him in one-on-one situations and  Cox has to take advantage of it.  He should make every guard in the league draw a circle on the calendar when they've got to play against him because he makes it a "living hell for them".
Ryans was too nice a leader a year ago.  He should have had his foot knee-deep up the butts of a bunch of guys on that defense, who weren't giving a full effort.  Football is a sport where you can't allow people to be too comfortable.  Everybody at one time or another needs to be pushed or prodded.  He must demand production from Cox and the rest of the defensive unit.  He's the one who will be talking in the huddle, he's the leader.
To Be Continued