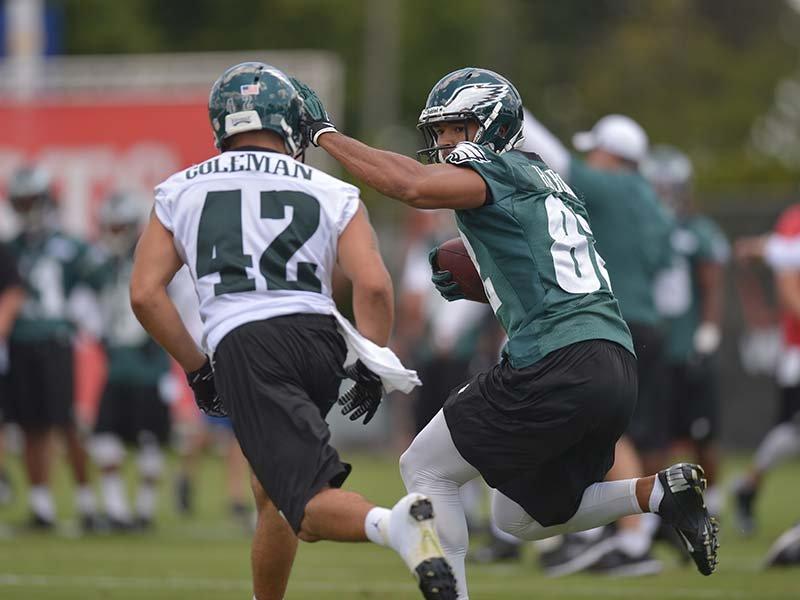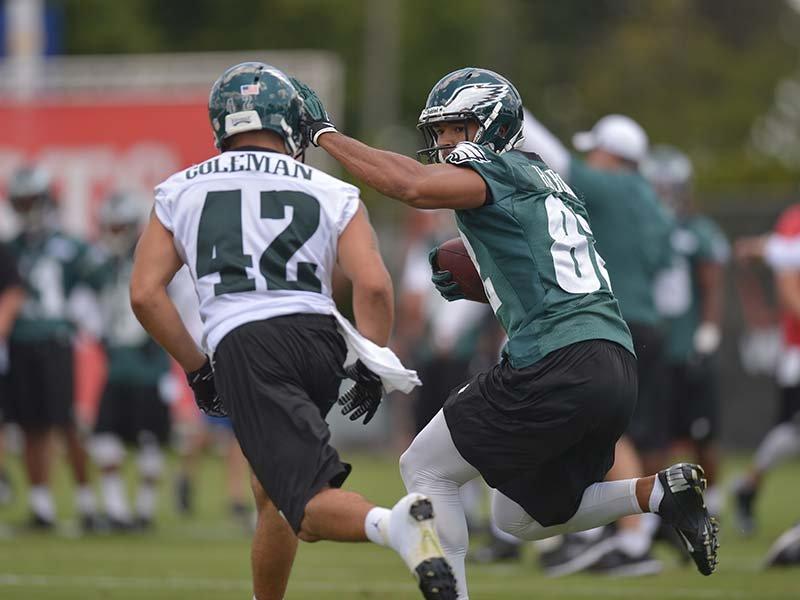 Every training camp you have players who surprise the coaching staff by standing out during the workouts.  Here a six players, who have caught my eye during the workouts.
Eagles outside linebacker Chris McCoy has the same build as starting SAM linebacker Connor Barwin.  Both of them are tall with long arms, which allow them to get good jams on the tight ends when they come off of the line of scrimmage.  This has become a lost art amongst linebackers around the league.
McCoy has good speed and has shown he can run with all of the tight ends on the roster, in addition to doing a good job of covering the running backs as well.  He's second to Barwin when it comes to covering the tight ends because he matches up well against them in size and speed.
He refuses to stay blocked and does a good job of using his hands to get off blocks, which is important when defending the run or the pass.  I like they way he uses his size and power on blitzes.
McCoy has a great chance to make the team because other than Barwin, he's the best matchup against the tight ends.  He'll have to shine on special teams to solidify his spot.
Back up running back Chris Polk has been showing off his ability to run between the tackle.  He's got good vision and Polk know how to get what's there to keep the sticks moving.
He's good back to utilize on short yardage and in goalline situations.  I could see him specializing in those areas because he doesn't have the speed to get outside and around the corner. Polk knows his strengths so you don't see him making the mistake of trying to take everything outside.
There's no guarantee he's going to be on this football team, so he will be auditioning to other teams when he gets the chance to play during the preseason.
Russell Sheppard has shown the speed to get deep and behind the defense as well as the toughness to go inside and catch the ball in a crowd.  He's got decent size at 6'1″ to 195, and he's shown the ability to go up and get the football.  The quarterbacks have gained more and more confidence in him, so it seems like he's the top receiver.
Sheppard has caught balls on outside routes.  He's gotten inside and pulled down passes on slant cuts and curls inside.  The LSU product has been effective on intermediate routes in the seams of the coverages.
Eddie Whitley of Virginia Tech has been impressive in the workouts with his coverage skills.  He's been playing the nickel back position in the slot and also outside at the cornerback position.  He got good catch up speed and is very quick when working inside against slot receivers.
He's a battler, who never gives up on a route. Whitley has a great feel for staying in between the wide receiver and the football.
Whitley is smaller at 6′ 0″ 188 than the starters at the position, Bradley Fletcher and Cary Williams, but more athletic.  He does a great job recovering on a route and being in position to knock it down when the football gets there.
Damion Square is very quick with sound technique as a run stopper and pass rusher.  He's ahead of the guys they selected late in draft at the position.  He does a good job of reading the double team blocks and battling them to a stand still.
This is an ability that lacking amongst some of the Birds defensive linemen, but something he learned to quite well at Alabama.
I've also been pleasantly surprised at his ability to explode off the ball.  I saw him explode into the Eagles backfield a couple of times and I had no idea who it was because he was back there before they even handed the ball off.
Eagles backup tight end Clay Harbor is one of the best pass receiving tight ends on the squad.  He gets deep batter than any of them.  Harbor has matched up well against the linebackers by getting off the ball quickly and getting them trailing him.
He's been able to beat them by taking across the middle or taking back outside.
I don't know how fast Harbor is but I've been surprised with the way he's run away from coverage.  He's gotten better every year, he's been here and that's because he's been a constant in the weight room and around the Nova Care Complex.
I'll put together another list of surprises later in camp because there were others who caught my eye.