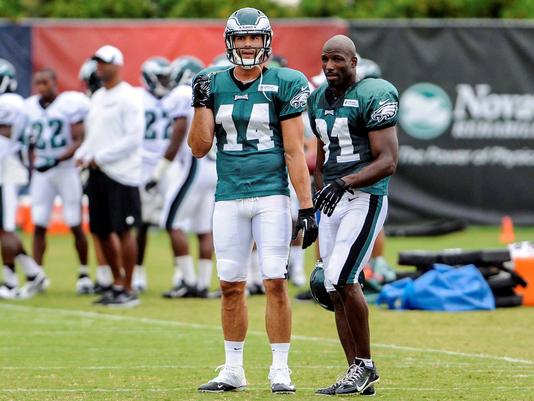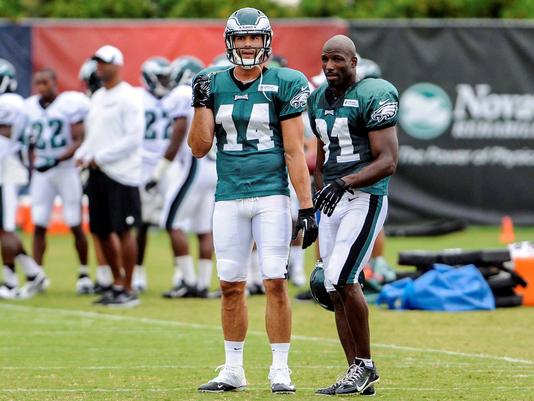 No music today for the Birds and Patriots workout.  There was a buzz in the air with Bill Belichick and Tom Brady in town. Both teams warmed up on their own before starting to compete in the one-on-one period.
Wide receiver Riley Cooper had a good day in his return to action.  He went up and pulled down a touchdown throw from Michael Vick in the corner of the end zone.  Cooper came down with down with two additional passes in the end zone.  He also made a number of other catches including two or three downfield for good yardage.  It was one of his better days as he used his size to run through jams by the Patriots defensive backs.
The Eagles wide receivers cooked the Patriots defensive backs, as it should be because this is really a offensive drill with no pass rush and the receivers having the entire field to work with.
At the same time on the other field, Brady was working over the Eagles defensive backs.  Brady's anticipation and accuracy during the entire practice made the Eagles quarterbacks look like they need to learn to play the position.
Nick Foles lofted his first throw outside on a short hitch route and it should have been picked off for a touchdown by Pats cornerback Aqib Talib.  I liked the way he kept his composure, stopped the bleeding and went on to have a good practice.
Eagles cornerback Cary Williams was on the field for five minutes before he was in a fight with Patriots rookie wide receiver Aaron Dobson.  I would be surprised if Williams doesn't get in fights with himself.  He can't get along with anybody.  If might have been a reaction to getting cooked a couple of times in the one-on-one battles.
This season Eagles wide receiver DeSean Jackson will be a like a loaded gun which Chip Kelly aims at each secondary.  As soon as the safeties are caught cheating up to stop the run, the Birds will be going up top for the big play.  Jackson got deep against the Patriots on a go route down the right sideline.  Nick Foles put the ball on the money.  Foles has greatly improved his deep throws from a year ago.
Jackson caught quite a few passes during the workout, as usual.  I wonder how much he's going to be used.  Kelly didn't feature any of his wideouts in Oregon.  Will Jackson force him to feature him here?
Safety Kenny Phillips doesn't ever seem to get to open up to full speed.  He's limited in his ability to change directions.  Phillips doesn't seem to have the confidence to push his knee to the limit.  He's playing carefully, which isn't good enough in the NFL.  I just don't think he can do it any longer.
He was beaten for a touchdown by Danny Amondola, who ran a corner route against him as Tom Brady dropped the pass right in there.  Phillips read the route but couldn't close on Amendola.
It was good red zone work for both teams.  Vick hit James Casey for a score on an angle route, but that was after Casey had dropped a pass from Foles which would have been a touchdown.  On the last play of the red zone drill, Vick tried to hit Jason Avant on a slant, but the ball was knocked down.
I just learned that Eagles wide receiver Arrelious Benn torn the ACL  in his right knee today during the workout.  The Birds have also released wide receiver Dave Ball.  Benn who was in a great position to compete for and possibly win the starting wide receiver position opposite DeSean Jackson goes down again.  His entire four-year NFL career has been riddled with injuries.