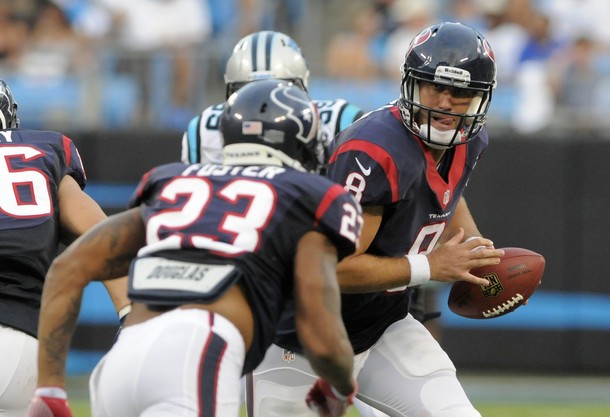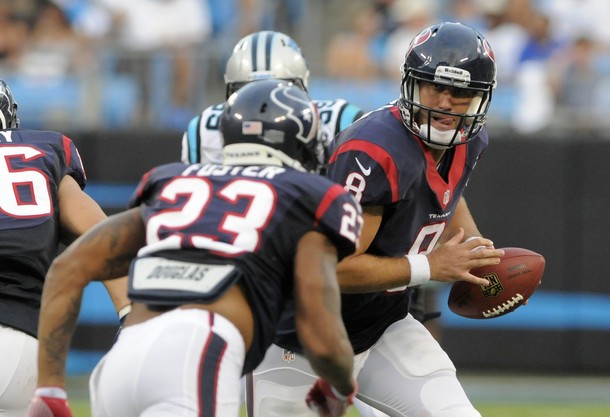 With the emergence of Andrew Luck, the AFC South turned out to be a much more competitive division than many expected it to be in 2012.
The general consensus was that this division would belong to the Houston Texans for a couple of years, but the quick turnaround by the Colts has made that anything but a sure thing. Now the Titans will also look to take another step forward behind their young quarterback Jake Locker, while the Jaguars start fresh with a new head coach.
Jacksonville Jaguars
The Jaguars hired former Seattle defensive coordinator Gus Bradley in the off-season, with the hopes of installing a new attitude to a team that has lacked any kind of punch over the last few years.
It's going to be a difficult challenge for Bradley. The first-time head coach has taken on a roster that is almost completely lacking in talent, and this is not going to be a quick fix. He's begun his rebuild by drafting top offensive line prospect Luke Joeckel with the hopes that he can be the anchor on the offensive line that they've lacked since the days of Tony Bosseli. The defensive-minded Bradley also spent his second-round pick on safety Jonathan Cyprien, and brought in a familiar veteran from Seattle (Marcus Trufant) to be one of his leaders.
The best talent that Bradley has to work with are his offensive skill position players, wide receivers Justin Blackmon and Cecil Shorts, and aging superstar running back Maurice Jones-Drew. Blackmon, however, will miss the first four games of the year after earning a suspension in the off-season. Shorts was very productive as a rookie, and Jones-Drew is getting on in years but still has some productive football left in him.
What Bradley must determine this year is what to do at the quarterback position. Former first-round pick Blaine Gabbert has shown very little in his first two seasons, and this is probably his final shot to get it right. Veteran Chad Henne will be breathing down his neck for the job, and it wouldn't be a shock if the former Miami Dolphin wasn't named the starter sooner rather than later.
During his time in Seattle, Bradley received high praise for being an excellent communicator. He had a great way of reaching his players, and getting the most out of them. The best that Jacksonville can hope for this year is that Bradley is able to reach these guys and restore some pride to the franchise. They may not be a winning team for another year or two, but if Bradley can teach these guys to go all-out on every play, and make them a pesky, tough out for the opposition, than another losing season might not sting as badly for the Jaguars.
Projected Finish: 5-11, 4th Place
Tennessee Titans
The Titans were unable to improve on their 9-7 record from 2011, finishing 6-10 in 2012.
Jake Locker was handed the reins at the quarterback, but he was pretty unspectacular, finishing with just 2,718 yards, 10 touchdowns and 11 interceptions, throwing for over 300 yards just twice. Part of the problem was that Tennessee was just unable to give Locker any kind of support through the running game. Chris Johnson went through another subpar year, and the offensive line was unable to generate any kind of push.
The Titans have attempted to change that this year by drafting guard Chance Warmack in the first round and signing Andy Levitre in free agency. The team hopes that Warmack and Levitre will help bring some much-needed stability to the offensive line, and help create running lanes for Johnson.
The team also traded up in the second round to get receiver Justin Hunter, who they hope to pair with Kenny Britt and last year's top draft pick Kendall Wright to give Locker another reliable target.
Defensively, the team added safety Bernard Pollard from the Super Bowl Champion Baltimore Ravens, in hopes of installing a tough veteran presence in their back-seven. Pollard, while a solid player, is now on his fourth team of his career. The knock on him is that his he wears out his welcome quickly, so it will be interesting to see if history repeats itself again in Tennessee.
I think the Titans have had a nice off-season. Rebuilding the offensive line could potentially make a world of difference for Chris Johnson, and adding another talented target can only help Locker. Tennessee has a chance to be much better than they were a year ago, but they're not good enough to contend with the Texans and Colts in their division.
Projected Finish: 7-9, 3rd Place
Indianapolis Colts
The Colts enjoyed a quick and impressive turnaround in 2012. After drafting Andrew Luck, turning over the roster, and installing a new philosophy and attitude, Indianapolis has gone from rebuilding to one of the young teams on the rise.
Much like Peyton Manning before him, Andrew Luck is the engine that powers the team's success. Luck had a fantastic rookie season, passing for over 4,000 yards and 23 touchdowns. He's also mobile enough to be a running threat, adding over 200 yards on the ground along with five rushing touchdowns.
Luck has some nice offensive weapons to work with. Reggie Wayne is still a very solid receiver, and is coming off of a year in which he tied his career-high for receiving yards (1,355). T.Y. Hilton is developing into a fine playmaker, scoring seven touchdowns during the 2012 campaign. The team added former Oakland first-round pick Darius Heyward-Bey in free agency to give Luck another speedy target.
The problem with the Indy offense is that they've got no consistent running threat. Neither Vick Ballard or Donald Brown were able to capitalize on their opportunities a year ago, and the team was forced to add former New York Giant Ahmad Bradshaw in free agency. Bradshaw doesn't have a ton of miles on him, but he is coming off of foot surgery and may not be ready for the start of the season.
Defensively, the Colts still have some issues as well. They said goodbye to one of their icons when they chose not re-sign Dwight Freeney. They opted instead to sign Ricky Jean-Francis (a guy who many consider to be an up and coming defensive end that was buried on the depth chart in San Francisco), and safety LaRon Landry. The team also spent their first-round pick on linebacker Bjoern Werner.
Jean-Francis, Landry, and Werner should add a couple of solid physical presences to what was a painfully soft defense in 2012, but neither player makes the unit dramatically better.
The fate of the Colts is in Andrew Luck's hands. As long as Luck continues to make strides in his development, the team will be good enough to hang around in the playoff picture and contend for a Wild Card spot. Teams will be a little better prepared for Luck this year than they were in his rookie year, and a more challenging schedule will make it hard for them to get back into the playoffs.
Projected Finish: 8-8, 2nd Place
Houston Texans
Is this team ever going to get over the hump? Houston has enjoyed two straight seasons in which they've been very successful during the regular season, only to come up with disappointing performances in the playoffs.
The talent is certainly there for the Texans to make a title run.
They've got a tremendous defense that should only get better. J.J. Watt has emerged as arguably the top defensive end in football, and is just beginning to tap into his enormous potential. Linebacker Brian Cushing returns to the lineup after appearing in only five games last season, and the unit will benefit from the return of the ferocious hitter.
The team's major off-season addition was the signing of former Baltimore Raven Ed Reed. Reed's presence greatly enhances an already solid secondary that features a shutdown corner in Jonathan Joseph, and an improving young talent Kareem Jackson.
Offensively is where things get a little sketchy for Houston. The Texan offense is good, but not great and has a couple of flaws. The biggest problem is that quarterback Matt Schaub just isn't a truly elite passer. While he's far from a liability, Schaub just simply lacks the "it" factor that separates guys like Aaron Rodgers, Tom Brady, and Drew Brees from the rest of the league. Schaub will put up decent numbers, and and he'll always be a stable if not solid presence, but he doesn't command fear and respect from defenses.
The team has tried to enhance Schaub's receiving corp by spending their first-round pick on wide out DeAndre Hopkins. Former starter Kevin Walter was not brought back, so the team needs Hopkins to come in right away and take some pressure off of veteran star Andre Johnson.
Of course, the team also still has Arian Foster to lean on. Foster is one of the most complete running backs in the league, excelling at both rushing and receiving. He's the focal point of this offense, and its absolutely critical that he stays healthy.
The Texans are always an intriguing team to keep an eye on. With the addition of Ed Reed, the healthy return of Brian Cushing, and the continued development of J.J. Watt, Kareem Jackson, and last year's first-round pick Whitney Mercilous, this defense has chance to be the league's best with Wade Phillips pulling the strings as defensive coordinator. However, the very legitimate questions about Matt Schaub and the offense are always going to linger and hold the team back. The division is safely belongs to this team for another year, but how far they go in the playoffs is another story.
Projected Finish: 11-5, 1st Place