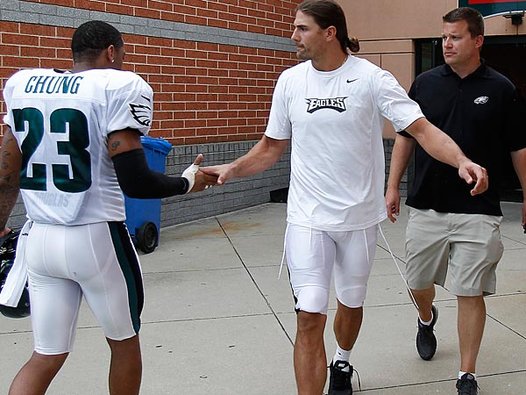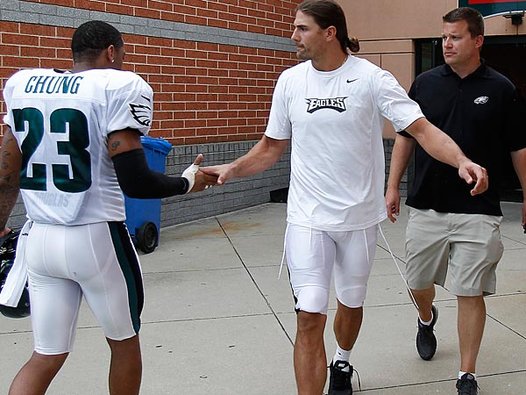 I think Eagles owner Jeffrey Lurie, head coach Chip Kelly and anybody else who was involved in the decision-making process, made the right call in the Riley Cooper situation by welcoming him back onto the practice field.  This decision didn't need to be come from the media or the fans, and it didn't need to be a top down decision made by Lurie and Kelly.   This decision needed to be made by the players and the management of the football team, together.
Team leaders such as Michael Vick, Jason Avant, DeSean Jackson and DeMeco Ryans all came out strong in support of Cooper.  They know that forgiving teammates or dealing with shortcomings, or stupid comics is part of being a good teammate.  Any players, who can't and don't want to forgive him for what he said will have the chance to deal with it with Cooper in one-on-one situations.
In a strange way, I thought the Eagles were a closer football team yesterday because they've started to circle the wagons around Riley.  Many times coaches will create an enemy the guys can come together against and it seems like they Birds are doing it, and the media is the enemy.
"I know out of this situation, Riley surely felt like an outcast," Ryans said. "As a team, we have to bring him back in as our teammate, as our brother, and resolve this issue and move forward. We can't have any ill feelings lingering throughout the season."
What people who never played football on the top college or professional level don't know is that you've got to be able to forgive or ignore to some extent things your teammates say or do, so that you can do your job with this person.  if you're going to be a good teammate.  Football is a very aggressive sport that causes teammates to get into many fights.  It's not uncommon to have a fight with one of the your teammates and be going after each other throats like you're trying to kill your teammate.
Minutes later you're in the same locker room you're taking a shower together.  You have to get over it and let it go.  I've played with guys who couldn't let it go and they weren't good teammates and it hurt their careers.
At times you're mad and your teammates.  You might have one fight with him in the one-on-one drills, then another one in the seven-on-seven drills then another one in the team period.  You see this guy as your mortal enemy for those two hours, but you have to let it go after the practice because you're making a double team block with him on the kickoff team in the upcoming game.
Players must be able to forgive or it's also possible for players to respectfully play together with each other, but never really totally forgive their teammate for what he did.  However and whatever they do they must be able to work with this person in a constructive manner.  They may not love them or hang around them away from the job, but they must be able to respect each other and work together with each other.
Unfortunately, violent and angry words are said and used against each other at times, but they have to get past it.  Sometimes the fights can divide a team, if players aren't able to forgive each other or professionally let it go, then the team falls apart.
It's difficult for players who can't forgive to be good teammates and work together on a good team.  It's also possible for players to respectfully play together with each other, but never really totally forgive their teammate for what he did.
The veteran players on the Eagles roster stood up and let everybody know that they can handle what Cooper said and move past it.  All veteran NFL players know that letting things go is part of the job description.
On a side note, I didn't like the fact that nobody has talked to Cooper about the alcohol issue.  I'm concerned that might be at the heart of his problem.  He seemed like he was totally "hammered" in the video and that's an issue that should be dealt with at some point.