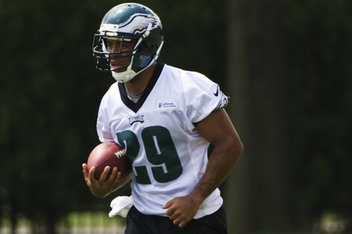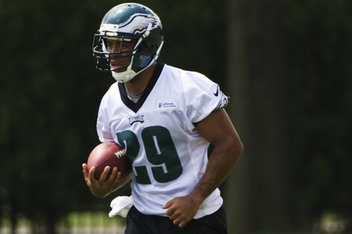 Do you believe the Riley Cooper saga is the biggest concern for the Eagles moving forward?  How about who Chip eventually hands over the starting quarterback job too?  Mix in uncertainties such as the starting wide receivers for this team and the health status of the offensive line and you would have plenty of storylines going into Friday's preseason opener versus the New England Patriots.   What if I told you that a much greater issue has me scrambling to find answers; and how I'm truly concerned the right personal is not on our current roster.  Unless several players make tremendous leaps and bounds with their skill-set, our defense, especially the secondary is going to struggle stopping opposing offenses in all facets of the game.
Yesterday afternoon I had the opportunity to be at practice, to witness in person every player for the Philadelphia Eagles in addition to the New England Patriots.  Now there was no tackling, and even the sounds of shoulder pads colliding with one another were rarely heard.  Our star running back and elite left tackle were non-participants, so my focus immediately turned to the reps that Vick and Foles split.  Once settled in, I snuck a peak to the reception that Riley Cooper received from both the Eagles and Patriots players; quickly realizing that it was just another day at the office for these professional football players.  With different drills happening on multiple practice fields, something struck me, the constant distraction that I could not turn away from; it was the Eagles secondary.
No matter the jersey number and stitched name plate, they looked out of place and hopeless with stopping Tom Brady.  Yes I know that we don't play Tom Brady this season, but we do play the likes of Rodgers,RG3 and Peyton.  We will be defending wide receivers like Dez Bryant, Calvin Johnson, Bowe, Marshall, Cruz and Fitzgerald and the three headed monster in Green Bay and Denver.   Say what you want about Chip Kelly's offense, even if we can score are we really going to be able to stop the opponent from scoring?  With what I saw yesterday from our secondary, unless we are able to get constant pressure on the opposing quarterback with our blitzing and disguised formations, we are in for a long season.
Minus Boykin who although is small in size, showed good speed and positioning yesterday; the rest of the cornerbacks and safeties looked like their cleats were stuck in mud.  Slow with their back pedaling, heads swiveling with attempts to dissect the offensive packages.  Simply put, Brady made the secondary look silly out there.  I saw double and triple coverage by the Eagles embarrassed by the pinpoint accuracy and quick release of Brady.  I'm talking about veteran players for the Eagles, Allen, Fletcher and Coleman looking lost trying to prevent a player like Dobson who has yet to establish himself in the NFL.  If it happened once I wouldn't be as concerned, but this was a common theme for the day, the Eagles secondary looked really bad out there.
I'm trying to make sense but not too much from the practice I attended.  The first preseason game returns the excitement of football to the Philadelphia fan.  I typically focus on the second and third to gauge specific things I'm looking for from the players and coaches.  I'm sure it will be a nice reward for these players who had plenty of smack-talk going during practice sessions this week with the Patriots to now get the opportunity to back it up with tackling.
With so many positions open for the taker; this first preseason game has more anticipation behind it then I can recall in recent memory.  I have my list of players like Ertz, Polk, Momah and Wolfe that I'm really looking forward to watching.  At the same time; I know with Chip that I need to be paying attention to every man who steps on that field, this is after all and "open competition."