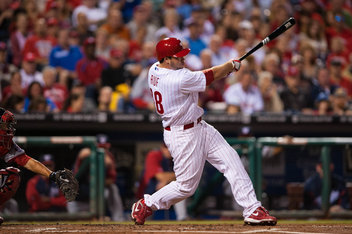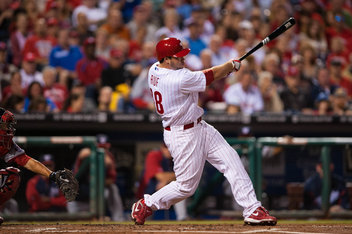 The Philadelphia Phillies won the final game of their series with the Chicago Cubs 12-1. Their record improves to 52-62.
Ethan Martin made his second career start, and earned his first career win. Martin pitched five innings, allowing one run on four hits and three walks.
Charlie Manuel trotted out a different lineup today, batting Kevin Frandsen leadoff, and Carlos Ruiz second. Frandsen went 0-5, and Ruiz went 2-5 with an RBI.
Darin Ruf and Cody Asche supplied the major offensive power for the team today. Ruf went 2-4 with a walk, and launched a two-run homer with two outs in the third inning. Asche went 3-5 and hit his first career home run in the fourth. Asche also hit his second double.
Chase Utley went 2-3 with two doubles and an RBI.
Domonic Brown went 1-5 and drove in two more runs.
John McDonald came on as a replacement for Utley late in game, and hit a two-run homer of his own.
Even Michael Martinez got into the hitting act, going 2-4 with an RBI.
Zach Miner pitched two scoreless innings.
Recently called up left-handed reliever Caesar Jimenez pitched a scoreless eighth inning.
Raul Valdes mopped up in the ninth with a scoreless frame.
Final Thoughts
Maybe someone in the Phillies' organization read my "Notes From" column last night. (Ha, yeah right)
After last night's game, I complained that Darin Ruf should have been playing in the outfield and Cody Asche should be in at third base. I stated that pllaying Delmon Young in right or Michael Young at third was simply a waste of the team's remaining games this season.
Today, the Phillies had the proper lineup on the field, and Ruf and Asche treated fans that were in attendance or watching this afternoon's game to quite a show. The young players getting an opportunity to play and show us what they could do for the team next year is the only relevancy that the Phils have at this point in the year.
And now after praising the Phillies for making the correct decision regarding their lineup, its now time to berate them for another completely pointless roster move.
Today the Phillies claimed outfielder Casper Wells off of waivers. Wells has been well traveled this year, playing for four other organizations including Toronto, Seattle, Oakland, and the White Sox. He's batting an impressive .155 for the year.
Why? I must ask, why are we wasting our time with Casper Wells? We already had a useless outfielder who couldn't give the team any kind of production, his name was Laynce Nix. Heck, Wells could actually be a downgrade from Nix if you can believe that; Nix finished his time with the Phillies hitting .180, .025 points greater than Wells.
Ruben Amaro sure does have a thing for guys who hit below .200. He's had Ezequiel Carrera (.077 during his time with the Phillies early in the year), John McDonald (.098), Laynce Nix (.180), Michael Martinez (.091 before today's game), and now the illustrious Casper Wells who hits .155.
And somehow Nate Schierholtz wasn't good enough in this organization's eyes to stick around?
"Casper is someone that we've had our eye on since spring training," Ruben Amaro Jr. said. "He's a versatile outfielder who adds depth to our club and can be a power threat off the bench."
This is someone we've had our eye on since Spring Training? Come on Ruben, you've got to be kidding. This addition is absurd and shameful enough on paper without you adding ridiculous statements about what Wells could bring to the table.