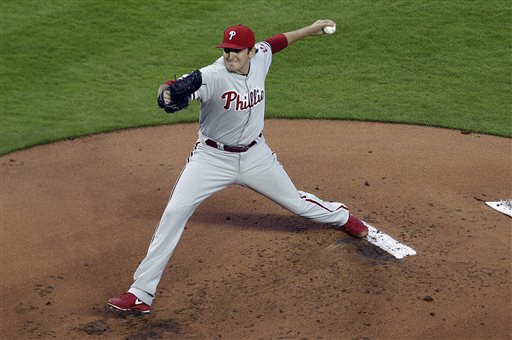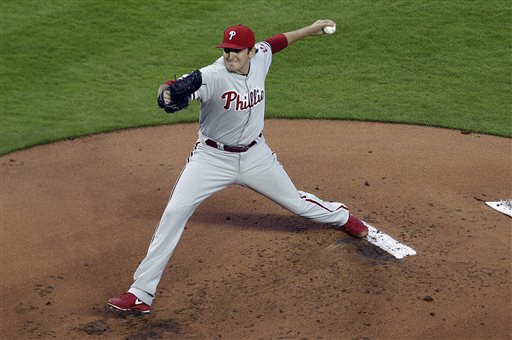 The Philadelphia Phillies lost the first game of their series with the Nationals on Friday night, falling 9-2. Their record drops to 52-63.
John Lannan had a rough outing, getting lit up for eight runs over five innings.
Lannan gave up nine hits and five walks. His ERA shot up to 4.81.
Chase Utley went 2-4 with a double, and drove in one of the team's runs.
Domonic Brown went 1-3 with a walk.
Tough night for Darin Ruf, who went 0-4 with two strikeouts and left four on base.
Michael Martinez got the start in center, and went 0-3.
Justin De Fratus and Caesar Jimenez each pitched a scoreless inning.
Raul Valdes allowed a run on two hits in the eighth.
Final Thoughts
Earlier today, the Phillies made a bit of a surprising move, designating outfielder Delmon Young for assignment to make room for new outfielder Casper Wells and his .155 batting average.
Young, signed to a one-year contract in the off-season, hit .261 with eight home runs and 31 RBIs. He wasn't terrible, but he certainly wasn't much of a difference-maker. The outfielder was batting just .194 in his last 10 games. He was nine plate appearances away from a $150,000 bonus.
The Young signing is yet another move that looks like a black eye for general manager Ruben Amaro Jr. Young's presence essentially blocked Darin Ruf from coming to the major leagues at the beginning of the year. He gave the team minimal production, and clearly made a poor impression on the clubhouse if the team got to the point where they thought it was best to cut ties with him in favor of an outfielder who has bounced around four other organizations this year.
The Phillies could have had Ruf up from the beginning of the year, earning valuable playing time and possibly making a difference. Instead the team kept him in the minor leagues, committing their right field position to a guy that they got on the cheap who had no future with the organization and turned out to be a bad signing.