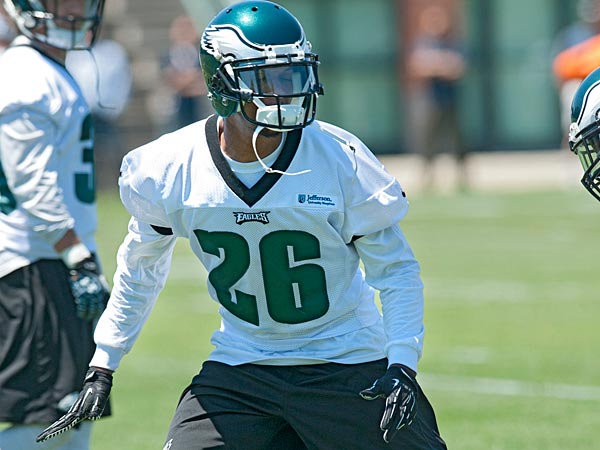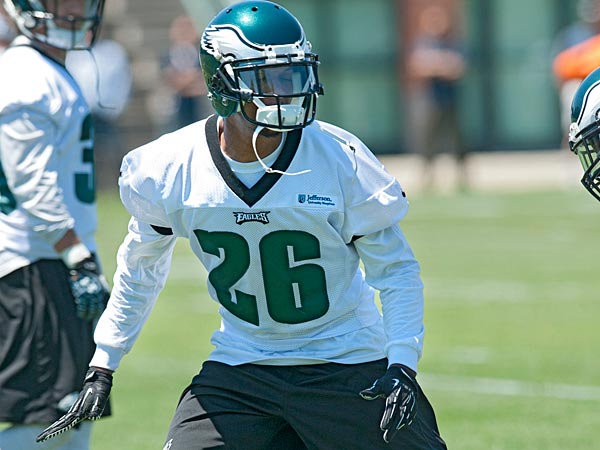 In 2012, the Eagles fielded one of the worst secondaries in franchise history.
Nnamdi Asomugha cemented his status as one of the most disappointing free-agent signings in franchise history. Dominique Rodger-Cromartie played completely disinterested and proved to be nothing but wasted potential. Nate Allen was a massive liability who ended the season on the bench in favor of Colt Anderson. Kurt Coleman was the only starter who played hard, but he just isn't cut out to be an every down starter.
This area of the team was one of many that required a massive overhaul in the off-season, the Eagles brought in plenty of fresh faces, signing Cary Williams, Bradley Fletcher, Patrick Chung, and Kenny Phillips in free agency, and spending late-round draft picks on Earl Wolff and Jordan Poyer.
There are a lot of new names amongst the corners and safeties, but is the talent level good enough to make a difference?
Cary Williams has the right attitude, but he's not a shutdown corner. He knows how to play hard, and he'll bring a toughness to this defense that Nnamdi and DRC never had, but he's also going to give up some big plays and will also draw some pretty dumb penalties.
Bradley Fletcher hasn't shown much in the preseason. He's been picked on regularly by both Tom Brady and Cam Newton. Before Training Camp began, I wrote that it was a mistake for this team to come to camp without a viable Plan B to compete with Fletcher for the job. If the former Ram doesn't pan out, the Eagles are in serious trouble. They don't have another legitimate starting option on this roster.
Brandon Boykin has looked very good so far, but he's a nickel cornerback. His skillset is best suited for playing guys inside, and he's not going to survive if the team is forced to put him on the outside. Taller, physical, elite receivers are going to push him around and abuse him. He's got to stick to working against guys in the slot to succeed.
What other cornerbacks on this roster have shown any remote promise? Brandon Hughes is a fringe player who shouldn't be counted on for anything more than special teams duty. Curtis Marsh, a 2010 third-rounder, is about enter his fourth year in the league and he hasn't shown a thing. Jordan Poyer, a seventh-rounder from this year's draft, was a guy who a lot of people believed could be a steal, but he doesn't look like he's anywhere near ready to step into a starting lineup.
At safety, the picture doesn't look much brighter. Patrick Chung looks like he's got one of the starting jobs wrapped up, and he's been the one guy in this group that I can say I've been a little impressed with. Chung has made some nice plays so far, he's around the ball, he's broken up some plays, and he looks like a decent tackler. That being said, I'm far from sold on him.
Kenny Phillips, a guy who a lot of people got excited about, might not even make this team. Even back when the Eagles signed him, all along I've been skeptical about this signing. And the point I've always made is that there's a reason that Phillips couldn't command anything better than a one-year deal from the Eagles on the open market last winter. His knee is a major concern. It has caused him to miss significant chunks of practice time, and he's been almost completely invisible in the preseason.
Phillips' inability to get on the field is going to force the Eagles to go back to Allen as one of their starters. And sure enough, the former second-round pick has shown no evidence to make anyone believe that this is going to be the year that he figures things out. Nate Allen looks like the same Nate Allen we've seen for three years. He's a cover safety that doesn't make plays, he's the definition of soft and can't tackle, and I'm sure that somewhere down the line this year we'll hear something about how his knee still isn't right from the injury he suffered in 2010. In both 2011 and 2012, at some point in those respective years we've had to listen to the excuse that Allen isn't performing well because his knee still isn't 100%. It's as simple as this: healthy or not healthy, Nate Allen doesn't get the job done.
Earl Wolff is the only other safety on the roster that might have a chance to be a player, but he's not ready right now. He needs some time to develop. Kurt Coleman is what he is. He's a decent backup, and a good team might be able to get away with hiding him in their lineup. Whether or not he makes the team depends on if the team thinks Kenny Phillips has anything to offer them. Colt Anderson will probably stick around for his abilities on special teams, but he shouldn't be a factor on defense.
Collectively, when you look at this secondary, the outlook isn't very good. As refreshing as it will be to no longer watch Nnamdi get torched in coverage and then point the finger at his safeties, or watch DRC give a half-hearted effort week to week, we're looking at a group that is made up of really mediocre talent. There's not a name in this group that you can look at and expect to still be starting on this team three years from now. This is a group of guys who bring with them more questions than answers, and I believe that any improvement that we see will be marginal.
Denny Basens is the editor of GCobb.com. Email him at dbasens@ycp.edu, or follow him on Twitter.