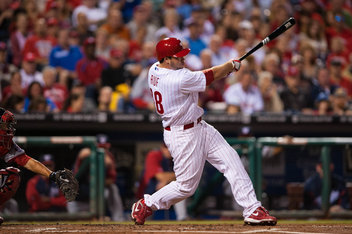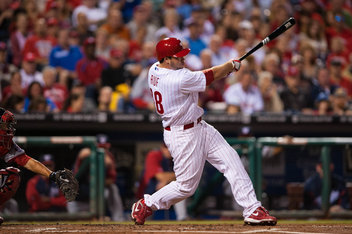 The Philadelphia Phillies won their second straight game on Monday night, taking down the Rockies 5-4. Their record improves to 54-69.
Ethan Martin got the start, and pitched 6.1 innings, allowing two runs on four hits. Martin struck out six and walked two. It was the best start of his young career.
Carlos Ruiz hit second, and went 2-4 with an RBI.
Cody Asche went 1-3 with an RBI.
John Mayberry got the start in center and went 1-3 with a three-run homer.
Casper Wells got a start in right and went 0-3.
Justin De Fratus got the final two outs of seventh inning.
Luis Garcia was the first pitcher to come in during the eighth inning, and recorded just one out while allowing two runs on two hits and two walks.
Jake Diekman got the final two outs of the eighth inning with a pair of strikeouts.
Jonathan Papelbon recorded his 21st save of the year.
Final Thoughts

It's once again time to complain about the Phillies' lineup decisions.
Why was Casper Wells in right field, forcing Darin Ruf down to first base?
If Darin Ruf has a future on this team, its as an outfielder. When Ryan Howard returns next year, he's going to be this team's first baseman. Ruf needs every rep he can in the outfield in order to give him the best chance to be a factor on the team in 2014.
Ruben Amaro has already mishandled Ruf badly enough this season by allowing him to rot in the minor leagues so that the team could commit a starting position to the likes of Delmon Young. The last thing this team needs to do is waste time with Casper Wells and his .138 average in right field while giving Ruf meaningless reps at first.
It's little things like this that make me gravely concerned about the future of this team as long as Amaro is in charge of overseeing all operations.