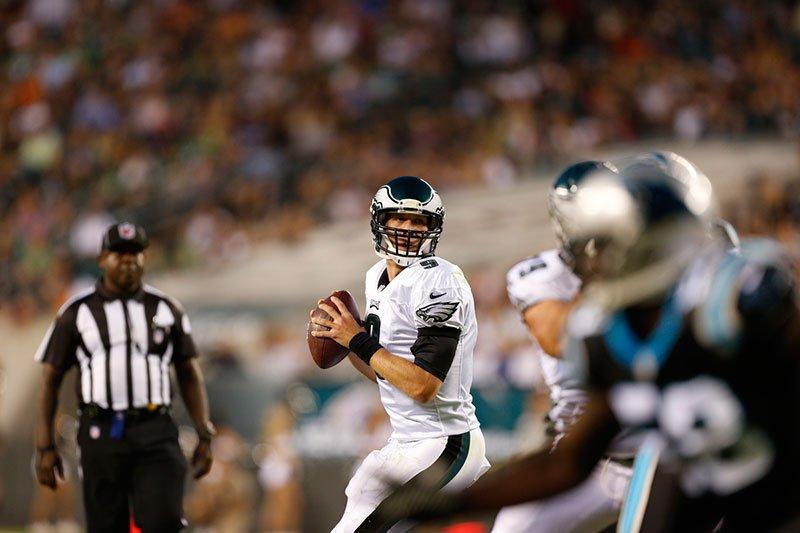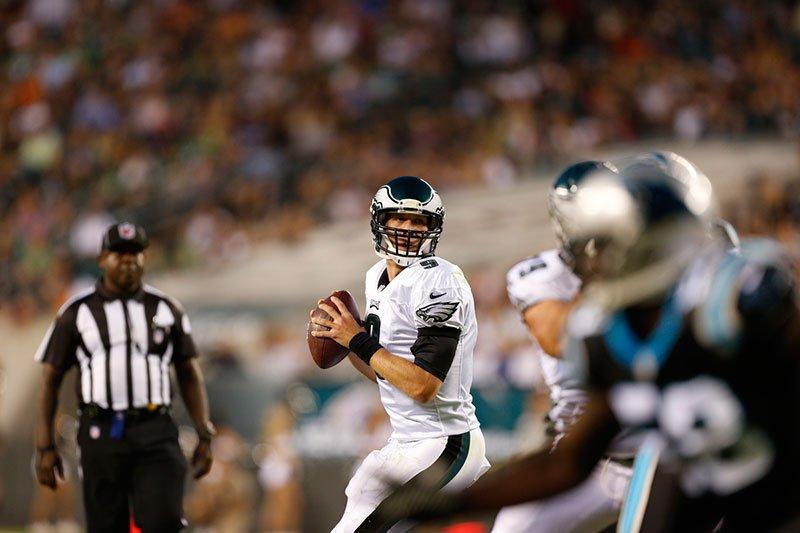 Quarterbacks
Nick Foles needs to look sharp and move the ball well against the Jets' backup players. Even though Foles is only going up against reserves in this one, these are valuable reps for him.
Matt Barkley needs to play with confidence. The rookie has looked a little shaky in his preseason appearances, and it would be nice to see him lead some efficient drives to close out the preseason. This could very well be the last game action that the fourth-round pick gets until next year.
Its a little surprising that the Eagles have kept both Dennis Dixon and G.J. Kinne on the roster to this point. Kelly will probably give each of them a series or two.
Running Backs
I think Bryce Brown is going to get a fair amount of work this week. The second-year man could help himself earn a little trust from the coaching staff with a clean game with no fumbles.
Matthew Tucker has looked really good this preseason, and I think he may have an outside shot to make this roster. He's going to see more action than any of the other running backs tonight.
Wide Receivers/Tight Ends
How many receivers do the Eagles keep? Five or six? Greg Salas and Russell Shepard are the only guys that I think are in serious consideration for those final spots, and this will be their last chance to impress.
I think Salas has the edge over Shepard if the Eagles only go with five. He's been solid throughout training camp, while Shepard has only flashed occasionally in the preseason games.
Clay Harbor is going to play somewhere this year if he isn't an Eagle. He's had a very good preseason as well, but it could be tough for the Eagles to justify keeping four tight ends.
Offensive Line
The Eagles have their five starters in place, and Alan Barbre, Julian Vandervelde, and Dennis Kelly all seem like locks to make the team. That leaves former first-round pick Danny Watkins, Dallas Reynolds, and Michael Bamiro among others battling it out for the final position.
Watkins has been buried on the depth chart, and hasn't done anything to distinguish himself from the other reserves since the preseason began.
Reynolds is a fringe player who didn't do much with his opportunity to start last year, and seems to have lost the backup center job to Vandervelde.
Bamiro has a huge frame with plenty of upside. I have to believe that offensive line coach Jeff Stoutland would rather work with this kid for a year instead of using his last spot on a couple of guys who have hit their low ceilings like Watkins and Reynolds.
Defensive Line
This isn't exactly a bold prediction at this point, but I expect to see Vinny Curry do what he's done all preseason: toss around the opposing defensive players like rag dolls, practically begging for an opportunity to contribute to the defense.
Damian Square has had nice moments this preseason, but I don't think he's shown enough to lock down a roster spot. This game is important for him.
Linebackers
This is the last call for Casey Matthews to show that he belongs on this team. Matthews started out the preseason with a good performance against New England, but has faded into obscurity since then. I think he's already been surpassed by rookie Jake Knott, and guys like Chris McCoy, Travis Long, and Everette Brown have shown more in the last two weeks.
Brandon Graham needs to show us a little something tonight. The former first-round pick has shown very few positives so far, and its at the point now where I wonder just how secure his position with the team is. Now, I don't think its necessarily likely that Graham gets cut or traded after tonight's game, but I do think there's a possibility that he's not here when the season starts.
Cornerbacks/Safeties
The secondary is where the Eagles will have most of their position battles taking place tonight.
With Brandon Hughes and Curtis Marsh out with hand injuries, this is going to be Trevard Lindley and Jordan Poyer's chance to make this club.
Nate Allen is probably going to be one of the only starters to see game action tonight, and it sure would be nice if he could show something positive against the second-team offense of the New York Jets.
Kurt Coleman is one of the veteran guys on the bubble who has his last chance to impress tonight, but it might be too late for him. Coleman has been really quiet this preseason, and the new coaching staff doesn't seem to think too highly of him. Allen has been dreadful, Kenny Phillips never saw the field, and Earl Wolff has shown that he's very raw, and yet Coleman has been unable to so much as sniff an opportunity with the first team. That's not a good sign if you're a three-year veteran on a club desperate for safety help and you can't get on the field. I don't expect him to make it at this point.