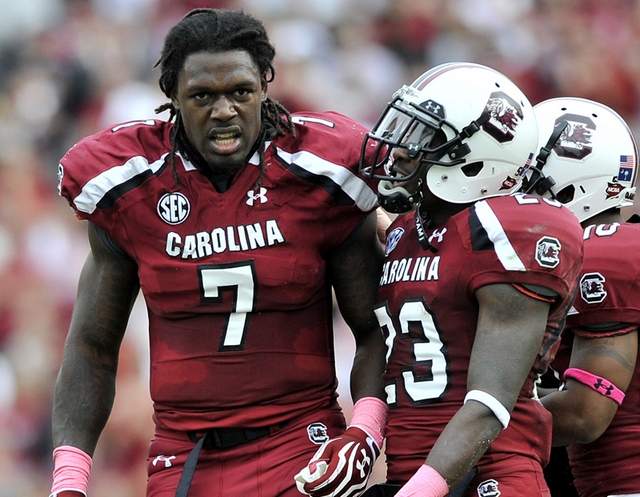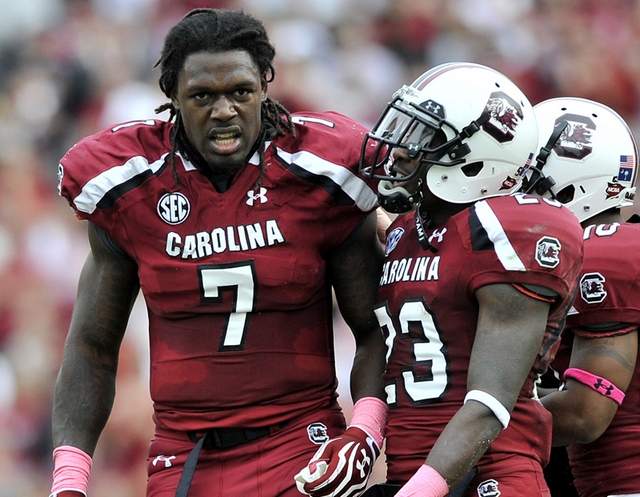 As week one begins to come to a conclusion (I am writing this before Louisville and Florida State play for deadline purposes) lets look back on what  transpired over the first 48 hours of action to begin the season.
1)       Unlike many who are questioning can Alabama three peat after that performance, I have a different view. Yes the offensive line played about as bad as they could. Yes AJ McCarron averaged a measly 4.8 yards per pass attempt and was under 50%. Absolutely when I watched the game back this morning Tenpenny and Henry looked lost on their blocking assignments as most freshman backs would. What I see is all mistakes that can be corrected. On the positive side Christion Jones is a special player. The junior became the first Alabama player since the 1940's to have two returns in a game for a touchdown and the first player in the NCAA to have a kick return, a punt return and a receiving touchdown in the same game. On defense Vinnie Sunseri is the Honey badger without the headaches. The defense over all looked as fast as it ever has and the secondary played above their skis. Lets face it, we will see what the Tide is made of in two weeks when they get their chance at Johnny Football and Texas A&M.
2)       Which is a perfect way to move into my next point. Yes Johnny Manziel came in the second half yesterday and threw three scores.  Yes he looked as elusive and impressive as he did his freshman year. But as I have been saying since last year he is literally unlikeable and impossible to cheer for. The disrespect for his teammates, his opponents, his head coach, and the game will catch up to him. Maybe sooner then later.
3)       Clemson not again!  Clemson reminds me of the hottest chick in my class that I swear will love me if I just go the extra mile. After taking her out the only ride I get  is the long cab trip home after dropping $300 on dinner. Every year I fall in love with Clemson after a win like this and they end up losing to a clown college the following week. Could this finally be their year?
4)       I feel sorry for Georgia. They truly are one of the four or five best teams in the country. They lost eight starters on defense but by the end of the year should be there. They put themselves in a tight spot. In six days they play yet another top 5 team in South Carolina. Could already be an elimination game a few days after Labor day. Can you say welcome playoffs in 2015 ?
5)       I know the world is in love with Ohio State. Ehh not me. There was a second that Buffalo would have been able to get back in that game but they just didn't have the depth to play with the Buckeyes. My biggest question is why would you run Braxton Miller 17 times in that heat when the game was in hand at halftime ?  Be very careful Urban Meyer your strength could become your weakness. With a team that goes four deep at running back have them carry the ball. I actually like Guition as a back up quarterback but if Miller goes down so does your chance at a BCS title.
6)       Very impressed with LSU. Cam Cameron already is making his mark with a pro style look. I also think Les Miles has given him a lot of freedom to work his magic. LSU was picked outside of the top 10 for the first time in years. They looked like a top 10 team last night.
7)       Oregon ( Or the Denver Nuggets of the 1980's ) again wowed with impressive numbers. I am a huge fan of Marcus Mariota. Also DeAnthony Thomas got through a game carrying the ball close to twenty times. But you gotta do it at least against a PAC-12 team and not Nicholls State who I think actually does play a clown college next week.
8)       I am sure we will have a surprise team coming but Michigan, Texas, Oklahoma State, Florida, Notre Dame I have to see more.
9)       I have never been sold on Jadeveon Clowney being the best since Lawrence Taylor as many "experts" on ESPN, CBS, etc claim he is. He is a player yes. But if you watch the tapes back he has always taken plays off and his conditioning has never been where it should. I'd be shocked if he doesn't come out strong against Georgia this week but if I am taking him number one next year I want more production. I didn't see North Carolina even double teaming him most of the game. He should have been more dominant.
10)   The Big 10 looks like the games are being played in sand compared to the SEC. There just is no comparison as to the speed and talent it's literally a different game.
Let all the debates begin. Is there anything better to disagree about? College Football is the greatest game on earth.
Here is a peek at next weeks key matchups:
Florida at Miami :  Al Golden has done an incredible job especially under the circumstances at turning the Canes program around.
Oregon at Virginia : Virginia doesn't have enough bullets in the chamber to keep up with the Ducks  Quack quack, Oregon rolls. 
South Carolina at Georgia : I think the Dawgs rebound and make everyone rethink about their position as a top 5 team.
Notre Dame at Michigan : A day ago I wouldn't have said Notre Dame may have the better quarterback. But Gardner will get better and I think Michigan gets it done at home.
My top 10 :
1)       Alabama
2)       Clemson
3)       Oregon
4)       Georgia
5)       Stanford
6)       South Carolina
7)       LSU
8)       Ohio State
9)       Texas A&M
10)   Oklahoma State
Please remember to donate to your local animal shelters…