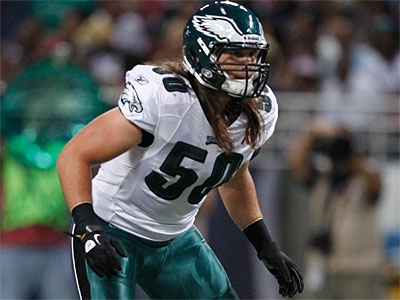 I will not jump to conclusions; however I will be honest with my disgust for how the 53 man roster looks "as of now."  I am not pleased with names kept and players let go.  There are players that not only should have been cut, but are undeserving of playing in the NFL.  I've been "all-in" up until this point with the player movement, philosophy and language presented by Chip Kelly.  Today I'm left wondering his intent for his decision making.  This simply can't be the final roster, I expect other moves to follow and for this mess to be cleaned up.
Has Chip demonstrated loyalty over talent to his former Oregon Ducks?   Is there unnecessary love of special team contribution that leads the Eagles keeping the likes of Coleman and Anderson?  Igwenagu, the fourth tight-end on this roster, what and why is this guy still doing here? Curtis Marsh has been awful, are the Eagles holding onto another high draft pick because the others have failed them?
I think of one thing and one thing only for the likes of Hughes, Marsh, Coleman, Anderson, Igwenagu, Maehl and Mathews.  These eight players or 15% of the 53 man roster are "special teamers." Their actual skills are lackluster if they line-up in most offensive and defensive packages.  Eight players who could never be a "starter" for the Eagles if the player in front of them on the roster were to miss any time due to injury.  Explain yourself Chip.   This is not about a player or two; this is a lengthy list of questions.
Colt Anderson would have been my selection to stay with the Eagles moving forward.  The other seven previously named players would have shared a fair-well exit with Danny Watkins.  When I witnessed Coleman playing cornerback the other night, I never imagined him repeating this "stunt" during a regular season game.   Marsh and Hughes are out for the first few weeks with hand injuries, is it going to be the veteran Coleman or rookie Poyer as our fourth cornerback?  I personally would use Nate Allen as a cornerback over Coleman.  Slide Wolff into that starting safety role when you go four deep at the cornerback package.  Coleman and Anderson can lead the Eagles into being one of the best special team units in the NFL; but should never be used as defensive help.
I don't want to be angry; but I am.  I see vacancies throughout this roster; and entering a season with several question marks is not promising.  Over-emphasizing the play from the preseason? I 'm basing my disgust on the proven track of not producing at the professional level.  This is not a good feeling Eagles fans, it's a negative preception that will linger until other moves are made.   I'm waiting for changes, expecting moves and anticipating that relief is on its way.