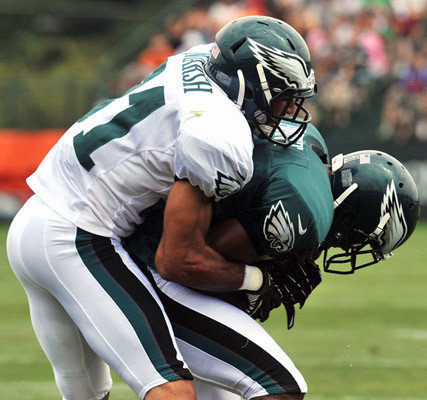 Final Cuts Full Of Surprises
There were a number of surprising decisions made by the Eagles on Saturday afternoon.
On offense, some people (myself included) thought there was a good possibility that the Eagles would keep four tight ends. However, we didn't expect Emil Igwenagu to get the nod as the fourth tight end over veteran Clay Harbor. Igwenagu, a converted full back, went largely unnoticed throughout training camp. However, he did look good on a couple receptions, and showed some toughness, and the coaches feel that they have something to work with here. However, it came at the expense of Harbor, who had played very well and seemed like a pretty good fit in this system.
On defense, the Eagles surprisingly went with Casey Matthews over Chris McCoy at linebacker, and also decided to keep six cornerbacks. Along with Bradley Fletcher, Cary Williams, and Brandon Boykin, the team chose to keep Brandon Hughes, Curtis Marsh, and Jordan Poyer around. I can understand keeping Hughes for his special teams contributions, and Poyer for his upside, but for the life of me I don't understand why Curtis Marsh is still an Eagle. In the three years that he's been here, the former third-round pick has never been able to so much sniff the starting defense or even a role as a nickel or dime back. I can't think of single moment in the regular or preseason that he's ever impressed even a little bit.
Thoughts On The Ex-Eagles
Danny Watkins: Watkins will go down as one of the worst first-round picks in franchise history. The pick didn't make sense at the time back in 2011, when the Eagles used their top selection on the 26-year old guard, and it still doesn't make sense today. Watkins never seemed to have a burning passion for the game, and failed to hang on to a starting job despite being given every opportunity to lock a position down over the last two years. At the end of last season, he was a healthy scratch while the team started journeyman Jake Scott in his place.
Clay Harbor: Too little too late for the former fourth-round pick. Harbor has great physical skills, but was never able to put it all together and carve out a role for himself in his three years with the team. He'll get another chance with a new team soon enough.
Chris McCoy: Pass rushing linebacker seemed to have some nice potential, but the Eagles didn't feel like he was worth a roster spot. Hopefully they can get him to the practice squad.
Antonio Dixon: Dixon was once a promising young defensive tackle, but he just stopped developing.
Dallas Reynolds: Reynolds didn't impress anyone when he had his chance to start a year ago. Lost the backup center job to Julian Vandervelde.
Greg Salas: Salas had a strong preseason and deserved to make the team, but the Eagles gave the nod Jeff Maehl instead.
Russell Shepard: Shepard was in the running for a roster spot, but I think only because of how he played on special teams. He really didn't show enough as a receiver.
Michael Bamrio: Talented offensive lineman could be headed for the practice squad.
Travis Long: Young linebacker had some nice moments, but was outshined by Jake Knott and Emmanuel Acho.
David Sims: Spent last season on the roster, but couldn't force his way onto the field for a team that was desperate for an answer at safety. That doesn't bode well for his future.
Matthew Tucker: I really like how Tucker played during the preseason, but there just wasn't any reason for the Eagles to keep four running backs.
Is Chip Kelly Playing Favorites?
Linebacker Casey Matthews and wide receiver Jeff Maehl were not expected to survive the final cut.
However, the Eagles made their moves and the two Oregon alumni remain with the team. The two were chosen over several other candidates at their respective positions who many favored to win a roster spot over them. Chris McCoy had shown some nice promise throughout the preseason, and wide receivers Greg Salas and Russell Shepard both seemed to be far ahead of Maehl, who didn't do much until the final preseason game.
In particular, I find Matthews making it over McCoy to be very questionable. While I feel that Matthews has had a decent preseason, I think he's already reached his ceiling, and its a very low one at that. At best, he's a reserve linebacker that can contribute on special teams. McCoy on the other hand looked like he had some legitimate potential to become more than just a reserve or a special teamer. He's got good size and speed, and showed that he can be an effective pass rusher.
Not to make too much out of this, but if nothing else it's very interesting to me that two of Chip's old college players got the nod over a couple of guys who seemingly had more upside and performed better during training camp and the preseason. Maybe Kelly just feels more comfortable having a couple of familiar faces on the roster, and he feels that he can help his old players take the next step in their careers. There's nothing wrong with that sentiment, but it can't be done at the expense of letting more talented players go in the process.
Final Thoughts
While it was certainly time for a guy like Danny Watkins to be shown the door, I found today's moves to be very puzzling for the most part.
With all due respect to Emil Igwenagu, I just don't see what he has to offer this team long-term that makes him worth spending a roster spot on. At least Clay Harbor was a guy who had some decent untapped potential as a tight end who could have also helped make up for the lack of depth at receiver. Does Igwenagu bring even half as much to the table?
As previously mentioned, I just don't understand why Casey Matthews made it over Chris McCoy.
And I just can't fathom how Curtis Marsh, a third-round pick who has done absolutely nothing in three years, made this team again. Perhaps the Eagles didn't want to have another former high draft pick on their final cuts after already releasing a former first-rounder (Watkins) and two former fourth-rounders (Harbor, Lindley). That's the only explanation I can think of that even somewhat makes sense.
After examining these cuts and decisions, I'm really not on board with some of these decisions, and I'm not at all convinced that the Eagles made the best decisions that will benefit the team not only in 2013, but in years to come as well.