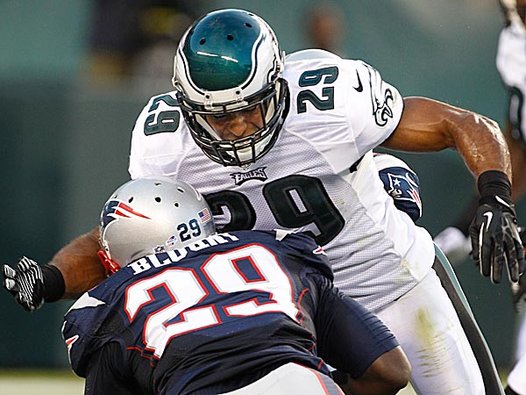 Everyone figured Eagles safety Nate Allen had won one of the starting safety jobs, but that's not necessarily the case, especially when you consider that Allen didn't do anything exceptional in the preseason.  Rookie safety Earl Wolff, who is getting better every time he takes the field, has been told by head coach Chip Kelly that he's going to be playing quite a bit on Monday night against the Redskins.
"I honestly feel like me and Nate probably will get almost an equal opportunity on the field Monday night," Wolff said. "He Chip Kelly told me I'm gonna play every quarter. Like I said, I don't know exactly how much I'm gonna play. I'm just gonna be ready to take advantage of every opportunity."
Allen knows he's going to start, but he didn't seem to know much more than that.
"I'm not exactly sure," Allen said. "I know we have some packages and stuff. But I'm not exactly sure what it'll be like on gameday and how much we'll rotate in and out. But we've just gotta get out there and make plays."
Allen is the better pass defender and Wolff is better in run support and tackling.  I wouldn't be surprised if they rotate these two all season long with the coaching staff trying to go with the guy, who best fits the needs the Eagles defense has.  If the Skins start running that football effectively, expect to see Wolff in there.
I would like to see Allen take more educated guesses when he gets the chance to pick a pass off.  He can't continue to play so careful.  The former second round draft pick is going to either start making some big plays or he's not going to be playing at all.   Allen is fast and quick enough to do a better job in pass coverage, but you've got to attack the football when it's in the air.  He's got to play with much more confidence.
Wolff needs to continue learning what to expect from the league's talented wide receivers.  He needs to get more comfortable with the coverages to the point that he can play them in his sleep.  I've seen him get caught out of position, but I like the way he plays aggressively.  I think the coaches are looking at the young safety's big upside and seeing him as their future.
I think it's just a matter of time this season that Wolff will take over the position as the starter.