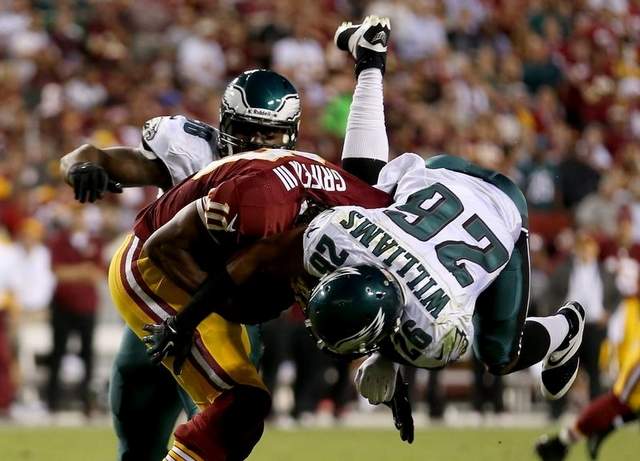 Isn't it amazing how quickly everything changes when a player makes some big plays?  That's what happened on Monday night with Eagles cornerback Cary Williams.
Williams was the team's most unpopular player during the off season.  He was missing off-season practices for all kinds of reasons and facing plenty of criticism from the fans.  On one day he was getting things done to his house, on another day he was attending his five-year old daughter's dance recital, then he took off for a honeymoon.
On top of that, he got in front of a camera and told Philadelphia sports fans that he didn't care what they thought about it.
There were entire days spent talking about all the "sconces" nonsense.  It seemed like a marriage that wasn't going to work.
But, it all ended for now on Monday night, when Williams was on top of his game. He made a few big plays and washed all of the critical talk away.
Williams made a great diving interception of a Robert Griffin III pass.  First his coverage of Pierre Garcon's out route was excellent.  He cut underneath the route to put himself in between the quarterback and receiver, then he laid out and made a great catch of the football.
He didn't strike me as a great coverage guy during the offseason practices and training camp, but he's a very smart player, who does a good job of communicating with his teammates and playing the situation.  He obviously learned this from his years in Baltimore, where he played with an entire team of smart players.
In the Washington game, Williams made the plays when it counted.  His coverage on Garcon couldn't have been any better.
On another play, Eagles defensive coordinator sent him on a corner blitz and Williams tried to put his head through RGIII's back, but the quarterback ducked.  Williams was still able to take him down, but if he had hit Griffin III the way he intended, the young QB wouldn't be playing this weekend.
The cornerback broke up a fourth down play late in the game which sealed the deal for the Birds. He made other plays as well, like forcing run plays from his corner spot and coming off of his coverage to make open field tackles.
Williams plays the game with an angry attitude, which is the way defensive football is supposed to be played.  Unfortunately, it's sometimes impossible for him to turn it off when the game is over.
"I think it's been more than a rocky start," Williams said after the game. "But at the end of the day I just want to play football. Every time I am on the field I want to put my best foot forward. I want my teammates to understand that they can have confidence in me, that I go out there and I prepare and I play my tail off each and every play."
"Cary is a really, really good football player, and I think it showed tonight," Chip Kelly said after the game on Monday night.  "I talked to him specifically at halftime. I thought he was close — and I'm not a big prognosticator — but I said I think you're going to get one. He comes up that first drive and gets one for us, and we score off it. I thought Cary played really well."
All I"ve heard fans say since the game is how much they love him.  They talk about him being a throw back cornerback.  I know it's not going to last because he's going to get beat at times, but it was amazing how quickly things changed.
Although Williams and his teammates are getting plenty or credit, there are two major factors in the success of the Eagles defense.  First of all, Robert Griffin III was a shadow of himself in the first half and clearly off his game.  Brandon Boykin said he rarely gets the chance to turn all the way around and see a quarterback throwing the ball to his man.  Griffin threw the pass to Santana Moss about two seconds too late.  Griffin was just rusty, he was pure rust during that first half.
The other major factor which worked out in the defense's favor were the calls made by defensive coordinator Billy Davis.  He kept a safety deep to take away the deep pass but he went after Griffin with blitzes which prevented him from getting comfortable in the first half.
Williams will probably get the chance to make some big plays against the Chargers.   Phillip Rivers and the Chargers receivers can move the football, but they can also make mistakes.  Rivers will likely throw for plenty of yardage, but he's also likely to throw some interceptions.
If Williams and his secondary buddies will compete throughout contest and catch the football when they get the chance, the love affair will last at least another week or two.