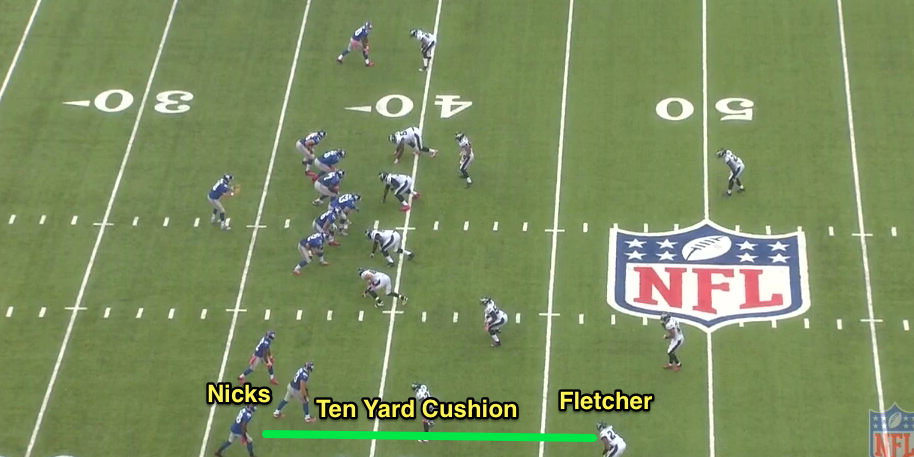 The Eagles defense came up with four turnovers on Sunday and that proved to be the difference in the game, because Nick Foles and the Birds offense was able to put the ball in the end zone after two of those interceptions, but going forward I want you Eagles fans to know that our defense is going to be giving up points.  They're going to give up yardage and points.
We just don't have tremendous personnel in the secondary.  We need a more consistent pass rush, but we're still going to give up yardage.  Our two cornerbacks, Bradley Fletcher and Cary Williams are both capable of getting physical with receivers and also coming up and tackling, but neither of them is very fast.  They can't run with the barely above average deep threats in the league, so you know they're going to have trouble with the truly speedy receivers in the league.
Let me give you an example by showing you a play which happened on Sunday.
Take a look at this deep pass play in the first quarter of the Giants game.  Our left cornerback Bradley Fletcher is lined up ten yards off of Giants wide receiver, Hakeem Nicks.  Ten yards is a big cushion on the NFL level.   In other words, you shouldn't be getting beaten deep, if you have a ten-yard cushion.  You're only supposed to be giving a ten yard cushion to somebody who runs a 4.4 or 4.3 forty yard dash.  Nicks has good speed by not great speed.
When the ball in snapped, Nicks comes out heading straight down the field on a go route.
He immediately closes the ten-yard cushion with no trouble.   Regardless, Nicks goes by Fletcher and catches a 42 yard pass for a first down.
What's so bad about Fletcher getting beaten deep on that route, is the fact that the play before the long connection with Nicks, Giants wide out Rueben Randle had gotten behind him for what would have been another long completion.  This is going to happen from time to time because Fletcher and Williams are going to lose most of the foot races they get into with the speedy wide receivers in the NFL.
Teams are going to be able to move the ball against this defense because they don't have the most talented secondary, but they can make up for it, by forcing two or three turnovers a game.