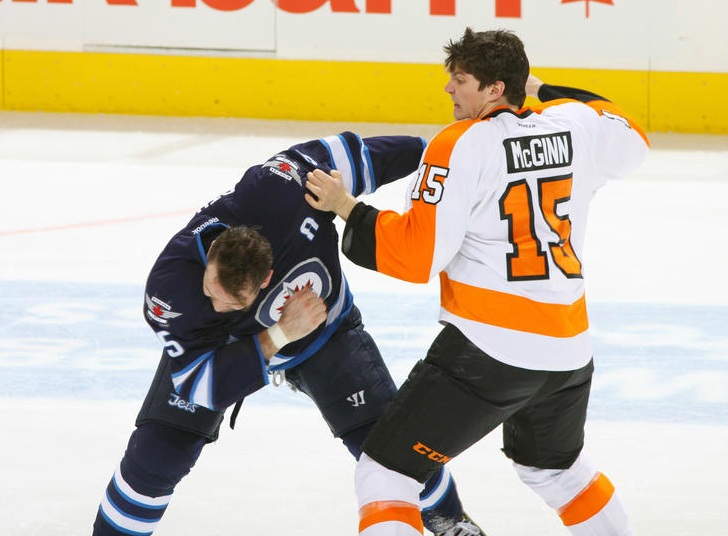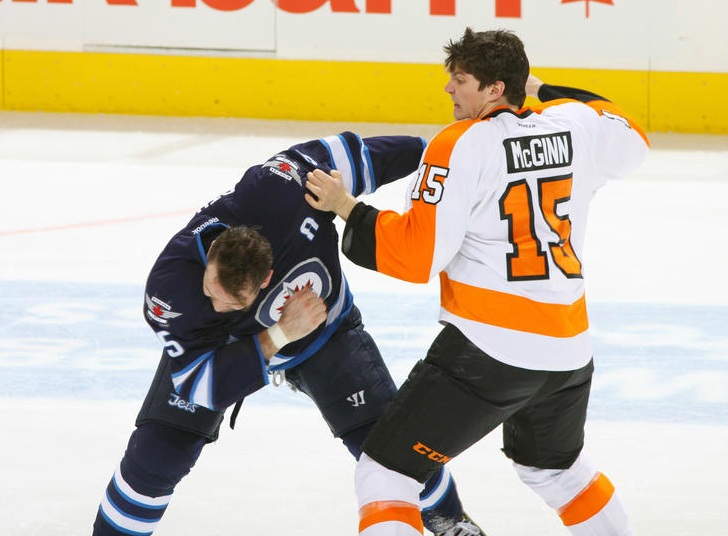 The Philadelphia Flyers have not made any formal announcements on how they are planning to cope with the losses of both Scott Hartnell and Vinny Lecavalier, but that doesn't mean they haven't made plans yet.
Diane C. Nearhos of the Post Star reported this morning that Adirondack Phantoms forwards Tye McGinn and Michael Raffl have left Glens Falls and are headed to Detroit for tonight's game against the Red Wings.
McGinn and Raffl have each been playing on the top two forward lines for the first three Phantoms games of the AHL season. Kris Newbury had been playing on the top line with McGinn during the preseason, but was recalled by the Flyers before the AHL season began.
The Phantoms have gotten off to a 1-1 start, scoring eight goals and allowing eight goals. The offense has been much more visible and is spread among several lines, but the defense still needs improvement. Oliver Lauridsen was ejected from last night's game between the Phantoms and the Hartford Wolfpack (formally the Connecticut Whale, who were formally the Hartford Wolfpack) after a dangerous hit against Wolfpack goon Michael Haley.
Raffl has one goal and three points in two games played and was an early favorite to make the Flyers' line-up out of camp. Originally slotted for the third line left winger position, it's anyone's guess where head coach Craig Berube will insert the young Austrian with so much roster upheaval.
McGinn's competition for the recall was forward Petr Straka. Both players have the "power forward" playing style that would be ideal to best fit Hartnell's role, but McGinn has two years of professional experience (including 18 NHL games last season) under his belt while Straka is just beginning his pro career.
This promotion is ultimately McGinn's to lose, though. Straka has three points in two games so far and is a +3, while McGinn has just one goal and is a -3. It's an incredibly small sample to be reading from, but if Hartnell misses a substantial length of time and Straka excels in the AHL in the meantime, the organization could easily make a switch.
Puck drops at 7:00 p.m.