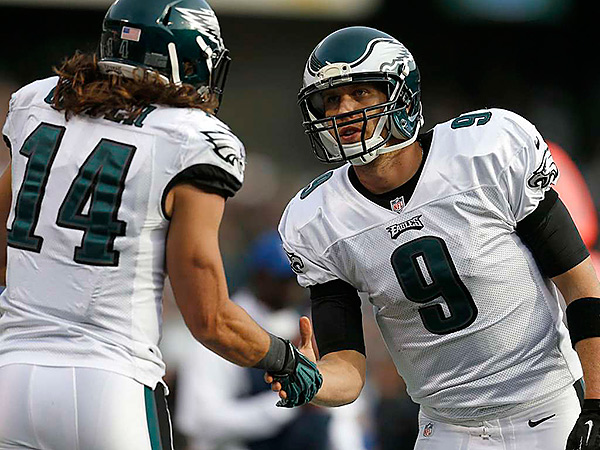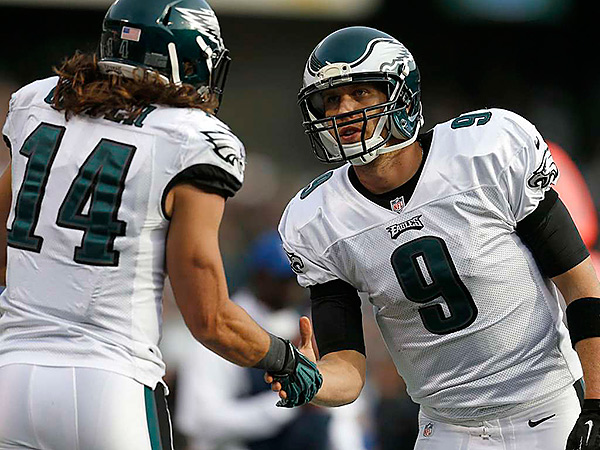 Are you happy as an Eagles fan? Does the body of work through the first ten games bring a smile to your face? Is there hope for the rest of the season?
The Eagles are 5-5, and are in the position to go into their bye week in sole possession of first place if they can beat the Washington Redskins. We play the same team where the Chip Kelly introduction began week one on national television.
To say it has been a collection of ups and downs since that record setting, jaw-dropping and media frenzy game would be an understatement. We have watched our team fail to win at home, start three quarterbacks, and go two straight games without an offensive touchdown.
We have also been the witness to our back-up quarterback entering his name in the record book by throwing seven touchdowns in a single game. We wait in excitement as Foles continues his effort to have his name atop a record set by Peyton Manning with touchdowns throw without an interception to begin a season. Our defense we see doing some good things. McCoy continues to lead the league in rushing even with some games where he didn't produce like we know he should. Riley Cooper has made his name a household mention, showing great chemistry with his quarterback and producing stats far greater than his talent level.
Enjoy the present we try to do, but a big question still remains. Are we comfortable with Foles not just as our quarterback this season, but as our "franchise" quarterback? There are some quarterbacks available in the 2014 draft that could do a lot more of the "full" Chip Kelly playbook.
Do we want that element enough that we are willing to witness the rookie struggles of a quarterback?
Does the hope and desire that his upside would allow the Eagles to have that offense similar to what we watched when a running style quarterback like Vick was under center? We are excited about the things that Foles has done, but do we see enough with his intangibles that says he could be our "franchise" quarterback? What else must he do? How would the Eagles have to finish this season to not draft a quarterback in the first round, but direct that focus on a receiver that could provide an additional weapon for Foles or a stud on the defensive side that could help the 3-4 transition?
I really think Sunday is the biggest test yet for Foles, because it's at home. He has been fantastic on the road, as well as the entire Eagles team this season minus the game in Denver. I have not been to a home game this year, and I could only get from your reaction for those who have gone with how bad the atmosphere has been.
Winning Sunday ends the drought, and re-energizes the home crowd for the Cardinals and Lions game after the bye week. The Redskins defense will allow Foles to have a good day under center. We are going to face a much healthier RG3 this time around. With all of that said, we are the better football team.
It's useless to say it, it's time to earn it, prove it. Let's go Eagles, it's game-time!