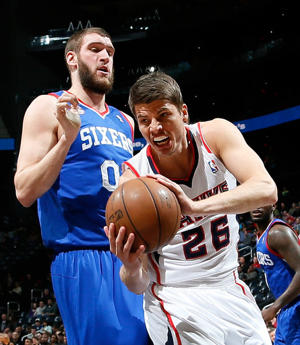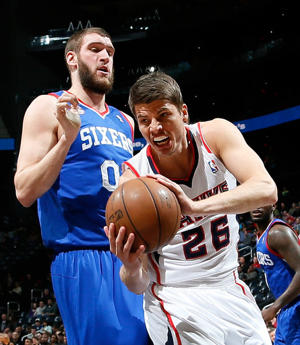 The Philadelphia 76ers lost their match with the Atlanta Hawks on Friday night 113-103. Their record drops to 5-5.
The Sixers got off to a slow start, scoring just 17 points in the first quarter. Trailing by eight after one, the team fought back to score 39 points in the second quarter to take a slight lead into the half. In the third, the team came out flat, once again managing just 17 points.
In the second half, Atlanta point guard Jeff Teague took over the game. Teague was aggressive, and did nothing but attack the rim in the second half, earning him 13 trips to the stripe. Teague finished with a career-high 33 points and 10 assists.
The Sixers shot just 5-19 from three point land, and turned the ball over 16 times.
The Sixer three-point defense was an issue tonight, allowing the Hawks to shoot over 43%.
Tony Wroten got another start at the point for the injured Michael Carter-Williams, and Wroten responded with another solid performance, dropping in 22 with six dimes.
Evan Turner just keeps on producing. Turner poured in 27 points on 19 shots. He's done a great job at creating his own shot, and he's quickly becoming the guy that the Sixers turn to when they need a bucket.
After dropping 36 points against the Rockets, James Anderson came back down to earth. Anderson scored just two points, shooting 1-6 from the floor. He did however contribute four rebounds and five assists.
Thaddeus Young scored 17 with seven boards.
Spencer Hawes had another double-double with 14 points and 12 rebounds.
Hollis Thompson had a nice run in the fourth quarter, hitting a three-pointer and getting a steal that he slammed for two.
Final Thoughts
Sam Hinkie has made a lot of smart decisions since taking over as the Sixers' general manager.
But he may have made a mistake when he decided not to pick up the option on Evan Turner's contract for next year.
Right now Turner is looking like an early candidate for most improved player. He's scored 20 or more points in nine of the Sixers' 10 games this year. Its still early, and this is a very small sample size, but Turner is finally beginning to look like a pretty good NBA player, and seems to flourishing with the new head coach Brett Brown.
It will be interesting to see what Hinkie ultimately decides to do with Turner.
Can he still be a part of this team's future?
Or is he destined to be dealt at the deadline for expiring contracts and future draft picks?