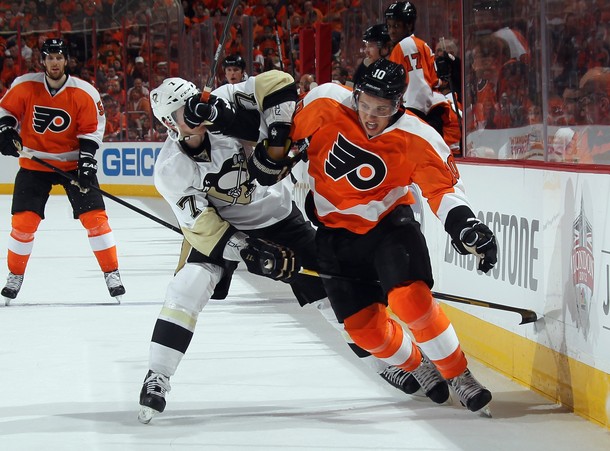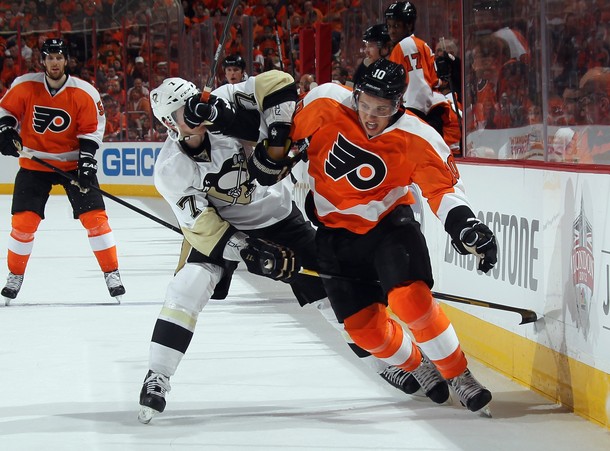 The Philadelphia Flyers' season has taken a somewhat surprising turn considering how quickly the team was circling the drain in October.
The 10th place Flyers, facing the 14th place New York Islanders on Saturday night, are just one game below 0.500 with 61 games remaining on the schedule. They have won five of their last six games, with their one loss occurring in a shootout.
As refreshing as it is to see the team exhibiting an entertaining, competitive effort on the ice again, the problems on the back end haven't disappeared completely as much as they've been masked by a stronger commitment to team defense from the offense and renewed goal support.
Rumors began circulating earlier in the week about Brayden Schenn's potential availability as trade bait for a defenseman. It sounds as if the Flyers aren't actively "shopping" him, but are certainly listening to offers.
This is basically Paul Holmgren's job description, so that sounds less like a "rumor" and more like a "weekday." The Flyers' dismal start to the season probably led to him receiving many phone calls asking for any number of his forwards.
If Holmgren would in fact move Schenn for a defenseman… who are his realistic trade partners? I've reviewed each of the 29 other NHL teams to gather thoughts (and posted just the first 15 here for brevity).
Anaheim Ducks: Traded 22 year-old center Peter Holland and bottom six right winger Brad Staubitz to the Maple Leafs last Saturday in exchange for depth defenseman Jesse Blacker. The Ducks have no need for additional depth centermen or defensemen and are sitting in 1st place in the NHL. Unlikely trading partners.
Boston Bruins: Currently in 1st place in the Eastern Conference.  With defensive core intact, will not likely be selling off any assets beyond draft picks at the trade deadline. They do not have much in the way of defensive prospects besides Joe Morrow, who has been traded twice since being drafted by Pittsburgh in 2011. Unlikely trading partners.
Buffalo Sabres: Unlikely to make any more trades until they've hired a new general manager, but will certainly move players by the deadline. Unlikely to part with younger defenseman such as recently drafted Rasmus Ristolainen or Nikita Zadorov. Tyler Myers could be a potential reclamation project, as the 23 year-old scored 11 goals and 48 points in 82 games as a rookie. His $5.5 million per year contract with five years remaining is a little unnerving, though. Potential trading partner.
Calgary Flames: The Flames have made center Mikael Backlund available for a trade, implying they would welcome an upgrade at that position. They do not have much in the way of NHL defensemen worth trading at this point, aside from 30-year-old Mark Giordano. A Schenn-for-Giordano trade would be vastly tilted in Calgary's favor. The Flames also have undrafted defensive prospect Chad Billins, who ranks 2nd in the AHL in points among defensemen, but his talent ceiling is completely unknown. Low potential trading partners.
Carolina Hurricanes: Darren Dreger of TSN stated on Sportscentre that, "the Hurricanes have offered [Tuomo] Ruutu and [Jiri] Tlusty to teams. Part of Canes search for a puck-moving defenseman." Cross your fingers that Holmgren can convince them to take Andrej Meszaros off the Flyers' hands, but don't expect Carolina to have what Philadelphia is looking for. Unlikely trading partners.
Chicago Blackhawks: The 2013 Stanley Cup winners are frontrunners to make a return trip to the Finals again, and don't appear to have any holes in their line-up. There isn't much they could offer the Flyers beyond draft picks, and the Flyers haven't reached that point where they're in "fire sale" mode. Unlikely trade partners.
Colorado Avalanche: The Avs already completed a trade with the Flyers this season, acquiring Max Talbot for Steve Downie. Their defensive core is likely untouchable, but they do have a puck-moving defenseman "on the bubble" in Stefan Elliott. Elliott, 22, is a former 2nd round back that posted 4 goals and 13 points in 39 games as a rookie in the 2011-12 NHL season. He appears to have fallen out of favor with the organization. He's not a guaranteed NHL defenseman, but could have high reward. Low potential trading partner.
Columbus Blue Jackets: Currently rank 23rd in both goals-per-game and goals-against-per-game, with Vezina winning goaltender Sergei Bobrovsky carrying a pedestrian 2.95 goals-against-average. If there were any defenseman on the Blue Jackets that could be considered fair trade (or close to fair trade) for 2009 5th overall pick Brayden Schenn, it would be 2012 2nd overall draft pick Ryan Murray. At 20 years of age, Murray isn't as far along in his development, but is anticipated to be a top four (if not top two) defenseman at some point in his career. Murray is highly regarded, though, and the Islanders offered the Blue Jackets all of their 2012 draft picks in 2012 to try and draft him. Low potential trading partner.
Dallas Stars: If the middle-of-the-pack Stars don't separate themselves over the next few months, expect veteran defensemen Trevor Daley and Stephane Robidas to be this year's "trade deadline" bait from the Stars. Neither really fit what the Flyers need, as much as they could be useful for playoff teams looking to add depth. Unlikely trading partners.
Detroit Red Wings: Could use stronger depth down the middle with Stephen Weiss underperforming. The Wings have three "on the bubble" AHL defensemen in Adam Alquist, Xavier Ouellet and Ryan Sproul, but with defenseman Danny Dekeyser placed on LTIR recently, they are unlikely to move anyone at this point. None of them would be "equal" value players for Schenn, but could be valuable as part of a package. Potential trading partners.
Edmonton Oilers: We danced this dance weeks ago when Wayne Simmonds was rumored to be heading up North. The Oilers are looking for a defenseman as well (and apparently offered Holmgren three 2nd round draft picks for Braydon Coburn at the draft), but don't have much to offer. The Flyers basically told them "offer Jordan Eberle or stop bothering us," and that seemed to be the dealbreaker. Unlikely trade partners.
Florida Panthers: Will likely be sellers at the trade deadline again. Dmitry Kulikov's name has been tossed around by fans speculating about his availability, but like Luke Schenn before him, is a question mark regarding the effect a "change of scenery" will have on his game. Potential trading partners.
Los Angeles Kings: They don't really need Schenn or Simmonds back. Not much to offer, though certainly assistant general manager Ron Hextall may have some strong opinions regarding the youth in Manchester. Unlikely trading partners.
Minnesota Wild: Has 6th best defense in the NHL with 20th best offense. They don't really need more centermen, but if Schenn used as a winger, they could potentially move a defensemen. 2012 1st round pick Matt Dumba would be a strong return, but as with Murray in Columbus, Schenn alone probably could not get it done. Low potential trade partner.
Montreal Canadiens: Not unlike Minnesota, has 2nd best defense with 19th best offense. Could use another right winger. The Habs have sent scouts to a handful of recent Flyers games, suggesting that they are interesting in seeking a trade. The oft-injured, expensive, 34-year old defenseman Andrei Markov is arguably the defenseman they'd be quick to move first if things go south, but I wouldn't suspect they'd move anyone with the defense playing so well.  Swiss defenseman Raphael Diaz would be a better return, but he is not likely going anywhere. The Flyers also expressed interest in 20-year-old prospect Nathan Bealieu at the 2011 NHL draft, but he is still very far in his development. Low potential trade partner.
Aside from the Tampa Bay Lightning, the Flyers won't really face any "contending" teams until December. Holmgren isn't the type of manager to pull the trigger on a trade quickly, so expect him to wait beyond this and next month to evaluate the talent he truly has in his roster first.
The remaining thoughts on trade partners will be posted tomorrow.