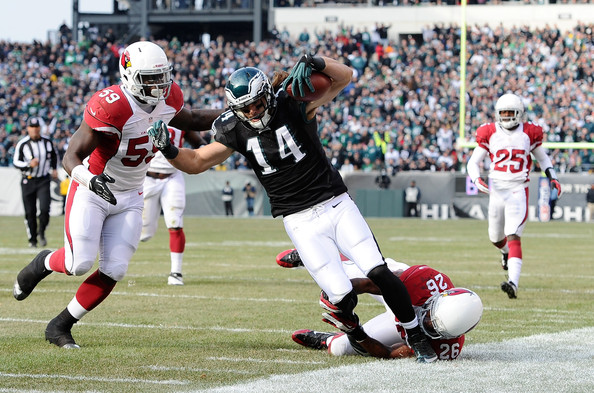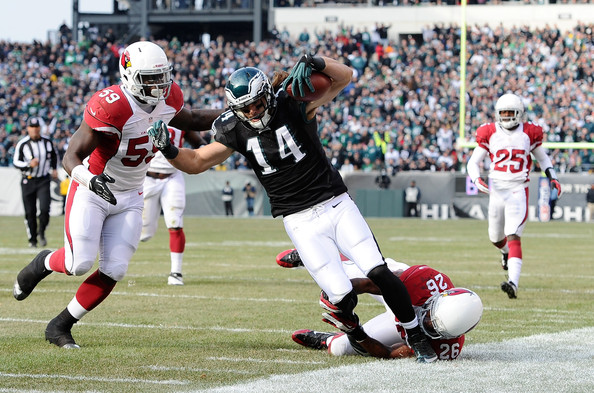 Do you remember when Eagles head coach Chip Kelly talked about how "big people usually beat up little people"?   He used that phrase to let everybody know that he wanted the Eagles to get bigger as a football team.  There's no question that the additional size has been paying off for the football team.
We saw it big time on Sunday against the Cardinals, when the Eagles defensive ends converted into outside linebackers contributed four sacks to the defensive effort.  The Birds got bigger at the outside linebacker position and it's making a difference.
Kelly started the transition by signing the Houston Texans Connor Barwin and he made former defensive ends Trent Cole and Brandon Graham, outside linebackers.  The former Oregon coach was taking a chance, but he was clearly making his team bigger at the linebacker position with the addition of Barwin, who is 6'4″ 264 pounds, Cole, who is 6'3″ 270 pounds and Graham, who is 6'2″ 265.
We saw that size pay off big-time on Sunday.  Cole and Graham each had two sacks against the Cardinals and Barwin has been using his size all year to bat down passes as well as manhandle tight ends and running backs.  Cole's first sack on third down of the game's first series forced a fumble, which was a big play within the game.
In the secondary, Kelly got bigger at the cornerback position when he signed big physical cornerbacks Cary Williams and Bradley Fletcher.  They started out slowly early in the season, but both have been playing well since then.  They each did a good job of battling big Cardinals wide receivers Larry Fitzgerald and Michael Floyd.   They didn't eliminate them, but they were able to keep them under control.
Williams came down with a big interception, which is his third of the season.  Fletcher has contributed two interceptions this season. This week they'll have to battle the best big receiver in the NFL, Detroit's Calvin "Megatron" Johnson.
The biggest surprise example of "big people beating up little people" is Eagles wide receiver Riley Cooper and the way he has totally dominated the little cornerbacks, who have tried to cover him.  Cooper has become a force out there with his ability to make big plays.
The Eagles now have their own big, physical wide receiver in Cooper, who makes a habit of beating up on little cornerbacks.  In the Cardinals game Nick Foles threw a pass to Cooper that looked like it was well over the wide receiver's head.  But Cooper shocked all of us, by leaping high in the air and grabbing one of the points on the ball.
He tipped it up into the air to himself and he came down with the football.  After securing the ball, Cooper spun away from the tackler and took the ball downfield for a big gain.  Cooper has been making amazing plays on a regular basis since Foles took over as starting quarterback.