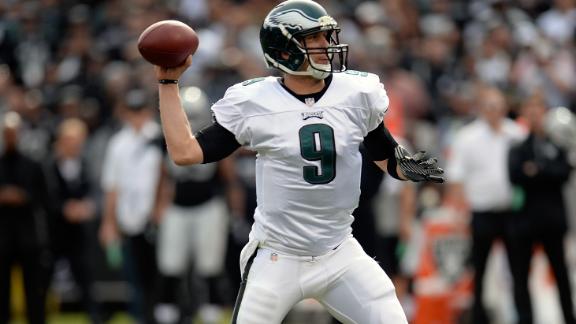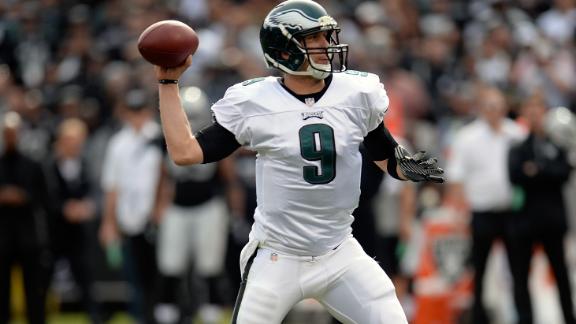 The Philadelphia Eagles made it two in row in front of the fanatic home crowd. Fans were treated to some rarities. The black jerseys made an appearance and Desean Jackson's most memorable end-zone play of the day was breaking up an interception.
Most would agree that we will take the win even though the game like the one versus the Redskins got too close for comfort towards the end. I would agree with the fact that closing out football games is not one of Chip Kelly's strongpoints, but can I really focus on that to begin my week?
Foles continues to add his name next to quarterbacks who will be in the Hall of Fame. I won't be the target for jinxing Foles for what record he could be in sole possession of when he faces the Lions week 14.
I'm exciting for him, for the team, and for us as a fan base.
We are witnessing football that none of us have been treated to before. On offense it's a speed and call style that shows something new by the quarter. A rare combination of surprising quarterback play, an elite running back, a rookie tight-end showing tremendous possibilities, a playmaker wide-out and a guy named Cooper who has no business being mentioned on a weekly basis yet continues to make plays and be recognized.
On the defensive side of the football, the twists and stunts this 3-4 is attacking opposing quarterbacks with is something special to watch. This is not the front sets that the late Jim Johnson had or what Buddy Ryan shut other teams out with. This defense is one that was labeled as "transition," a setback that would put tremendous pressure on the Eagles offense to score on every possession. What this defense has become is remarkable, and improvements both individually and as a team are witnessed each week.
Can I get some love for the punter? Donnie Jones is demonstrating that having a Pro-Bowl level punter can actually help win football games.
How about that Chip Kelly? The guy forces a smile out of the grumpiest of doubters and fans. He knows he makes mistakes and has no problem admitting them to the media when questioned. All he cares about is winning and not what the experts say is the proper recipe for winning.
Plenty of things that I did not like on Sunday, but why get into it? The Cardinals game is over and we walked away with the win. The Lions looked great on Thanksgiving, and we play them next. It's time to prepare for the likes of Megatron and Reggie Bush. Our offensive line gave up a lot of sacks and the Lions have a tremendous pass-rush from the inside.
Four quarters to a football game, and this season is three quarters in the book. The fourth quarter matches us up with the Lions, Vikings, Bears and Cowboys. Don't talk about nest year's draft or what week 17 could mean heading into Dallas.
Talk now, not tomorrow or yesterday. What are you feeling at this moment? How does Monday feel after witnessing yesterday, and what needs to be done by the coaches and players to keep this thing rolling?