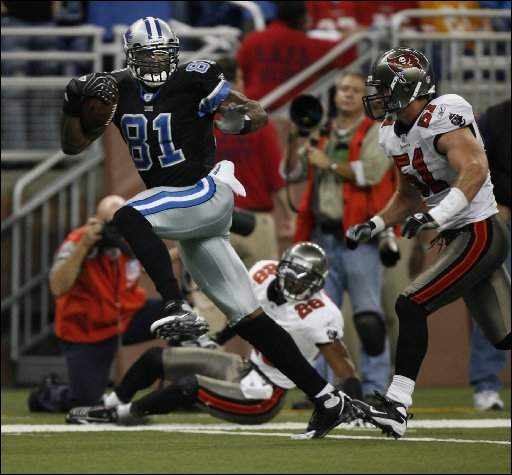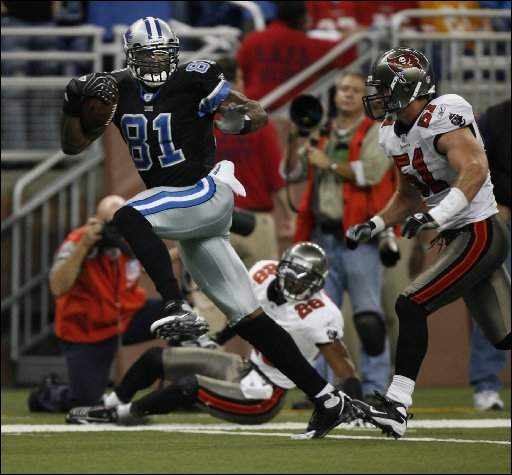 At times, it's hard for players or coaches to describe the greatness of  Detroit's Calvin "Megatron" Johnson.  Yesterday they tried to give us an idea of how dominant this guy can be.
"Everything combined, with his height, his long arms, his speed, his vertical ability, just everything, nickel back Brandon Boykin said yesterday in describing Johnson.  "He's the ultimate receiver, probably the best in the game."
"Megatron" seems to be from another planet at times.  He's a freak of nature at 6'5″ 245 pounds with long arms, a 42 inch vertical jump and he's run a 4:38 forty yard dash.  At times he's just unstoppable.
"I mean, you look at the Cowboys game, you would think when you have a guy triple covered, they're not going to throw the ball to him", Eagles head coach Chip Kelly said.  "[Matthew Stafford] Staffs throws it to him and he goes up and catches it."
"The combination of his size and his speed and explosiveness, I don't think there's anybody like that in this league.  He can just go get the football.
"I think sometimes when you're playing people, you can say, 'Hey, if we double this guy with our play call, we got two good guys that can double him. You're in good shape.'  They're still going to throw it up and a lot of times he goes and gets it.  That's what makes it really difficult with him."
The Eagles shouldn't get ridiculous in trying to stop Megatron because that will open things up for the rest of the Detroit receivers.  You can't try to put three guys on him.  You should double team him, but don't overdo it and allow their lesser receivers to have career days.
This is like playing Michael Jordan or LeBron James, they're going to get theirs, but you don't want to open things up so much for their teammates, that mediocre players have career days.  Johnson is going to get his and you must compete with him, but letting the other guys have big days will sink you.
If Kris Durham, Reggie Bush, Brandon Pettigrew, or Joique Bell have huge days, you know the Eagles are in trouble.  It would best if they contain Johnson and shut these guys down. Mychal Kendricks must do a good job of covering Bush out of the backfield.  He's capable of making big plays.
The other thing the Eagles can't do is be in awe of Johnson, like they were of Peyton Manning in the Denver game.  Johnson is a great and they should respect him, but you can't be in awe of your competition and expect to have any success.
Every time Matthew Stafford throws his way, the Eagles defensive backs must go up and compete for the football.  Stafford has thrown 14 interceptions, so he's going to give the secondary the opportunity to pick the ball off.