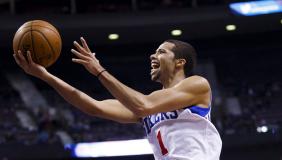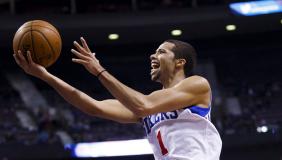 The Philadelphia 76ers lost their second straight game on Saturday night, falling to the Suns 115-101. Their record drops to 8-21.
The Suns were one of the teams that were supposed to be competing with the Sixers for the top pick in this year's lottery. However, they've been one of the league's most surprising teams. The acquisition of Eric Bledsoe, along with the emergence of guys like Goran Dragic and Miles Plumlee have helped Phoenix get out to an 18-11 start.
The Sixers went into the half down by only one point, but the Suns pulled away and outscored them by eight and seven points in the final two quarters.
Michael Carter-Williams scored 27 points with six rebounds, four steals, and six assists. However, he shot just 12-28.
Thaddeus Young had another 30-10 night, scoring 30 points with 10 rebounds. Young hit four of seven three-point attempts.
Evan Turner missed tonight's game with a knee injury, giving Elliot Williams his first start of the season. Williams didn't score a point, missing all five of his shot attempts.
Tony Wroten was solid off of the bench, pouring in 22.
LaVoy Allen gathered nine rebounds, but didn't score a point.
James Anderson was the only other member of the Sixer bench besides Wroten to score a point.
Miles Plumlee had a career-night against the Sixers, scoring 21 points to go with 13 rebounds.
Final Thoughts
The Sixers were off for a week…didn't you miss them?
I've spoken before about how the lack of depth on this team's bench is what is going to assure them one of the worst records in the league, and tonight was another prime example of that.
Outside of Tony Wroten, the Sixers have no one they can count on to give them any kind of energy or offensive punch off of the bench.
Once in awhile, maybe LaVoy Allen or James Anderson will randomly decide to go off and have a nice game here or there. But more often than not, you're going to see games like tonight's where the bench is just black hole, devoid of any productive basketball.
James Anderson, LaVoy Allen, Daniel Orton, and Brandon Davies combined for just six points. Between the four of them, they were on the court for 50 minutes. And not one of them besides Anderson could put the ball in the net even once. Add in the production of Elliot Williams, who was taken off of the bench and placed into the starting lineup to cover for Turner's absence, and you've got six points in 76 minutes.