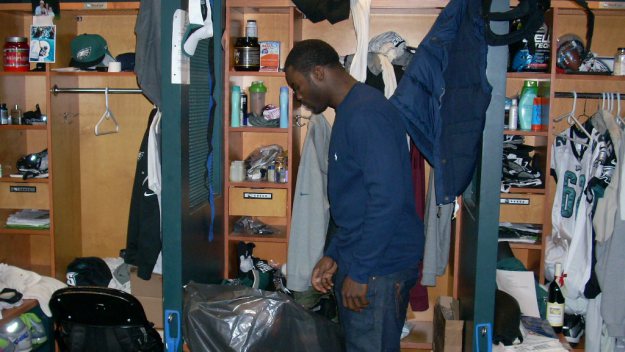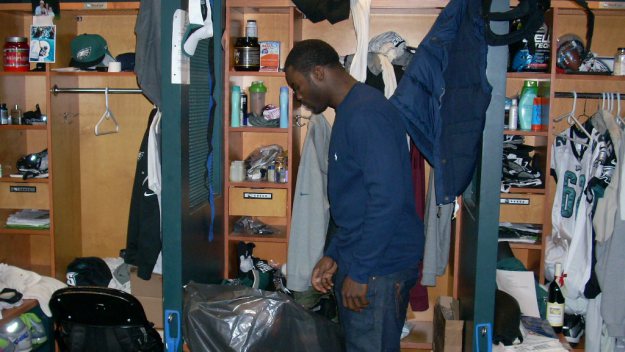 The Eagles cleaned their lockers out yesterday and it will probably be the last time Michael Vick cleans out his locker in the Nova Care Complex.  Nick Foles is the starting quarterback here and Vick is probably going to test the free agent market this offseason.
Chip Kelly and the Eagles franchise appreciated the way Michael Vick showed tremendous leadership and unselfishness during the Birds season.  Vick stepped up during the Riley Cooper controversy, kept the team together and used it to make the players closer to one another.
Vick won the starting quarterback during the preseason, but lost the job after suffering a hamstring injury and never got back on the field because of the outstanding play of Nick Foles.  Vick could have caused problems for Kelly and his staff if he had contested the promotion of Foles to the starting quarterback position.
He handled it with class and was the first to say publicly Foles should be the starter because of the amazing way he was playing.  Kelly let everybody know he appreciated the way Vick handled things.
"I love Michael Vick. That guy's awesome," Kelly said via the South Jersey Courier Post. "Unfortunately, he got hurt, and that gave an opportunity to another guy. It's not like Michael got benched. How he handled it, how he helped Nick through the process, it indicates the kind of person he is. That didn't go unnoticed."
Although Vick appreciates the positives, he still considers himself a starter.
"My desire is to start," Vick said via Phillymag.com. "I'm 33, I still feel good, and the way I've been able to take care of my body this year, the things that I've learned from, the nutrition aspect of everything, really has given me another jumpstart. I feel good, I still know I can play and I'm just confident in what I can do based on what I do every day.
"I feel like I'm built to do this, and just want to continue to keep it going. I'm not finished."
I think Vick is right, he's still capable of winning a starting quarterback job in the NFL, but it's probably going to be an incentive-laden type of deal.  The veteran lefthander still hasn't been able to find a way to stay healthy.  Who knows he might have learned something from spending the second-half of the season on the bench watching Foles.
Like I always said concerning Vick, he needs to be more Clark Kent and less Superman.
The Michael Vick that I have seen play for the Philadelphia Eagles for four years is a tremendous person.  You find out about people when you see the way they treat people behind the scenes.  Yes, Michael Vick made some mistakes in his past, but Michael Vick is a good person.