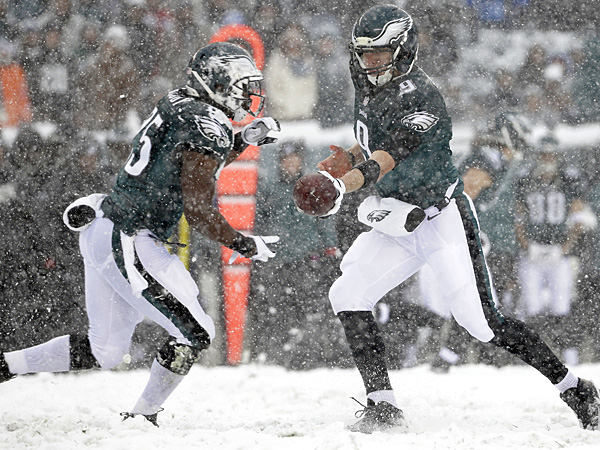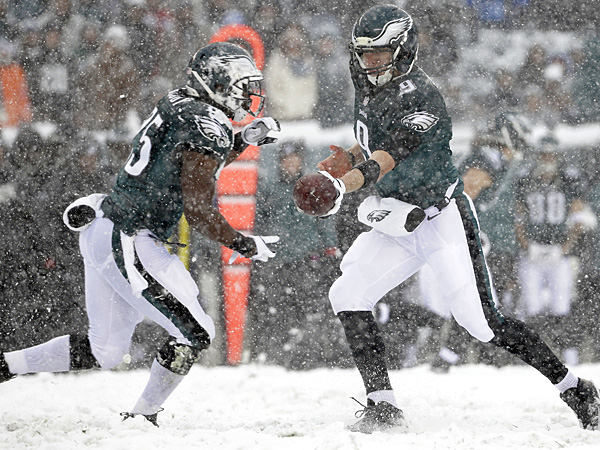 The 2013 Philadelphia Eagles had a fantastic offensive season. They finished 1st in points per game 2nd in total offense and 3rd in rushing, 9th in passing,. All of these rankings took place with losing Maclin pre-
season and switching to Nick Foles due to the injuries with Vick.
Still, changes are needed and will be made through the draft and via free agency and possibly trade. Below is my assessment of what the team is currently looking at with their quarterbacks, running-backs and offensive-line. This is a six part series, with the next assessment taking a look at our tight-ends and wide-receivers.
Quarterback
Current State: Nick Foles is our starter and Matt Barkley will be one of the back-ups. Foles will have the ability to come in as the "starter" and not development into a starter after beginning the season as a back-up. Foles will have every opportunity to take his role as the starter and make the claim that he is indeed a "franchise" quarterback.
Moving forward: I envision the Eagles bringing in a veteran through free agency (not named Michael Vick) to serve as our third quarterback for the 2014 season.
Running-Back
Current State: We have the rushing champ and Pro-Bowler McCoy. Production was observed at times in 2013 from Brown and Polk when they received their touches. The Eagles could look to add a "scat-back" type player who could rotate in on third downs and return kicks.
Moving forward: The Eagles may look into drafting a "scat-back" player who could also return kicks in the later rounds or signing a speedster that goes undrafted.
Wishful but not likely: The Eagles trade Bryce Brown and a 2015 mid round draft pick for a veteran 3-4 outside linebacker.
Offensive-Line
Current State: If it's not broke, don't fix it. Jason Kelce was a monster all season, and to be left off the Pro-Bowl roster is ridiculous. Peters returned to form after the double Achilles injury in 2012. Mathis continued to be an underrated guard, and first round pick Lane Johnson really held his own throughout the season.
Todd Herremans was the weakest link to the offensive line, but how bad could he really have played with how dominant that line was for the majority of the season. The offensive line has three starters over the age of 30. Last season the question mark was could three of the starters return to form after season ending surgeries. The question that may linger this season is whether the Eagles start thinking about adding some younger guys for the offensive line. The Eagles have young, solid back-ups at the guard, center and tackle position. They are strong in depth with the offensive line.
Moving forward: The Eagles have no reason to devote a high draft pick to upgrading the offensive line. After spending the 4th overall pick on Lane Johnson in 2013 and the big contracts they gave to Peters, Mathis and Herremans, they have a stable mix of young and veteran starters returning for 2014.
Wishful but not likely: The Eagles are able to renegotiate the contract they gave to Heremanns, and a free up two million dollars as they paid him like a tackle and he is now playing his natural guard position.